I first realised this was not a run-of-the-mill trip when the driver taking me from the airport to the Kavieng Club hotel drove smartly past the front entrance, where the tall iron gate was chained shut. He sped onto the bumpy golf course behind, and drew up sharply at a narrow gate where beefy men, with machetes and bulges in their pockets, and snarling dogs with evil-looking dentures mounted guard. 'There's been a bit of a kerfuffle' was how he put it.
I was in Kavieng, capital of New Ireland off the coast of New Guinea, at the start of a six-week swing through Papua New Guinea (PNG). What the the driver called the kerfuffle at the Kavieng Club was more like the Gunfight at the O.K. Corral. There'd been a brawl after Saturday night's dance two days ago, one man had been stabbed to death and another lay in the intensive care unit. The dead man's fellow villagers, hell-bent on revenge, had just turned up with bush knives and axes and tried to break down the main gate.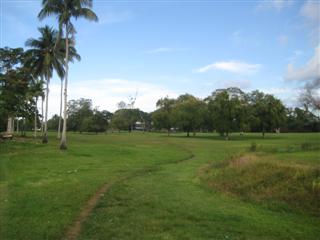 Golf course back entrance to Kavieng Club
They were now threatening to return in even greater force. This indeed augured well for my stay. Apart from the tingling excitement of 'action,' at $35 a night the Club was far cheaper than any comparable hostelry, so I didn't want to move. On the plus side, it was right next to the town's Red Cross compound so I wouldn't have to run far.
In the end I didn't have to run at all. Just as the villagers were massing with much greater force and a much more formidable arsenal, the man in the ICU died. As he happened to be from the opposing group, the score now stood at a draw, one all, calming the villagers and opening the way for talks on compensation, in which there would be some sort of ceremonial exchange of money and pigs.
Peaceful late afternoon in Kavieng
Thus was I able to continue my journey through this incredibly beautiful and culturally fascinating land without rushing off to the Kavieng Red Cross. But I grazed many more examples of the attacks and idiosyncratic violence that have made PNG a by-word for 'don't go there.'
True this was five years ago, but the travel warnings issued then by Australia, Britain, Canada and the United States were exactly the same as those they are issuing now following the September 10 bandit attack on the Black Cat Track in Morobe Province in which three local guides were hacked to death, and 10 guides and porters and nine foreign trekkers, eight Australians and a New Zealander, robbed and wounded, one of them speared in the leg, another with a machete gash to the head.
Among these warnings: 'High level of serious crime, bag snatching, sexual assault, particularly in Port Moresby, Mt. Hagen and Lae, especially after dark... Law and order very poor... Machetes and firearms often used in assaults and thefts... Banks and cash machines attractive targets for criminals... Outbreaks of tribal fighting can occur and may escalate quickly.' Then, almost as an afterthought: 'Most visits are trouble free.'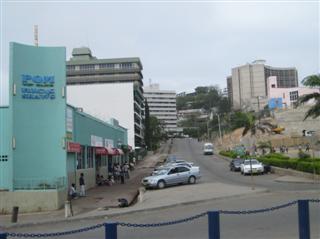 Port Moresby view
From a rational point of view they are right, especially if you look at all the stark facts lumped together. Back then it was not the Black Cat Track that came under attack from 'raskols' (rascals) as criminals and bandits are called in Tok Pisin (Pidgin English), the lingua franca in a country of over 800 languages. It was the iconic Kokoda Track, that five- or six-day 60-mile long trek that follows the route over precipitous mountains taken by Australian troops retreating from the Japanese in World War II. Fortunately none of the raskol attacks then was fatal.
There was no way I was going to do such a challenging trek at age 72, anyway. Perhaps the closest shave I had was in Mt. Hagen. I'd travelled up from Madang on the northwest coast of PNG to the western highlands by PMV, taking 10 days and stopping off at several places along the way. PMV stands for public motor vehicle and may be anything from a traditional bus to a dilapidated van to a consumptive flatbed truck.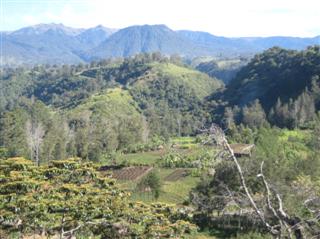 View near Mt. Hagen
The travel warnings on PMVs are quite explicit: 'Don't use PMVs... There have been armed hold-ups and ambushes, passengers attacked and robbed, occasional rape attacks... Many PMVs are not roadworthy.' But my experience had been peaceful even if rough, affording stupendous views of the magnificent countryside.
In fact I was so cock-a-hoop by the time I reached Mt. Hagen that I decided to continue by PMV along the Highland Highway through even more spectacular scenery to its end in Tari, capital of the Southern Highlands, even though this was reputed to be the area most infested with raskols. Local hoteliers reassured me that although there were political and land disputes among the tribes, they left foreigners alone, and there were no raskol attacks on PMVs.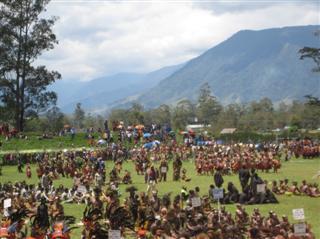 Mt. Hagen festival
I was just about to trade in the flight I'd already booked on Missionary Aviation Fellowship, which runs a little air service between less frequented destinations, when a couple of Frenchmen came in from Tari, ashen pale. Their PMV had just been attacked two hours out of Mt. Hagen by six raskols running alongside with machetes, and two others running behind with guns.
Their driver barely managed to execute a sharp about-turn and drive back to the town of Mendi. There, local clansmen mobilised against the raskols, who came from a different clan and fled post-haste, and the Frenchmen were able to resume their belated trip.
I quickly revised my plans. The nine-seater Cessna Caravan flew so low that the superb views over mountains and ravines, river valleys and rain forests must have equalled anything I would have seen on land, anyway. And we even managed to land at Tari airstrip, which was an improvement on 2002 when clan warfare turned it into a major battle ground, forcing its closure for several months.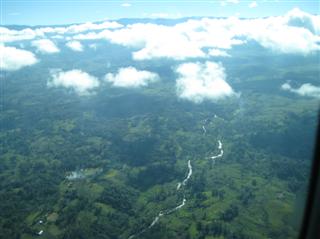 View near Tari from the plane
Sometimes during the trip I hired a local for 25 kina a day (about $10) plus transport, to steer me clear of danger zones. One such character, Raphael, accompanied me on the PMV from Goroka in the Eastern Highlands to Kegesugl at the foot of Mount Wilhelm, the country's highest peak at over 14,000 feet.
If I went alone I ran an 80 percent danger of trouble in Kundiawa where you change vehicles since raskols would pounce on a lone tourist with knives, he said, citing the case of a Japanese tourist who had been slashed in the arm in Goroka. But if I went with him there was an 80 percent chance of safety since he knew the locals.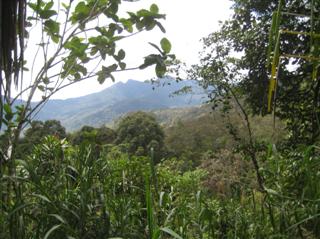 Mountain view near Goroka
It seemed to make sense so off I set with my bodyguard. We left Goroka in a minivan and there was already a punch-up at the petrol station on the outskirts. The driver leaped out and pummelled a guy who got on as a passenger but in fact had just tried to seize another passenger's bag and run away. All the passengers piled out and started swinging punches and shouting while the driver phoned the police on his cell.
Now we had to go back to the town centre to find a replacement passenger for the thief - there was no way the driver would go off with one empty seat. At Kundiawa, about two hours on, we changed to a flatbed truck.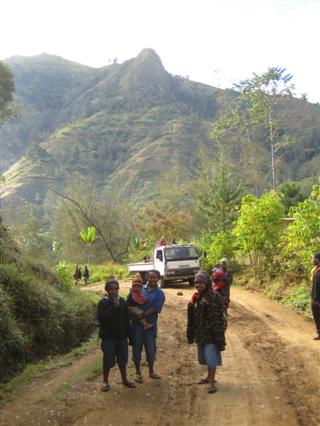 PMV breakdown on road to Kekesugl
I got a seat in the cab with an ample betel nut-chewing lady sitting between me and the driver, while Raphael sat behind with a horde of others on the flatbed guarding my case. We climbed into the clouds on an incredibly gouged and potholed rock and dirt track with splendid views of forested limestone crags and massive ravines, rivers rushing 1,000 or more feet below with no guardrail on the edge of the precipice.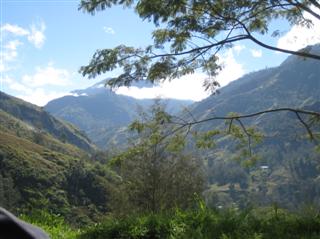 Kundiawa-Kekesugl road
When we finally arrived at Kegesugl, taking nearly four hours to cover 35 miles, Raphael fiddled in his back pocket and in shock announced that his wallet was gone. The irony was too rich to be believed: my bodyguard, whom I'd hired at his suggestion to protect me from pickpockets and raskols, had just had his own pocket picked.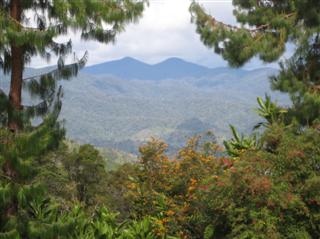 Mountain view at Kekesugl
To the northwest of Mt. Hagen on the razor-back Kaiap ridge, with its vast vistas on both sides of immense deep valleys backed by massive walls of peaks and mountain folds, I came close to the sort of village warfare that sets clan against clan. A whole group of locals insisted on walking with me on a stroll past idyllic small thatched villages.
After about an hour, they suddenly stopped in their tracks. They could go no further. A guy from one clan had shot dead a woman from the neighbouring clan who was carrying a bag of sweet potatoes, and now members of both sides were out hunting each other for 'payback.' We'd reached the 'border.'
Villagers stop near war border
Further west on the way to the Dantesque mountain bowl shrouded in yellow smoke that is the Porgera gold mine, the roadside remained unpopulated after a recent flare-up over land. Churches and villages had been burned to the ground.
At the nearby village of Sirunki, Wasi the bus conductor said another clan war was averted after a psycho axed a local schoolteacher from another clan to death. The attacker's own son axed off his father's hands and feet and, with other villagers, hanged him as preventive payback to forestall hostilities.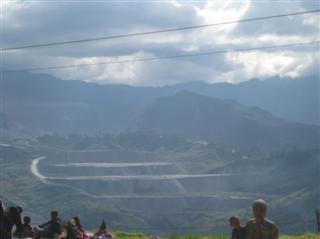 View over Porgera open strip mining
I could go on - and on: the gated and locked hotels in Port Moresby, the capital; outlaws extorting money for passage through southern Bougainville island; the young Australian yachtsman shoved from his motorbike and robbed on west New Britain island; the hotel in Lae insisting on taking me by car in broad daylight to the ATM, a hundred yards away - otherwise I would surely be mugged, they said.
For all that, and for all the foreign ministries' warnings - and doubtless with a goodly pinch of luck - I survived as one of the 'most visits are trouble-free.'
By the way, six suspects have already been arrested in the Black Cat Track attack and the local trekking association that depends on tourism is pleading with Australian trekkers not to be scared away.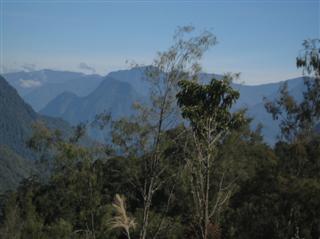 View along the Porgera-Wabag (Kaiap) road
For additional travel experiences see www.looneyfront.blogspot.com
Also by the same author, Shakespearean spoofs on current day politics at www.shakespeareredux.blogspot.com