A few years ago, there was a popular story about a couple who, before boarding a flight with their infant twins, created and distributed goody bags to the other passengers.
Knowing the odds were high that their babies would make a ruckus, these parents got proactive and put together little bags with candy and even a little note, in which they apologized for their kids' potentially-forthcoming commotion. It was a clever strategy, and it inspired copycats, like a blogger friend of mine whose courteous, empathetic wife employed a similar gambit.
Now that we're in the summer months, many people are taking vacations -- and that includes families, which include young children. If you're taking a plane somewhere over the next few weeks, odds are you're going to run into a baby or a toddler or two. It might even be my toddler, as my wife and I are hopping on a plane soon, along with our almost-4-year-old.
I'm not typically one for arts and crafts, but I was inspired by the ingenuity and foresight of the people mentioned above, who know damn well that children aren't fit for public consumption and need to be apologized for at every turn. So I've created a goody bag of my own for our cabin-mates, and I've listed the contents below.
Let me know what you think!
My Goody Bag: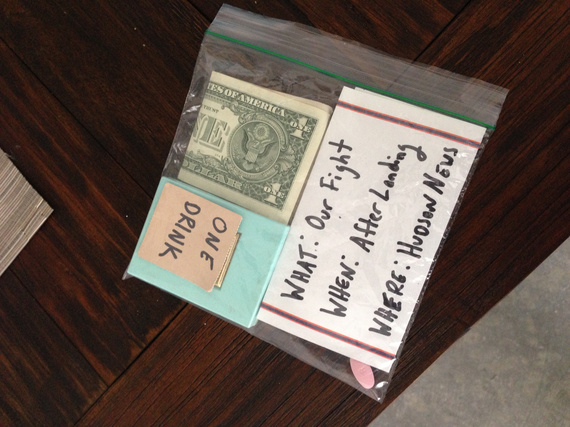 Contents:
Drink Coupon: For one warm mug of SHUT THE HELL UP if you ever get the urge to b*tch about a 2-year-old.
Compact Mirror: So you can take a good look at yourself and consider what kind of person gets pissed off at parents traveling with a toddler who's making their lives much more miserable than he's making yours.
Pill: It's either a sleeping pill or Ecstasy. Either way, your mood will improve.
The World's Smallest Violin (not photographed): For you to play as you're being whisked through the air at astonishing speeds to someplace far away while watching TV and listening to music through headphones that block out any noise from the toddler a few rows back who has never intentionally annoyed anyone in his entire life (except his parents).
E.T.: Unfortunately, a DVD was too big to fit in a bag, but here's a few bucks so you can rent the movie when you land and try to remember what it was like to be a kid, you heartless a**hole.
Heartfelt Note: In which I challenge you to a fight by the Hudson News closest to our gate.
***
Unfortunately for the other passengers on our plane, I'm not quite as nice as the parents I mentioned above.
More power to them for taking the time between packing every children's toy and DVD and snack -- and everything else they needed to survive a flight with their kids -- to package up a bunch of goody bags for a collection of adults who are so selfish that they feel entitled to complain about the child nearby who's making delighted shrieks because he's never seen clouds so up-close before.
But no thanks.
I'm simply not about to preemptively beg forgiveness in case my son disturbs your flight, and I'm certainly not going to pay some kind of tax to every other passenger just because my wife and I wanted to get away for a few days and we figured our son might want to come along.
Parents are as entitled to travel as anyone else, and so are their kids. Whether it's to see family, or attend a friend's wedding, or go on vacation. Guess what? Families travel together! Are children not allowed to see their grandparents because they might make a little noise? I'm exaggerating; they're allowed. This is America! But it would really be appreciated if you paid extra for the privilege. Not much, just 100 bags of candy and gum for Mr. Expensed-It-Anyway Businessman and Ms. Twentysomething-Returning-From-Spring-Break-with-a-Hangover.
The next time you get on a flight and see a couple -- or, God forbid, a solo parent -- escorting a kid to his seat or attempting to calm a tantrum or hoping like hell no one sh*ts their pants, consider for a second that the parents traveling with their kids are having a MUCH WORSE TIME than you are.
They're the ones who deserve a stupid goody bag. With extra liquor nips.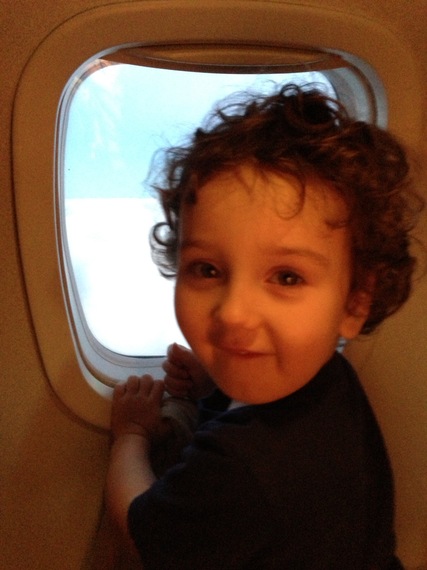 For more from Mike Julianelle, visit Dad and Buried.
Like Us On Facebook |

Follow Us On Twitter |

Contact HuffPost Parents

Also on HuffPost:
Ok, so sometimes it's hard for babies to bomb photos by themselves.

That baby is just begging for attention.

"I had to watch this whole boring marathon."

The eyes say it all.

If you are going to photobomb, you should cheese adorably.

The baby is her stand-in model.

That's a pretty big (fake) gun for a baby.

"Let's go swimming! Stop taking pictures!"

This has to be one of the first.

Ruining perfectly good cleavage pics is just one of the many services he offers.

The best way to improve boring, old lectures, hands down.

Can you photobomb yourself? Contemplate this and get back to us.

"Mom, are you taking pictures of your butt again?"

Making birthday dinners at the Cheesecake Factory weird since 2009.

"Mom, that site doesn't even exist anymore."

We're just going to assume this turned out fine.

He just wanted that shoe.

That face!

Look behind her shoulder.

They're trying to be cute, but he's cuter.

You might be focused on the TV bomb, but the little baby in the back takes the cake.

"Hey, no fair!"

This baby is living life to the fullest.

Without the baby, this is a pretty boring picture.
Follow Mike Julianelle on Twitter: www.twitter.com/dadandburied