With the new DVD release The Fine Friends Are Here!, Dan Zanes and Friends present colorful music and images that are not just for children, but also for the big kid in all of us.
Mike Ragogna: Unlike a lot of children's music that talks down to kids, dumbs-out the topics, or is so corporately-synthesized that all the honesty and joy is sucked out, your recordings do the opposite. Didn't you get the memo?
Dan Zanes: We're making music for everybody. At our shows, kids are only half the audience. It's really important to me that we have a shared experience, and that's what I wanted when my daughter was born, I just wanted a shared experience. I wanted to be able to listen to music with her and have an emotional connection to it. And I wanted her to have an emotional connection too...I didn't think playing Beatles records was such a great solution because most of those tunes are about romantic love. You know, that's not going to have much to do with a three-year-old's life. On the other hand, If I'm going to be singing songs about learning to eat with a fork or learning to put on a pair of trousers, that's doesn't do too much for the emotions of a grownup. So there's got to be a middle ground, and that's where we live.
MR: Are you consciously balancing the material for the kids and adults?
DZ: We might veer more towards young people on one song or towards grandparents on another, but we never want to leave anybody behind.
MR: Like "Catch That Train" which is a playful song, but it also has a "traditional" feel that plays to the older audience. All your recordings seem bent on bringing families together.
DZ: That's the intention, and they all have to have a lot of meaning for me. If they don't, I move on. And because kids and parents are listening together, just right off the bat, everybody's got the "togetherness" part of it. Then, hopefully, everybody turns the CD player off at a certain point and makes their own music. That's really what it's about. That eventually, we become a musical country again. So we're just trying to do our part to push that idea forward, and we always include lyrics, chords, and try to make it sound like people in a house, which is why we record in a house. These are old and new songs, you can play 'em too, and it's a joyous experience that's available to everyone no matter how old you are.
MR: You started making children's music by hanging out and jamming with other musical fathers?
DZ: Yeah, it was casual music making. I'd never really done that before, where I just played casually for home entertainment. I had always been in a rehearsal space or on a stage or in a club, and the idea of just playing around the house was actually kind of intimidating and a little terrifying.
MR: Although you can hear hints of your previous group, your musical approach now seems extremely different than how you approached things with The Del Fuegos.

DZ: I sort of rediscovered folk music. When my daughter was born, I didn't really want to stop playing, and there was no way I was going to bring her to a rehearsal space while a band's playing. So I thought back to when I grew up and Pete Seeger and Woody Guthrie and Leadbelly. I reconnected with the spirit of what those people were doing. They had songs you could play no matter who was in the room, and I just woke up one day and thought, "I've got to get a banjo." It came out of nowhere. So I got a banjo and started learning while I was playing with my friends in the neighborhood...the kids running around at our feet. I was rediscovering American folk music and trying to think about how to update the stuff that I grew up with, and that's what I've been doing ever since.
MR: How did you meet your "friends"?
DZ: Different ways. You know, New York is an amazing place as far as musicians go. It was important to me that there's a bunch of us from different backgrounds so people can bring in different things. It's important to me that women are in the group since a lot of our audience is girls and they need to be able to look up at the stage and see themselves so it can't be like the white rock band anymore. I want everybody, especially young people, to be looking at the stage thinking, "I could be doing that too!" Sonia De Los Santos is in the group, and she's from Mexico so a lot of times at shows, you'll see Latina girls in the audience looking up at her. They're seeing something for the first time, one of their people--and a woman at that--playing in this band. She's not the lead singer or the background singer. She's singing, playing guitar, mandolin...she's in the band!
MR: And the kids are watching all of you interact with each other as well as them, so you're also showing by example how friends can play and have a good time together.
DZ: It's really great. I feel really, really blessed to be in this band and to play with these people. They're the most incredible group that I've ever been a part of. I don't know if the world needs another DVD, but I felt that this group is so good and I wanted to capture the moment because, for me, it's everything I ever wanted in music from the day I started playing. I get it with these people.
MR: Are part of the proceeds going to charities?
DZ: We've given a lot to Heifer International, a world hunger organization. On the new one, part of the proceeds go to the Mario Batali Foundation. We met him at our shows in New York years ago, he would come with his kids. He started the foundation to make sure under-served kids get breakfast. It's something I really believe in and I love him, so that was an easy call to want to help support his foundation as it gets started. Just the idea that kids are going to school hungry, that they're not set-up for the most important meal of the day to maximize their brainpower, is just heartbreaking. To think that we're the superpower of the world and we still don't have that going on for our kids...
MR: Are you active with other social causes?
DZ: Yeah, of course. I think as an artist today, I have a social responsibility to look at the world around me and somehow integrate my thoughts about it into the art. Whether I'm a family musician or not, it doesn't matter. In a way, I feel lucky because I'm not always preaching to the choir. The record we did earlier this year is called The Welcome Table, and we did it to benefit a group called The New Sanctuary Movement. They're a collection of churches and synagogues and mosques who work with families with a member facing deportation. Last year, almost half-a-million people were deported from the U.S., and it's immoral, what's happening. Families are being separated every day for reasons that some of us consider completely trivial. The undocumented here don't really have a political voice, and The New Sanctuary Movement is doing such good work. So we did a CD to benefit them and I get to talk about it at every show.
MR: How do people react to the activism?
DZ: I certainly don't consider myself an activist in any way, but I do think I have an opportunity to spread the word about things that I think are important. I love our audience because they're really up for it, you know? Every time I mention it, people will clap, and appreciate that we do it. I'll meet other parents who are familiar with the movement, so it's a wonderful opportunity.
MR: Are there other issues you've felt strongly about?
DZ: We sang "Down By The Riverside" for several years after 9/11 because the whole idea of going to war seemed so ludicrous. It gave us a chance to say it at that time. It wasn't always such a popular thing, but we got to say it and most people appreciated that we did. To me, it seemed like such an easy call. Does it really make a difference in the long run? I don't know. But it's just a way of saying, "Here we are and here's what we're thinking about, and if you're thinking these things do, you're not alone."
MR: Do you always bring social consciousness into your shows and recordings?
DZ: I think it's better to speak up than not, and I think this is a perfect forum for it because as parents and families, we are thinking about the future. We do want our kids to grow up with a world view. I think it's important for me as a parent that my daughter thinks about the bigger world and issues that are going to affect her and all people. We're living in the land of privilege here, and it's nice to be able to acknowledge that a lot of our neighbors are suffering. But you know what? It's all got to be fun too or people are just going to get up and go home! That's the thing, how long can I stand on my little soap box because people want to get back to the singing and dancing. And who can blame them, that's what they came out for. So I get a little window, people are cool about it, and then the party rolls on...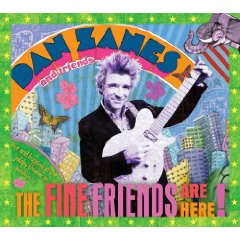 DVD:
1. Let's Shake
2. The Fine Friends Are Here
3. Wabash Cannonball
4. Water For The Elephants
5. Pollito Chicken
6. Jump Up
7. Cape Cod Girl
8. Wonder Wheel
9. El Canario
10. Welcome Table
11. Thrift Shop
12. Monkey's Wedding
13. Colas
14. Catch That Train
15. Walking The Dog
16. Night Owl - with Aimee Mann
CD:
1. I've Just Seen A Face
2. Hush, Little Baby
3. The Bells Of Ireland
4. Goodnight, Goodnight
SQUEEZIN' IN THE PRESS RELEASES:
***SMOKEY & SANTANA TOGETHER AT LAST!
Question: What happens when Smokey Robinson and Carlos Santana record a song together?
Answer: "Please Don't Take Your Love" (check it out at this url): http://bit.ly/3V0BS4
Santana's signature tone fits perfectly with Smokey's silky voice, supported by a deep funk groove. The track is from Smokey's latest album release, Time Flies When You're Having Fun, out now on Robso/ADA.
Smokey also collaborated with Joss Stone and India.Arie on the album. He performed "You're The One For Me" with Joss on Jay Leno's new show last night, 9/24 on NBC.
http://myspace.com/smokeyrobinson
http://smokeyrobinson.com
***Pete Yorn and Scarlett Johansson's Break Up Debuts At #7 On Billboard's Top Digital Albums Chart
Five-Song Performance On Spinner.com's The Interface On AOL Music Launches Friday, September 25
NPR All Things Considered Interview Hits Saturday, September 26
Pete Yorn and Scarlett Johansson's duets album, Break Up, debuted this week at #7 on Billboard's Top Digital Albums chart and #6 on Billboard's alternative chart. Critics are raving about Break Up citing "these Hollywood duets are like the bouncy, flower-power-pop joy of Sonny & Cher" (GQ), "the compilation of duets is irresistible" (People StyleWatch), "a delicate, elegiac album of jangly country-tinged songs about love gone wrong--is like the perfect mix tape" (New York Magazine), and "Johansson and Yorn have sculpted a sweet winner" (Billboard).
Their exclusive five-song in-studio performance will launch at Spinner.com's The Interface on AOL Music on September 25, and their NPR All Things Considered weekend interview will air September 26. The video for the first single, "Relator," which premiered worldwide on Yahoo! Music, continues in rotation at VH1 and was just added to MTVU.
Break Up is a deeply emotive yet hook-filled duets album about a tempestuous relationship and includes eight original compositions by Yorn, ranging in tone from the lilting "Relator" to the disarming, retro/futuristic "I Don't Know What To Do" to the climactic "Someday." Completing the collection is a powerful interpretation of the art-rock classic "I Am The Cosmos" by the late Chris Bell, co-founder of quintessential cult band Big Star.
***JUST SURRENDER SIGNS WITH RAZOR & TIE
NEW ALBUM TO BE RELEASED IN 2010
LISTEN TO NEW SONG "ON MY OWN" ON MYSPACE
BAND TO TOUR WITH HAWTHORNE HEIGHTS THIS FALL
Pop-punk rockers Just Surrender signs with Razor & Tie and plans a 2010 album release. This week band debuted a new track, "On My Own" on their MySpace Page (http://www.myspace.com/justsurrenderrock) and will hit the road this fall with Hawthorne Heights (dates below).

"We've spent a long time developing and touring Just Surrender, when we met with Razor & Tie recently, we knew that they were the label who could help us really release our first big record, we're excited for 2010," comments Just Surrender drummer, Steve Miller.

The New York based quartet Just Surrender have sold over 40,000 albums to date with their two previous independent releases. The band formed in 2003 right out of high school and has spent the last four years on the road playing the Vans Warped Tour and Bamboozle as well as touring with such bands as The Starting Line, All Time Low, Bayside, Set Your Goals, We The Kings, Taking Back Sunday, and more. Just Surrender's emo-tinged punk has connected with an impressive online fan-base with over 500,000 YouTube plays, 13 million MySpace plays, 5.3 million MySpace profile views, and 80,000 plus MySpace friends.

The new album is being recorded this fall and will be produced by Lou Giordano (Taking Back Sunday, We The Kings, Goo Goo Dolls) and co-produced by Ace Enders for a 2010 release. Just Surrender is: Jason Maffucci - vocals, Dan Simons -vocals / guitars, Hammer - bass, Jolly Ubriaco - guitars, and Steve Miller - drums. The band is managed by Lucas Keller and booked by Justin Hirschman of the Artist Group International.
***TIME TO GET YOUR MERRY ON!
Michael McDonald - This Christmas
Music legend Michael McDonald has a new holiday album, This Christmas (September 29th, 2009), which features 12 yuletide classics, infused with McDonald's unmistakable vocal styling's. This Christmas showcases Michael McDonald's twist on holiday favorites such as "Have Yourself A Merry Little Christmas" and "White Christmas," as well as McDonald's versions of the Stevie Wonder Motown classic, "What Christmas Means to Me" and the Donny Hathaway song, "This Christmas." The album includes a special duet on "I'll Be Home for Christmas" with his 17 year old daughter, Scarlett. With a career spanning nearly thirty years, Michael McDonald is an enduring presence in popular music. He has enjoyed tremendous commercial and creative success, winning an impressive five Grammys and earned innumerable chart successes, and sales feats. www.michaelmcdonald.com

The Irish Tenors - The Irish Tenors Christmas
The rousing trio, The Irish Tenors, have made countless traditional treasures breathe with new life since they first joined voices in 1998. Their newest Christmas release, The Irish Tenors Christmas (October 6th, 2009), features such Holiday classics as "Hark The Herald Angels Sing," "Santa Claus Is Coming To Town," "Silent Night" and a few medleys including "Rockin' Round the Christmas Tree/Jingle Bell Rock." The Irish Tenors powerful vocal line-up of Finbar Wright, Anthony Kearns and Karl Scully are unquestionably the leading brand of this genre. The magic they've captured on previous releases has resulted in millions of albums sold. www.irishtenors.com

The Dan Band - Ho: A Dan Band Xmas
And for all those who want something a little bit fresh, raunchy, hilarious and are tired of those same time old classics you're in luck because we have The Dan Band, featuring Dan Finnerty, with new time classics with all the comedic juices needed for the holidays. The comedy musical team, The Dan Band, will release their first holiday album, Ho: A Dan Band Xmas (October 20th, 2009), featuring original, bound-to-become classics like "I Wanna Rock You Hard This Xmas" and "Please Don't Bomb Nobody This Holiday." The Dan Band's classic performances have been featured in such films as Old School, Starsky and Hutch, and recently The Hangover and the premier of The Jay Leno Show. www.thedanband.com
***THE VERY BEST'S FALL TOUR DATES CONFIRMED
WARM HEART OF AFRICA TO BE RELEASED OCTOBER 6
"Sunny, worldly pop delight."--Time Out New York
"The best advertisement for blogs since well, ever."--Los Angeles Times
Warm Heart of Africa, the debut full-length album by The Very Best (European production duo Radioclit and Malawian singer Esau Mwamwaya), will be released October 6 on Green Owl. The much-anticipated album is already receiving critical acclaim here and in the U.K. GQ, SPIN, Rolling Stone, MOJO, The Guardian, among many others, have hailed The Very Best's debut effort. The band will return to the U.S. this fall for a national tour, including dates in New York City at Le Poisson Rouge on October 21 and Los Angeles at Echoplex on October 24 (please see below for complete confirmed dates). Autographed CD-and-ticket bundles will be available for purchase in advance of select shows.
Warm Heart of Africa follows the surprising global success of Esau Mwamwaya & Radioclit Are The Very Best, a free mixtape made available online late last year. Without promotional assistance or financial support, the collection of well-known pop, dance, afro and indie tracks remixed by Radioclit featuring Mwamwaya's singing in Chichewa, Swahili, Portuguese and English charted more than 200,000 downloads and was hailed by tastemakers including Pitchfork, FADER, and Gorilla vs. Bear, among many others.
The Very Best is receiving critical acclaim for its high-energy live performances and forthcoming album in the wake of its first U.S. tour. In a "Best New Music" track review of the first single "Warm Heart of Africa," which features Vampire Weekend's Ezra Koenig, Pitchfork describes Mwamwaya as "one of the most effortlessly lovable voices around." Rolling Stone jokes, in its four-star review of the song, which contains an ELO reference in one lyric, "Somewhere Jeff Lynne is confused but happy." LA Weekly calls the band "one of the best antidotes for LA traffic frustration." San Francisco Bay Guardian warns, "Brace yourself for hazardous dance floor anthems well-fed on the homegrown African sounds of high-life and marabi, as well as bass-laden pop grooves from, well, all over the globe." And, following the band's New York City concert, GQ.com says, "We're curious to see if the folks who swoon for Vampire Weekend's Graceland-y rock and M.I.A's revolution party beats will be ready to follow the music to its logical next step. We are."
While The Very Best mixtape caught fire with Mwamwaya singing over remixes of Michael Jackson (Free Willy theme), Vampire Weekend ("Cape Cod Kwassa Kwassa"), Hans Zimmer (True Romance theme) and M.I.A. ("Paper Planes"), the full-length consists of original songs. For the recording, the band brings some guests on board: in addition to Vampire Weekend's Koenig joining for "Warm Heart Of Africa," M.I.A. is featured on "Rain Dance."
The band came together when Mwamwaya first met Radioclit's Etienne Tron in 2007 while haggling over a bicycle in the London second-hand furniture shop he ran near the duo's studio. Following the exchange, Mwamwaya was invited to Tron's house-warming party where he met the other half of Radioclit, Johan Karlberg. Esau was asked to come to Radioclit's studio after he told Karlberg he was a drummer. It turned out Esau was a singer too and they decided to collaborate, combining Radioclit's vast production experience and self-described "ghettopop" style--having produced and remixed tracks for the likes of M.I.A., Lily Allen, Justin Timberlake, Santigold, Britney Spears, TV On The Radio, David Banner, Buraka Som Sistema among others--with Mwamwaya's emotive vocal approach. Karlberg dubbed Mwamwaya "the African Phil Collins," and they have been recording songs together ever since.
Green Owl is a New York City-based record label started by artists for artists with the idea that great music can be sustainable--both economically and environmentally. Green Owl is committed to respecting this planet through sustainable technology, news and information. Please visit www.greenowl.com for more information.
The Very Best Performances:
October 21 - New York, NY - CMJ Showcase--Le Poisson Rouge
October 23 - San Francisco, CA - 103 Harriet
October 24 - Los Angeles, CA - Echoplex
October 29 - Chicago, IL - Bottom Lounge
October 30 - Toronto, ON - Wrongbar
November 1 - Boston, MA - Great Scott
November 2 - Washington, D.C. - DC9
November 3 - Philadelphia, PA - Johnny Brenda's
***BUT WHAT ABOUT CREED AND STAIND?
Creed and Staind will air their live concert for free on mycontent.com. The concert will be broadcast from the Cynthia Wood Mitchell Pavilion in Houston on September 25, 2009. Part of Creed's Full Circle Tour, this concert will serve to put Creed in the Guinness Book of World Records for "most cameras used for covering a live music event."
"We're excited that Creed is using the mycontent.com platform for this event," said Jonah Ninger, CEO of mycontent.com. "We've just launched and look forward to helping Creed monetize and market their future content as well."
With their Houston concert, Creed is targeting the Guinness Book of World Records by using 242 cameras to cover their show. Fans around the world will be able to view the concert for free on mycontent.com beginning at 9pm EDT on Friday, September 25, 2009.
***Brian Setzer Recruits Visionary Arranger Frank Comstock For Film Noir-Inspired Album
What does a modern-day big band leader do when they want to re-create the sounds of classic 1950s film noir music? For Brian Setzer, the answer was simply to go to the source, the legendary Frank Comstock, who wrote arrangements for Benny Carter, Stan Kenton, Les Brown, and Judy Garland, penned the theme songs for Rocky & Bullwinkle, Adam 12, and Dragnet, and recorded the cult classic 'Music From Outer Space.'
Comstock wrote the horn charts for nine of the twelve tracks on Songs From Lonely Avenue, (Surfdog/ Oct. 13), having also worked with Setzer on his last album Wolfgang's Big Night Out. As Setzer saw it, only Comstock was capable of putting together these electrifying, sophisticated and yet emotionally raw horn charts, evoking the big-band scores of half a century ago in a language that would connect immediately with the contemporary listener.
"Frank is the only one left," Setzer says of his collaborator. "He helped invent this sound and, at 87 years old, he's still got it."
Listen to an example of Frank's work on the song "Lonely Avenue" (and check out the accompanying montage of fan-submitted cover-art for the new album):
http://www.youtube.com/watch?v=B7aOCGMZXZA
***HEY, ANY NEWS ABOUT THE AVETT BROTHERS?
THE AVETT BROTHERS premiere "I and Love and You" video on MySpace

The Avett Brothers are pleased to premiere their first video from their upcoming September 29th release I and Love and You on MySpace today!

Check it out here:
http://vids.myspace.com/index.cfm?fuseaction=vids.individual&videoid=63483189

The Avett Brothers are presenting a series of 13 clips, each showcasing a song from the new Rick Rubin produced album, I and Love and You.

Using live footage shot at the recent Charlotte, NC headlining show, and incorporating band and fan interviews, the Brothers hope to show the unique and close relationship they have with their fans, the excitement of an Avett Brothers live show, and the incredible music that is on I and Love and You.

I and Love and You is available everywhere on September 29, 2009

***RUBEN STUDDARD SHOWS MORE 'LOVE' ON NEW SINGLE "DON'T MAKE 'EM LIKE U NO MORE" FROM HIS RECENT ALBUM RELEASE LOVE IS
The "R&B Romantic" Studdard Set To Join David Foster And Friends Tour This Fall
R&B stalwart Ruben Studdard follows a successful summer of live, TV and radio appearances with the release of "Don't Make 'Em Like U No More," the second single from his current album Love Is (on Hickory Records/ 19 Recordings). The song has been described as a "sleek and soulful R&B ode to everyone's special someone" and has been creating excitement at radio stations across the country.
With its charming chorus ("They don't make 'em like U no more"), the romantic song fits perfectly with the grand theme of Love Is - an album Entertainment Weekly called a "mix of crafty originals and sturdy covers" featuring tracks that give "Ne-Yo a run for his dance-pop money." "Don't Make 'Em Like U No More" hits Urban AC radio September 29.
Listen to "Don't Make 'Em Like U No More" (as an audio stream):
Windows Media Stream: http://bit.ly/DontMake_Windows
Real Player Stream: http://bit.ly/DontMake_RealPlayer
On October 21st, Studdard will join Philip Bailey (Earth, Wind and Fire), Charice, Peter Cetera (Chicago) and Michael Johns on the David Foster And Friends Tour kicking off in Chicago, Illinois. The tour will include stops in New York, Boston, LA and Miami and is bound to draw both new and old fans to see Studdard, a.k.a. "the Velvet Teddy Bear," perform.
A special event on the tour mirrors Studdard's own rise to fame: a "Hit Man" Talent Search for emerging artists. Two finalists will perform during the final concert in Vancouver. For more about the search and tour, visit: http://bit.ly/HitManTalent
Fans can keep up with Ruben at his brand new site RubenStuddard.com, which is updated regularly with official news, tour dates, audio/video, discography, and more: http://www.rubenstuddard.com/
Ruben Studdard Tour Dates With David Foster And Friends:
Oct. 21- Chicago, IL Rosemont Theatre
Oct. 23- New York, NY WaMu Theater at Madison Square Garden
Oct. 24- Newark, NJ Prudential Center
Oct. 25- Boston, MA Agganis Arena
Oct. 28- Atlanta, GA Fox Theatre
Oct. 30- Tampa, FL St. Pete Times Forum
Nov. 1- Hollywood, FL Hard Rock Live
Nov. 5- Los Angeles, CA Gibson Amphitheatre at Universal CityWalk
Nov. 6- San Jose, CA HP Pavilion
Nov. 8- Vancouver, BC General Motors Place
Ruben Studdard Online:
http://www.rubenstuddard.com/
http://www.myspace.com/rubenstuddard
http://www.imeem.com/rubenstuddard
SUBSCRIBE TO & FOLLOW ENTERTAINMENT
THE spot for your favorite fan theories and the best Netflix recs. Learn more