Well, better late than never. With the release of stereo and mono box sets, individual album reissues, and their own edition of Rock Band, The Beatles finally have stepped into the 21st century in a major way. Now, younger generations will have the opportunity to crush just as hard on The Fab Four's musical output as those of us who, for decades, have sustained a serious relationship with Beatlemania. And the best thing about these releases? Falling just outside of Apple's 40th anniversary year (ending this past August 26th), the formidable foursome's imprint, along with EMI, has dusted off the old masters' cobwebs and refurbished every track of every release, utilizing Allan Rouse and the Abbey Road Studios team for the massive undertaking. In a recent interview with Examiner.com, Rouse revealed, "No album or track was more challenging than another (to remaster), but the treatment to them changed accordingly, along with the changes in The Beatles' music and the way in which they were recorded, all of which presented different issues." Logically, the mastering "...was done chronologically, allowing the team to progress with The Beatles' sound."
The process took four years, and the hard work shows (though waiting until 2009 to roll these out might have been pushing it). Overall, the new Beatles sound is pretty impressive, its necessary sonic upgrades not losing any of the vintage recordings' integrity. Sure, some will say that the use of a bit more compression and EQ expansion is heresy; but forgetting that for a moment and just using your ears, or if you liked the recent mastering approached used on Beatles 1 and Love, you're going to be very happy.
Beyond the remastering, other improvements and additions were made. The stereo box features 13 mini-documentaries on the original albums that also are included as embeds (one per relative disc) for a limited time on the reissues. These stereo mini-docs are in Quicktime and include previously unreleased studio chatter and rare film footage. The reissue packaging upgrades include booklets with extremely detailed historical documentation for each corresponding release, and the mono set comes in a "hard, white, glossy slip box" that contains the albums (except Abbey Road and Let It Be) in mini LP jackets with sleeves and gatefolds that emulate the original artwork.
These Beatles box sets, album reissues, and Rock Band video game (which is phenomenally good, see below for music details) most likely will invigorate the marketplace's traditional desire for physical products, at least when it comes to our favorite former Fabsters. But it also is hanky time since this most likely will be the last hurrah for the compact disc format that is being eliminated from our culture on a daily basis. At least, with all of these new Beatles releases, it's going out in style...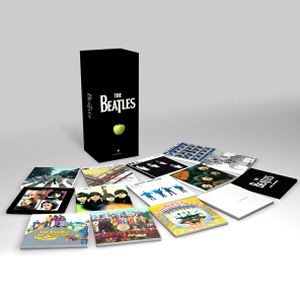 The Beatles Stereo Box Set:
Please Please Me
With The Beatles
A Hard Day's Night
Beatles For Sale
Help!
Rubber Soul
Revolver
Sgt. Pepper's Lonely Hearts Club Band
Magical Mystery Tour
The Beatles (aka White Album)
Yellow Submarine
Abbey Road
Let It Be
Past Masters
DVD


The Beatles Mono Box Set:
Please Please Me
With The Beatles
A Hard Day's Night
Beatles For Sale
Help!
Rubber Soul
Revolver
Sgt. Pepper's Lonely Hearts Club Band
Magical Mystery Tour
The Beatles (aka White Album)
Mono Masters - featuring mono tracks mainly from stray singles and EPs
Mono Masters Tracklist
CD 1
Love Me Do (single version)
From Me To You
Thank You Girl
She Loves You
I'll Get You
I Want To Hold Your Hand
This Boy
Komm Gib Mir Deine Hand
Sie Liebt Dich
Long Tall Sally
I Call Your Name
Slow Down
Matchbox
I Feel Fine
She's A Woman
Bad Boy
Yes It Is
I'm Down
CD 2
Day Tripper
We Can Work It Out
Paperback Writer
Rain
Lady Madonna
The Inner Light
Hey Jude
Revolution
Only A Northern Song
All Together Now
Hey Bulldog
It's All Too Much
Get Back
Don't Let Me Down
Across the Universe
You Know My Name (Look Up the Number)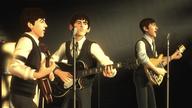 The Beatles - Rock Band:
A Hard Day's Night
And Your Bird Can Sing
A Hard Day's Night
Back In The U.S.S.R.
Birthday
Boys
Can't Buy Me Love
Come Together
Day Tripper
Dear Prudence
Dig A Pony
Do You Want To Know A Secret
Fon't Let Me Down
Drive My Car
Eight Days A Week
Get Back
Getting Better
Good Morning Good Morning
Hello Goodbye
Helter Skelter
Here Comes The Sun
Hey Bulldog
I Am The Walrus
I Feel Fine
I Me Mine
I Saw Her Standing There
I Want To Hold Your Hand
I Want You (She's So Heavy)
I Wanna Be Your Man
If I Needed Someone
I'm Looking Through You
I've Got A Feeling
Lucy In The Sky With Diamonds
Octopus' Garden
Paperback Writer
Revolution
Sgt. Pepper's Lonely Hearts Club Band
Something
Taxman
The End
Ticket To Ride
Tomorrow Never Knows
Twist And Shout
While My Guitar Gently Weeps
With A Little Help From My Friends
Within You Without You
Yellow Submarine
Bonus: "All You Need Is Love" will be available on Xbox Live and all of the album Abbey Road will be on PSN as well as Xbox Live
The Stone Roses - The Stone Roses / Legacy Edition and An Interview with Producer John Leckie
In the U.S., The Stone Roses is remembered as one of those critically acclaimed U.K. rock acts that almost achieved superstardom in the States but mysteriously never did. In England, the Manchester lads rose from the late '80s pub scene to become critics' picks, pop chart conquerors, and heroes of the "Baggy" movement; but the legendary five-year lawsuit between them and their label Silvertone deprived vocalist Ian Brown, guitarist John Squire, bassist Gary Mounfield, and drummer Alan "Reni" Wren of their otherwise well-deserved musical fame and fortunes. Sadly, after half-a-decade, Second Coming, their follow-up album on Geffen, was that in name only despite its minor hit "Love Spreads."
Regardless of the drama that occurred across the pond, the album The Stone Roses still is considered a classic, and its 20th anniversary easily qualifies it for a Legacy Edition. The album's sound has been enhanced along with the bonus track/college radio hit "Fool's Gold," and the accompanying second disc documents the project's creative evolution. For those unfamiliar with their sound, think Byrds psychedelics meets sixties chord patterns and haunting, reverb-drenched lead and harmony vocals; throw in something akin to light Frippitronics that occur during elongated and backwards guitar solos and licks, and you get the picture.
Brown's moody vocals always are tucked artfully into the mutli-layered Britpop, and when the Roses are not jangling away through great pop-rockers such as "I Wanna Be Adored" (#18 Rock Track) or "She Bangs The Drums" (#9 Rock Track), "Waterfall," and "I Am The Resurrection," they're offering up miniature treatises like "Elizabeth My Dear" during which Ian Brown borrows the melody of "Scarborough Fair" and perverts its traddy lyrics into "Tear me apart and boil my bones, I'll not rest till she's lost her throne, my aim is true, my message is clear, its curtains for you, Elizabeth my dear." Angry? Nah, not really. Addicting? Absolutely, these tracks are mesmerizing--just check out "(Song For My) Sugar Spun Sister" or the last four minutes of "I Am The Resurrection" for proof.
Remarkably, the "demos" are barely that, with non-album tracks like "Mersey Paradise," "Where The Angels Play," the b-side "Something's Burning," and "Pearl Bastard" also shining. Even the stray single "One Love" is included, making this a pretty tight historical excursion. All of these recordings were nurtured by famed British producer John Leckie who oversaw projects by acts such as Simple Minds, Magazine, Be Bop Deluxe, XTC, Public Image Ltd., The Fall, The Posies, Gene Loves Jezebel, Robyn Hitchcock, My Morning Jacket, and The Verve. Leckie graciously made himself available to chat about the boys' early studio days while traveling somewhere between London and Oxford...
Mike Ragogna: How did you first meet The Stone Roses?
John Leckie: Our first meeting was at the rehearsal up in Manchester because the record company sent me some demos and I jumped in the car and went. They used to rehearse in this pub called The International--the manager used to run some clubs up there like International 1, International 2--and they could rehearse on the stage there in the afternoons until the gig started in the evening. So when I first met them, the place was empty, there was nobody there. We had a good time, and afterwards, we went out for pizza.
MR: As you watched them at the rehearsal and eventually at their gig, did concepts on how you'd produce them become clear?
JL: When I saw them play live, it was full-on really...the place was packed. People were hanging everywhere and screaming, and it was all a bit more bombastic, more drum-heavy, like a drum spectacular going on. Everyone was dancing and raving in the audience.
MR: How soon did you take them into the studio and what was that like?
JL: It was two weeks, and there we were. It turned out really well, it was a great studio. Because of the record company not wanting to spend money, they booked us at a cheap rate, so we started at seven and worked until about nine in the morning. The band was staying at a guesthouse that was down the street, and of course, they're trying to get to sleep at nine or ten in the morning. It was crazy, and a little bit difficult from the hours we were doing, but we managed to capture something really good. We started out recording four tracks (including) "I Wanna Be Adored," and "She Bangs Drums." We went on and did the rest of the tracks, we went to Rockfield Studios as well, and recorded "I Am The Resurrection" and some of the others. So, it was recorded over a three month period, there wasn't this sort of inventive thing, like going into the studio and not coming out 'til it's finished. It was done in pieces, and the band was playing in-between. It was a kind of growing thing as well by the time the album was finished.
MR: How much guidance did you give?
JL: All the songs were written before I came in, all the lyrics already written. In fact, when you hear the demos, you'll see that all the songs are formed, really, with the guitar and voice. John and Ian would go away, John would record, maybe record parts on top, and then take it to the band and work out the bass and drums. And so I would come in at that stage, after the songs have been written, and maybe rearrange things. Maybe if things were a little too long, or we might work on an intro to the song, or make something end nicely with a fade or with something special. Like on "Resurrection" which was originally just the song, but we decided to extend it and it goes on for another five minutes after the vocal finishes. All that was tightly arranged and recorded.
MR: What was the process for recording the band?
JL: I liked to record the band playing live really for the first off, there were no click tracks used until we did "Fool's Gold" which was later.
MR: Yeah, "Fool's Gold" seems to be the odd duck on the LP.
JL: On the U.S. version of the album, the record company put "Fool's Gold" on it. The record's meant to finish with "I Am The Resurrection"--that's meant to be the last track. "Fool's Gold" was done after this album came out in the U.K., and when it came out in the States, they just tacked "Fool's Gold" on the end which kind of spoils the balance of the record.
MR: Did you use any special techniques when you recorded them?
JL: Not really, no different than any of the records I did at the time. It was all recorded on twenty-four track tape...actually, it's forty-eight because you could run two tape machines together. You kind of fill up the first twenty-four, then work on the other twenty-four, and that would be just for one song. So no, there were no special techniques except on the guitar sounds...always trying to find new ones. We'd often get the latest box in, or the latest amp, and try different things.
MR: How did you separate The Stone Roses' sound from all the other acts you were producing?
JL: For the time, it wasn't technically that different from anything I was doing. I mean, sometimes I'd use a sample for the snare drum or, particularly, the bass drum. You'd get the drummer to record one really good hit, and you'd sample it and trigger it from the "played" snare drum. So as the drum in the track is being played, it's triggering a sample to fire so all the drum hits are the same kind of thing. But I'd never replace the original snare, I'd always use the sample to back up the live. Bass drum tones needed to be the same each time with the same impact on every hit, and you can do that with a sample quite easily. It's just a normal technique I'd even use today.
MR: So that was part of the layering-in of the sounds.
JL: Yeah, things were layered--guitars were double-tracked, sometimes we'd double-track an acoustic guitar playing what the electric guitar did. We'd have two electric guitars and two acoustic guitars on each side all playing the same part, and it creates a kind of drone and harmonic thing.
MR: I imagine you used a couple of other non-traditional tricks too?
JL: We'd do anything for what the part was to make it sound amazing. Like on "Bye Bye Badman," the guitar is being played through a revolving Leslie speaker.
MR: But, generally, the band played live and you captured the moment.
JL: That's right, yeah, that's where you start off, you come and set the band up as if they were on stage, and they play. You get a guide vocal so everyone's in the mood as if it's a gig, and you just go for the best take. Sometimes it takes a few goes, sometimes you might get it in the first take. Or sometimes it can take twenty, thirty, forty takes, you get depressed and really hate the song, then you come in and do it again and it's perfect. Luckily, nearly all these songs had been played in front of an audience before they were recorded. I love that because you know if the song works. When you're dealing with songs that have just been written that have never been performed in front of an audience, you never quite know how good it could be or what the "fat" is or what you're indulging in that the audience really isn't going to get off on. So it's great that the Roses actually performed these songs on stage before they were recorded.
MR: How much part replacing did you have to do?
JL: From the original track of them all playing together, you may only keep the bass, drums, and rhythm guitar, but you don't tell them that because everyone's going for a great performance. It depends on what the song is really.
MR: With forty-eight tracks to fill, did you find yourself keeping those original performances anyway?
JL: Yeah, you save everything if you can. But twenty-four tracks is easily used up once you start doing things in stereo like keyboards, or once you have two amps going, that kind of thing. It's not like working with digital Pro Tools or a work station where you can record every microphone kind of thing, like when you have four mics on the guitar. On tape, it's recorded on one track, but on Pro Tools, you would record those four microphones, which gets really tedious if you start double-tracking. Before you know it, you've got endless tracks.
MR: Do you prefer recording with a fewer amount of tracks?
JL: At that time, I was getting into slave reels, but I recently did a record with My Morning Jacket where we used a sixteen track machine, and only twelve of the tracks were used. If you think about it, if you get a good drum sound, the drummer's going to love it, everyone's going to get off on it. And there's no reason why that couldn't be on two tracks. But just for safety, I put the bass drum on another track, so there were three tracks of drums.
MR: How did you oversee the new Legacy release?
LR: They asked me to go in and remaster it, and look for the old tapes. I asked them to send me a list of what they had, and I got a list of about 5000 reels of tape, and I had to go through it and see which ones to use by the final dates plus my memory and notes on what exactly was done. Luckily, it was on two reels of tape--side one, side two--and they were the masters, no dispute. Then I had to dig out the mix of "Fool's Gold." It was fascinating, actually, to get all those tapes out.
MR: So did you use the LP cutting masters or the originals?
JL: The original masters.
MR: I ask because some reissue producers use LP cutting masters since they contain all the original mastering moves...
JL: ...or they go to the shop and buy a CD. [laughs]
MR: What are your favorite songs from the album?
JL: My favorite songs? Oh, I don't know. "She Bangs The Drums" and "Waterfall," I think. It keeps changing. I like hearing those two songs on the radio, but, you know, I like all of them.
MR: What are some of the highlights of the second CD?
JL: It's got demos, a-sides and b-sides, and there are some very interesting ones like "Something's Burning" which was the b-side of "One Love." There's an extended version of "Elephant Stone" as well. On some of the compilation CDs, they have the short radio-edit version of it, but I did the extended 12" version. What I did was take the whole song, without vocals, and dubbed some snare hits and did some crazy stuff with the guitar. So we played the whole song through, and then did an edit, and repeated it with the vocal in, so there's a nice nine-to-ten minute little epic there from some rudimentary beginnings.
MR: What else did you do with these additional tracks?
JL: Well, we took the tape on "Waterfall" and played it backwards, and that became "Don't Stop" so it's actually the previous track on the record. We also did that with some other songs and created some b-sides from it, and had a few sort of outtakes, experiments. I think when they release the "singles" over here, it won't just be 7" singles, but the b-sides are going to be a few more crazy little abstract pieces of music. I always thought they were songs that were sound pictures, really, a bit like John's paintings, because they were kind of like splashes of sound...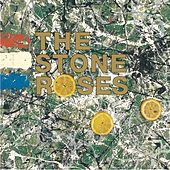 The Stone Roses - The Stone Roses: The Legacy Edition
CD 1 - The Stone Roses:
1. I Wanna Be Adored
2. She Bangs The Drums
3. Waterfall
4. Don't Stop
5. Bye Bye Bad Man
6. Elizabeth My Dear
7. (Song For My) Sugar Spun Sister
8. Made of Stone
9. Shoot You Down
10. This Is The One
11. I Am Then Resurrection
Bonus Track:
12. Fool's Gold
CD 2 - The Lost Demos:
1. I Wanna Be Adored
2. She Bangs The Drums
3. Waterfall
4. Bye Bye Badman
5. Sugar Spun Sister
6. Shoot You Down
7. This Is The One
8. I Am The Resurrection
9. Elephant Stone
10. Going Down
11. Mersey Paradise
12. Where Angels Play
13. Something's Burning
14. One Love
15. Pearl Bastard
Hidden Track (after three false ID points):
16. Band Jam
DVD:
1. Waterfall
2. Fool's Gold
3. I Wanna Be Adored
4. One Love
5. She Bangs The Drum
6. Standing Here
Plus: August 12, 1989 Live Performance at the Blackpool Empress Ballroom
John Abercrombie Quartet - Wait Til You See Her
BarlowGirl - Love & War
The Beatles - Please Please Me
The Beatles - With The Beatles
The Beatles - A Hard Day's Night
The Beatles - Beatles For Sale
The Beatles - Help!
The Beatles - Rubber Soul
The Beatles - Revolver
The Beatles - Sgt. Pepper's Lonely Hearts Club Band
The Beatles - Magical Mystery Tour
The Beatles - The Beatles (aka White Album)
The Beatles - Yellow Submarine
The Beatles - Abbey Road
The Beatles - Let It Be
The Beatles - Past Masters (double disc)
Boys Like Girls - Love Drunk
Brooks & Dunn - #1's ... and then some
Jack Bruce & Robin Trower - Seven Moons Live
Buckcherry - Black Butterfly
Candiria - Toying With the Insanities, Volume 2
Cinema Bizarre - Toyz
Circulatory System - Signal Morning
Jimmy Clanton - Jimmy Clanton's Greatest Hits: Venus in Blue Jeans
Commodores - The Definitive Collection
The Cribs - Ignore The Ignorant
Cruxshadows - Quicksilver
Rick Danko - Live At Dylan's Café
Howie Day - Sound the Alarm
Spencer Day - Vagabond
Andrew Duggan - MMXII
Bethany Dylan - Stop And Listen
Erasure - Club EP
The Feelies - Crazy Rhythms
The Feelies - The Good Earth
A Fine Frenzy - Bomb In A Birdcage
The Gears - Rockin' At Ground Zero
Mayer Hawthorne - A Strange Arrangement
Janis Ian - The Essential Janis Ian (double disc)
Jay-Z - The Blueprint 3
Danko Jones - Never Too Loud
Stephen Kellogg And The Sixers - The Bear
Gaither Vocal Band - Reunited
Gladys Knight & The Pips - Absolutely the Best: The '60s
Julian Lennon - The Secret Value Of Daydreaming
Julian Lennon - Mr. Jordan
Julian Lennon - Help Yourself
Sondre Lerche - Heartbeat Radio
John Mayall & Sonny Boy Williamson - Transatlantic Blues
Mike & The Ravens - No Place for Pretty
N.E.D. - N.E.D.
Os Mutantes - Haih...or Amortecedor...
Phish - Joy
Prefab Sprout - Let's Change The World With Music
Raekwon - Only Built 4 Cuban Linx Pt. II
Rodrigo y Gabriela - 11:11
Saosin - In Search of Solid Ground
The Stone Roses - The Stone Roses: 20th Anniversary Edition (double disc / DVD plus Collector's Edition that includes painting prints by John Squire)
They Might Be Giants - Here Comes Science
Thousand Foot Krutch - Welcome To The Masquerade
Slipknot - Slipknot 10th Anniversary Edition (CD/DVD)
Sweetwater - Taken By Trees - East of Eden
True Blood - True Blood soundtrack (by Nathan Barr)
Frank Turner - Poetry of the Deed
Vivian Girls - Everything Goes Wrong
Peter White - Good Day
Wild Beasts - Two Dancers
Yo La Tengo - Popular Songs
Today's Ration Of Press Releases:
GLEE: THE MUSIC - VOLUME 1 / IN STORES NOVEMBER 3

On Tuesday, Nov. 3, Columbia Records and Twentieth Century Fox Television will release Glee: The Music - Volume 1, the first in a series of soundtracks that feature some of the music heard in the first season of the critically acclaimed series premiering Wednesday, Sept. 9 (9:00-10:00 PM ET/PT) on FOX. Glee: The Music - Volume 1 will feature spectacular renditions of several chart-topping hits, including Queen's "Somebody to Love" and Neil Diamond's "Sweet Caroline." (See below for full track listing).

Glee has been heralded for its high-spirited musical numbers, incredibly talented cast and infectiously witty writing. A special preview episode of Glee aired in May on FOX and sparked a frenzy of praise from critics and fans alike. The cast's incredible version of Journey's "Don't Stop Believin'" immediately shot right to No. 1 on the iTunes charts (click here for iTunes Stores). To see your favorite performances and more from the preview, tune in to a special director's cut of the pilot Wednesday, Sept. 2 (8:58-10:00 PM ET/PT) on FOX.

Performances in the upcoming season premiere include "Gold Digger" (Kanye West), "Push It" (Salt-N-Pepa), "Take a Bow" (Rihanna), "I Say a Little Prayer" (Burt Bacharach), "Le Freak" (Chic) and "All By Myself" (Eric Carmen). After the season premiere debuted at Comic-Con 2009, the Los Angeles Times reported "...the reception was enthusiastic. That was especially true for two musical numbers, covers of Kanye West's 'Gold Digger' and Salt-N-Pepa's 'Push It,' which became a showstopper in the episode." The Examiner went on to champion another performance from this screening saying Lea Michele "brought the curtain and the house down to deafening applause" with her version of Rihanna's "Take a Bow." Select tracks from each episode will be available for purchase on iTunes and other digital retailers on a weekly basis.

The press continues to talk about what an important part the music in Glee plays in making it such an outstanding show. New York Newsday said "it's the music that makes Glee a gleeful delight." From The Police to Usher to Broadway, there's something for everyone. The Washington Post highlighted the show's diversity by saying "one of the show's major pluses is that the music performed isn't confined to the latest tuneless melodies." And USA Today went on to thank FOX for introducing "a little song, a little dance and some much needed diversity."

Glee follows an optimistic teacher, Will Schuester (Matthew Morrison), who - against all odds and a malicious cheerleading coach - attempts to save McKinley High's Glee Club from obscurity, while helping a group of aspiring underdogs realize their true star potential. It's a tall order when the brightest stars of the group include Kurt (Chris Colfer), a soprano who hits a high note in fashion; Mercedes (Amber Riley), a larger-than-life diva with a voice to match; Artie (Kevin McHale), a geeky guitarist who rocks and rolls; and Tina (Jenna Ushkowitz), a punk rocker who hides behind her stutter and blue hair extensions.

Will's only hope lies with two true talents: Rachel Berry, (Lea Michele), a self-proclaimed star who is convinced that MySpace and show choir and are her tickets to fame; and Finn Hudson (Cory Monteith), the popular high school quarterback with movie star looks who must protect his reputation from his holier-than-thou girlfriend and "Cheerios" head cheerleader, Quinn (Dianna Agron), and his arrogant football teammate, Puck (Mark Salling).

Will is determined to do whatever it takes to make Glee great again, but his only ally is fellow teacher and germaphobe Emma Pilsbury (Jayma Mays). Everyone else around him thinks he's nuts - from his tough-as-nails wife Terri Schuester (Jessalyn Gilsig) to McKinley's scheming cheerleading coach Sue Sylvester (Jane Lynch) - but he's out to prove them wrong.

Glee: The Music - Volume 1:
Don't Stop Believin'
Can't Fight This Feeling
Gold Digger
Take a Bow
Bust Your Windows
Taking Chances
Alone
Maybe This Time
Somebody to Love
Hate On Me
No Air
You Keep Me Hangin' On
Keep Holding On
Bust a Move
Sweet Caroline
Dancing with Myself
Defying Gravity
SCOTT WEILAND LAUNCHES CLOTHING LINE WITH LIVE PERFORMANCE AT WASTED SPACE AT HARD ROCK HOTEL & CASINO IN LAS VEGAS

Scott Weiland, legendary lead singer of Stone Temple Pilots, performed live at Wasted Space at The Hard Rock Hotel & Casino in Las Vegas on September 2nd to promote the launch of his new men's clothing line, Weiland for English Laundry. He arrived for the red carpet dressed head-to-toe in designs from his new line and performed songs from his solo album, Happy in Galoshes, as well as a couple Stone Temple Pilots classics for a packed crowd at Wasted Space.
Weiland for English Laundry, a collaboration with English Laundry designer, Christopher Wicks, debuted at the MAGIC trade show during the week. The collection features rock-inspired wovens, vests, t-shirts, pants, hats, ties and scarves. Weiland for English Laundry blends the classic style and high quality of English Laundry with the design flare of the iconic, fashionable STP front man.

JASON MRAZ MAKES HISTORY WITH "I'M YOURS";
BLOCKBUSTER SINGLE BREAKS RECORD FOR
LONGEST-EVER RUN ON BILLBOARD'S "HOT 100";
ACCLAIMED "GRATITUDE CAFÉ TOUR" CONTINUES;
NEW LIVE CD/DVD SET FOR FALL RELEASE;
JASON MRAZ' BEAUTIFUL MESS - LIVE FROM EARTH
SET TO LAND ON NOVEMBER 10TH

Jason Mraz has entered the record books with his history-making hit single, "I'm Yours." Described by the San Diego-based singer/songwriter as "his happy little hippie song," the track has spent a remarkable 70 weeks on Billboard's "Hot 100," shattering the record previously held by LeAnn Rimes' 1998 smash, "How Do I Live." "I'm Yours" now ranks as the longest-running song in the chart's 51-year history.
Certified 4x platinum by the RIAA for sales in excess of 4 million, "I'm Yours" is currently the third best-selling digital single of all time. Initially released to radio back in February 2008, the Grammy-nominated track from Jason's RIAA platinum-certified third album, WE SING. WE DANCE. WE STEAL THINGS., made history earlier this year as the first song ever to top the charts at four pop radio formats: CHR/Top 40, Triple A, Hot AC, and AC (where it held the #1 slot for 16 weeks, the most of any artist in 2009).

Mraz has also announced the upcoming release of an all-new live CD/DVD, JASON MRAZ'S BEAUTIFUL MESS - LIVE FROM EARTH. Due in stores and at all online retailers on November 10th, the album and DVD were recorded just last week as Jason's blockbuster "Gratitude Café Tour" hit Chicago's Charter One Pavilion. Full details - including a complete tracklisting - will be revealed shortly.
The first leg of the acclaimed "Gratitude Café Tour" is set to wrap up later this month at the Ironstone Amphitheatre in Murphys, California. The tour will resume on September 14th at the Nokia Theatre Prairie in Dallas, Texas, and run through an October 10th sold-out finale at Hollywood, California's world-famous Hollywood Bowl.
The "Gratitude Café Tour" has proven a popular and critical success, with sold-out shows accompanied by a bevy of rave reviews appearing in publications across the country. The New York Times waxed rhapsodic about Jason's recent performance at Wantagh, New York's Nikon @ Jones Beach Theater, hailing the singer/songwriter as "part Jack Johnson, part Eckhart Tolle, he is a troubadour of the anodyne - an emotionally humane John Mayer, a slicker Paul Simon - and at times a devilishly effective one."
Mraz is donating a portion of every "Gratitude Café Tour" ticket sold to the VH1 Save The Music Foundation, a nonprofit organization dedicated to restoring instrumental music education programs in America's public schools, and raising awareness about the importance of music as part of each child's complete education.
In addition to the "Gratitude Café Tour," Mraz has also slated a number of upcoming festival performances, including sets at San Francisco's Outside Lands Music & Arts Festival on August 29th; Seattle's Bumbershoot Festival on September 6th; and Phoenix's Fall Frenzy Festival on September 18th. What's more, Jason will be appearing alongside Willie Nelson, Neil Young, and Dave Matthews at the 2009 Farm Aid benefit concert, set for October 4th at St. Louis' Verizon Wireless Amphitheater. Following those dates, Jason will embark on his first South American tour in late November. More details on that will be announced soon.
On September 29 in Vancouver, BC, Jason will participate in a very special performance as part of We Day, an initiative of international charity Free the Children, which celebrates the power of young people to change the lives of others. Now in its third year, We Day sets the stage for an exclusive year-long program for students throughout North America to create global change through Free The Children's Adopt a Village program. Other speakers/entertainers participating in the event include His Holiness the Dalai Lama and Mia Farrow.
In other news, Mraz and beach culture brand Hurley have created a limited-edition collection of environmentally friendly men's and women's t-shirts. The t-shirts, available now at select Buckle stores and at Error! Hyperlink reference not valid., feature nature-inspired, abstract graphics which were designed by Mraz and printed with soy ink on 100% organic cotton. A portion of the proceeds raised will go to the Surfrider Foundation, a non-profit grassroots organization dedicated to the protection and enjoyment of the world's oceans, waves, and beaches.
"I am proud to be supporting the Surfrider Foundation, and stoked to be working with the team at Hurley," says Mraz. "Collaborating to create a limited edition organic T-shirt has been a fun way of contributing to the care of our coasts."
...and this just in: Alex Woodard's "Reno" Video Hits #1 on CMT! Congrats, Woody!
SUBSCRIBE TO & FOLLOW ENTERTAINMENT
HuffPost Entertainment is your one-stop shop for celebrity news, hilarious late-night bits, industry and awards coverage and more — sent right to your inbox six days a week. Learn more