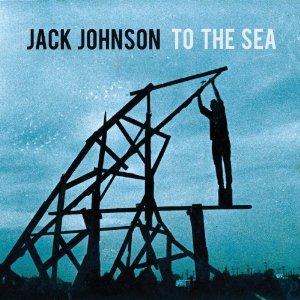 Come on. Didn't you think this guy was over after that nutty Curious George soundtrack? Well, weren't we wrong, oh Jack Johnson judges that we were. Though his live album was wonderful for reasons mostly relating to the anthology lover in many of us, his new album To The Sea is satisfying beyond our 4:20 dreams because our favorite beach bum's poetry...er, lyrics are flowery in a way that's now post-bloom, and the music just jitters along like spastic maracas, in a good way, of course.
In the first song, Johnson reminds us that "you and your heart shouldn't feel so far apart" before he blasts us with some reality checks that produce the opposite message. That's a good thing, enough with that perfect-y day, Corona commercial malaise already. On the other hand, he doesn't abandon the cosmic, its apparently new variant inhabiting "To The Sea." During this scuba lesson, he visits consciousness with the obvious water metaphor that takes us on a road-trippy, jeep-thumpin' ride with abundant potholes...ahem...until we reach the bottom of the sea.
Familiar territory also gets a visit. "Pictures Of People Taking Pictures" is cute--with a title like that, what, you think it's not gonna be? The ballad-ish "No Good With Faces" is terrific with that ol' universal premise that never wears thin because we really do want to know why he's memory-challenged. And virtual ink spent here would be totally wasted on any description of the sleepy "Only The Ocean" that if you can't guess what it's about, your last name is "Squarepants."
See, in context, there are worse crimes than a Jack Johnson album resorting to a little of what's come before, like what BP is doing to our Gulf at this very second. Not sure how Johnson feels about that one, and you're not likely to find anything blatant or topical on To The Sea. However, longtime fans will be grateful and doing the Snoopy dance, Johnson again joined by keyboardist Zach Gill, drummer Adam Topol, and bassist Merlo Podlewski, plus not-so-surprising guests such as G. Love, and Paula Fuga. And listen to this...the album not only was recorded in Hawaii but also, admirably, at The Solar Powered Plastic Plant in Los Angeles using 100% solar power. Hopefully, that's music to all our ears.
Start Here: "Red Wine, Mistakes, Mythology," "You And Your Heart," "No Good With Faces," and "To The Sea"
Tracks:
1. You And Your Heart
2. To The Sea
3. No Good With Faces
4. At Or With Me
5. When I Look Up
6. From The Clouds
7. My Little Girl
8. Turn Your Love
9. The Upsetter
10. Red Wine, Mistakes, Mythology
11. Pictures Of People Taking Pictures
12. Anything But The Truth
13. Only The Ocean
When Herbie Hancock, Wynton Marsalis, and Wayne Shorter collectively endorse something, the jazz world listens up. These are some of the many artists that fill the landscape of Michael Rivoira, Lars Larson, and Peter J. Vogt's Icons Among Us DVD, a jazz documentary that explores spontaneous creativity in this medium. Going beyond giving mere examples of the many modern artists' works, you are taken to the source of inspiration by the likes of Brian Blade & The Fellowship Band, Terence Blanchard, Ravi Coltrane, Esperanza Spalding, Robert Glasper, Nicholas Payton, Donald Harrison Jr., The Dirty Dozen Brass Band, and many others.
The amazing thing about this documentary is that it doesn't try in any way to escalate the artists to Ken Burns' realm of importance. Yet by intimately capturing these jazzers' performances, it does exactly that. There are healthy, frank discussions among those taped about jazz's direction and future, jazz's African-American influences, and its new instruments and experimentation with non-traditional sounds. Though Burns' series always will be the Constitution on the subject, this film serves as its Bill Of Rights, reminding the viewer that as important as the original documentary was, there occasionally need to be additions such as this work to flesh out the dream more perfectly.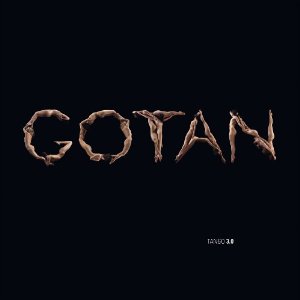 Let's be clear here. Philippe Cohen Solal, Christoph Mueller, and Eduardo Makaroff hate the tango...wait, no, make that love the tango more than anything in the known universe. More than their maternal grandparents. More than an "A" on their math tests. More than a billion puppies, and more than the population of Buenos Aires times a hundred. And aren't these guys out to indoctrinate all of us into their freaky tango cult. Advice? Go willingly, go quickly. These mesmerizing variations of something as simple as the tango feature organic instrumentation and satin samples that, when combined, are so seductive that you just know they're hiding some pact with the eeeevil flesh-degenrating guy who eventually took over Sam Winchester's body in Supernatural and there we go off-topic. Talking about one song over another is purposeless when Gotan Project has turned a whole genre into a musical aphrodisiac. Get supplies while they last.
Start Here: "Tango Square," "Panamericana," Peligo," "Tu Misterio," and "Erase Una Vez"
Tracks:
1. Tango Square
2. Rayuela
3. Desilusion
4. Peligo
5. La Gloria
6. Mil Millones
7. Tu Misterio
8. De Hombre A Hombre
9. El Mensajero
10. Panamericana
11. Erase Una Vez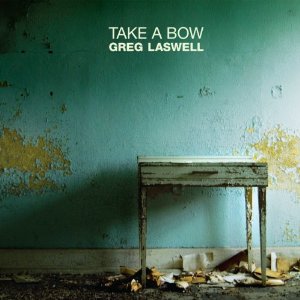 A Conversation With Greg Laswell
Mike Ragonga: Greg, why do people refer to Take A Bow as being part of a trilogy?
Greg Laswell: Well, I don't really know that it is. People love trilogies in this country, so I think it got labeled that. But it is certainly not something I set out to do. It is quite different than the first two records.
MR: I definitely has a harder edge, and your engineer got some great sounds.

GL: Yeah, he really did.
MR: Was there some overall approach you took when recording the new album?
GL: There are some happy songs on this record as well as some angry ones, so it was a little bit more of an objective viewpoint of heartache and being lost than my previous ones. I think the thing that was different from my first one was I was still caught in the middle of going through a lot of the stuff that I was writing about. I was still in the middle of it. With this one, I was out of the woods, so to speak, and it allowed me to take a different viewpoint of it all.
MR: Is "Take Everything" the album's emphasis track?
GL: It is. It's the first single, and it's had a lot of success on radio. "Marquee" is another one that just naturally came up to the surface quickly. Then "Come Clean," mostly because it's kind of different.
MR: Yeah, "Come Clean" is your most "alternative" track of all.
GL: I took a few risks with that song. I don't really follow any formula. It actually existed as two completely different songs--the verse part and the chorus part. But I didn't really know where to go and either one of them were compelling enough by themselves, enough for me to know where to go with it. So, one day I thought, I wonder if I change the key to this one if the two would fit together, and they did in a really cool way.
MR: Nice, that's a unique way of building a song. You also added a re-recording of "Off I Go," one of your earlier songs that was featured on the season finale of Grey's Anatomy. Can you tell me about the genesis of that one and the story of its appearance on Grey's Anatomy?
GL: Grey's Anatomy has been really good to me over the last two seasons. For the season finale of their last season, they wanted something new, and essentially, they came to me and said we want a Greg Laswell song for the finale, could you write one to record? So I agreed.
You know I was pretty excited and we had this conference call with the producer and the director to kind of get some direction from them. It was pretty frightening because they couldn't really tell me anything about the episode. It was the season finale, and they didn't want it to leak. Everyone was wondering about which way they were going to go, so the only direction they gave me was that they wanted a song that gets really small and then gets really big and then gets really small again without any resolution. That was the extent of their direction and we had a good laugh about it! I just went into the studio and wrote it from my own experiences and they liked it. They ended up using it, and I fell in love with it so much, I wanted it to be part of this record. I think I started writing my record with that song, and it kind of gave way to the rest of the songs on Take A Bow.
MR: So, you're a Californian who moved to Flagstaff, Arizona, for inspiration to write?
GL: I still have my place in L.A., I just moved my recording studio there and ended up staying for six months. It belongs to some good friends of mine who live in Phoenix, and they have this little cabin that they use. They never rent it out to anyone as it's just theirs to enjoy.
I went there when I played Phoenix on one of my last tours, and they allowed me and my guitar player to stay there for our day off as we were heading in that direction anyway. So, we did, and I fell in love with the place. As I was leaving, I had the thought that I would love to do my next record in a place like this.
My wheels started turning and I constructed this long email to them as it was a pretty big request to move my entire recording studio to their cabin. But they were really excited about it, and were excited to be a part of it, so they agreed. I then packed up my studio and my dog and went out there. I loved the process so much that I stayed a little longer and did my next record there as well.
MR: Then from there you ended up in Brooklyn?
GL: I did. I never really quite moved back to L.A. I just had to go there and get my stuff.
MR: Are you a permanent Brooklynite now?
GL: I am. I don't see any reason as to why I would leave.
MR: What part do you live in?
MR: Yeah, that's a nice area. How close to the park are you?
GL: Very close, about three or four blocks.
MR: Cool. Now can you give The Huffington Post readers your address...no, just kidding.
MR: Hey, I was very impressed by your recent Q&A with Nic Harcourt. He asked you a question that I usually ask artists or bands about their evolution, and I'll ask it as well. When you look at this collection of songs and compare it with those on your album Through Toledo, how would you say you evolved as an artist or songwriter?
GL: My voice has changed since Through Toledo, superficially, I think. It's one of the things I've noticed. I never thought about being so up-close to it, and I use it everyday. I've allowed my flaws to come through more, and embraced them more. When I was trying to find my voice, I was doing way too many takes to get it good. With this one, I did a few vocal things and kept the imperfections, so I think I'm more comfortable in my own skin.
I also think I have finally found how to write a Greg Laswell song. I now know what it feels like and what it sounds like, whereas before, I think I might not have quite completely gotten it. There were moments here and there, but on this record, I was able to be much more objective. There are moments of sarcasm on this record which I enjoyed doing.
MR: From a creative and a business perspective, what is your advice to new artists that are jumping into the mix now.
GL: That's a hard one. It's a lot of work, and you have to work on the writing more than anything. For every three or four songs I write, I only keep one of them, so I always tell people who are writing that if they want to be a singer-songwriter, you can't just sit there and write a song because it's time to. They should always be in a constant state of writing, even when they are not writing for a particular project. It's a muscle that needs to be exercised as that's how you get better, it's how you find your voice. It's taken me a long time to finally become comfortable in finding my own natural thing. But you can't do that if you don't write three or four songs a week. Some of them are not great and some of them are better than others, so it's not your ability to write a good song, it's your ability to choose what songs you release.
So that's my advice--to just always, always, always, always be in a state of writing. Business-wise, it's never been more exciting to be a musician with all the options that are out there now. Yeah, it's more difficult to sell records, the record stores are obviously diminishing quickly. But at the same time, people are buying music now more than ever. It's changing as they do it.
MR: Vanguard always has been friendly to singer-songwriters, and it seems that now more than ever, that kind of artist needs a label that gets them. Vanguard also is pretty aggressive with its marketing as well as involving their artists visibly in the process.
GL: Vanguard has been great with finding alternative ways to get the music out there. So yeah, the days of just kind of releasing the record and sitting back and watching it grow on its own are over so you have to play a very integral role in your own success these days as an artist, more than you have in the past.
MR: Great advice. You mentioned something that was interesting, how one should always write, write, write, even if no project is on the horizon. Is it possible that many artists just aren't putting their best stuff out there because they're not writing all the time?
GL: Yeah. It's always so frustrating to me, especially if it's one of my favorite artists and I like their first album. You can tell when they start to dial it in. I think part of it is that they believe that they are great when everyone tells them they are, and they don't really fight for it. I'm terrified of making a record that takes a step back creatively or artistically or even challenges what I'm doing. I am most proud of this record than I am of most anything else I have done. It certainly took a lot of work.
MR: It shows, though it sounds like you also were having a lot of fun.
GL: It was fun. I had fun with my other two records as well. They were completely different processes than this one, but I really had a good time just rolling up my sleeves and digging-in as much as I possibly could. And then another large part of that was removing myself from distractions and getting up to Flagstaff. It was lonely at times, but I certainly didn't think about that part going in. It was fun, and I think I would like to try it again even though I now live in Brooklyn.
Tracks:
1. Take Everything
2. My Fight (For You)
3. Lie To Me
4. Come Clean
5. Around The Bend
6. Take A Bow
7. In Front Of Me
8. You, Now
9. Marquee
10. Off I Go
11. Let It Ride
12. Goodbye
WHAT:
In-store Performance and Signing
WHEN:
Saturday, June 12th
Time 2:00pm
WHERE:
Fingerprints Music
4612 E. 2nd St
Long Beach, CA 90803
(transcription: Erika Richards)
Press Release:
STONE TEMPLE PILOTS ARE THE #1 ROCK BAND IN THE US; ROCK ICONS' FIRST NEW ALBUM IN CLOSE TO A DECADE MAKES EXPLOSIVE BILLBOARD 200 DEBUT; NORTH AMERICAN TOUR KICKS OFF AUGUST 10TH AT DENVER'S RED ROCKS AMPHITHEATRE; FESTIVAL HEADLINE APPEARANCES ALSO SLATED FOR THE US, CANADA, AND EUROPE
Atlantic recording group Stone Temple Pilots has announced details of their upcoming North American headline tour. The hugely anticipated dates will begin Tuesday, August 10th at Denver, Colorado's world-famous Red Rocks Amphitheatre and then continue through early September (see attached itinerary). Joining Stone Temple Pilots on all dates will be special guests Cage the Elephant.
"STONE TEMPLE PILOTS" - the Grammy Award-winning band's first all-new collection in close to a decade - is currently the #1 rock album in the country. The band will bookend the upcoming trek with headline appearances at a pair of North American festivals: Canada's annual Rock On The Range on Saturday, August 7th at Winnipeg's Canada Inns Stadium; and the Arizona Fall Frenzy '10, slated for Friday, September 17th at Phoenix' Tempe Beach Park. In addition, the band will headline the annual Rock 'N Rev Festival in Sturgis, South Dakota on Wednesday, August 11th and 89.7 The River's "River Riot 2010" at Council Bluffs, Iowa's Westfair Amphitheater on Saturday, August 14th. For up-to-the-minute tour information, please see www.stonetemplepilots.com.
Stone Temple Pilots - who will spend the early part of their summer on the other side of the Atlantic, hitting Europe for a series of long awaited headline shows and festival performances - heralded the release of the acclaimed "STONE TEMPLE PILOTS" with a rare club appearance at New York City's Gramercy Theatre, followed by headline performances at a number of early summer radio festivals. The band also made high-profile TV appearances performing on Late Show with David Letterman and two consecutive nights on Jimmy Kimmel Live! What's more, Live From Chicago - an all-new concert special presented by StubHub, the world's largest ticket marketplace - recently received multiple airings on a variety of MTV networks, including MTV2, VH1, and Palladia.
Produced by Stone Temple Pilots and mixed by Chris Lord-Alge (Green Day, Dave Matthews Band, My Chemical Romance), "STONE TEMPLE PILOTS" sees one of rock's greatest bands continuing to explore their enduring approach to music - melding big riffs, classic pop hooks, and the restless experimentalism of glam, punk, and psychedelia.
Among the album's many highlights is the raucous first single, "Between The Lines." The track has proven a rock radio sensation, recently spending four weeks as the #1 track at Mainstream Rock radio outlets nationwide, as well as three weeks atop the Modern Rock airplay charts. In addition, the "Between The Lines" companion video can be seen regularly on MTV2 and Fuse's No. 1 Countdown. The clip - as well as exclusive behind-the-scenes footage - is streaming now at www.stonetemplepilots.com. Furthermore, a new single, "Take a Load Off" is set to impact at multi-format rock radio outlets everywhere later this month. A companion video is currently in production.
Stone Temple Pilots has received rapturous press coverage upon their recent return to action, including a cover feature in the latest issue of Spin. What's more, "STONE TEMPLE PILOTS" has drawn instant critical acclamation, with Spin hailing the collection as "a heavy basher with big, snarling yet melodic choruses with a shot of nostalgia." USA Today praised "the band's signature mix of bluesy psychedelic guitar rock and Scott Weiland's glam grunge wail," while Rolling Stone commended the "twisty Led Zep-style guitar riffs from Dean DeLeo, throaty choruses and cool, unexpected flashes of Beatles psychedelia."
A dominant force in rock music since the early '90s, Stone Temple Pilots proved one of the most accomplished and iconic bands of their generation, racking up 15 Billboard Top 10 singles - 6 of which hit #1 - and total sales in excess of 35 million albums worldwide. The California-based band went on hiatus in 2002, following the release of the critically acclaimed "SHANGRI-LA DEE DA," ultimately reuniting for a massive 2008 concert tour encompassing more than 65 dates across North America.
Among their many accolades, Stone Temple Pilots received a "Best Hard Rock Performance with Vocal" Grammy Award for their #1 Mainstream Rock smash, "Plush." Other honors bestowed upon the band over the years include additional Grammy award nominations, two American Music Awards, one Billboard Music Award, two Billboard Video Awards, and an MTV Video Music Award.
STONE TEMPLE PILOTS NORTH AMERICAN TOUR 2010
All Dates Feat. Cage The Elephant Except *

AUGUST
7 Winnipeg, MAN Rock On The Range *
10 Denver, CO Red Rocks Amphitheatre
11 Sturgis, SD Rock 'N Rev *
14 Council Bluffs, IA 89.7 The River's River Riot 2010 *
16 Milwaukee, WI The Rave
17 Columbus OH LC Pavilion
19 Grand Rapids, MI Deltaplex
20 Chicago, IL Charter One Pavilion
22 Cleveland, OH Tower City Amphitheatre
25 Cincinnati, OH PNC Pavilion
26 Detroit, MI Fox Theatre
28 Pittsburgh, PA First Niagara Amphitheatre
29 Toronto, ONT Air Canada Centre
31 Uncasville, CT Mohegan Sun Casino

SEPEMBER
1 Boston, MA Bank of America Pavilion
3 Atlantic City, NJ The Borgata
4 Wantagh, NY Nikon @ Jones Beach Theater
5 Holmdel, NJ PNC Bank Arts Center
# # #

Hey you! Please listen to Mike Ragogna's 2.0 broadcasting and streaming on Wednesdays at 1pm CT on KRUU-FM, the Midwest's only solar-powered radio station: http://www.kruufm.com/
THIS WEEK'S GUEST: CHELY WRIGHT

SUBSCRIBE TO & FOLLOW ENTERTAINMENT
HuffPost Entertainment is your one-stop shop for celebrity news, hilarious late-night bits, industry and awards coverage and more — sent right to your inbox six days a week. Learn more