Neil Young - Dreamin' Man Live '92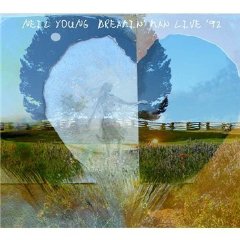 Back in '92, Neil Young toured extensively in support of his Harvest Moon album, a return by the grunger to his mellow Harvest and After The Gold Rush roots. The LP followed his controversial Geffen Records period that included the biting "This Note's For You" (that was a smack at aggressive commercialism), and his experimental outing Trans that confounded fans but delighted the electronic-minded.
Basically, Dreamin' Man Live '92 is a nod to that excellent creative move, documenting the best of Young's Harvest Moon tour. This ten-song set is a very personal read of Young by Young, these live performances emphasizing lyrics and substance over staging. From the first track "Dreamin' Man" and on, Young's intimate reworks pay particular attention to story lines and points being made, and his live sequence of the track list works just as well as the studio album version, if not better in some instances (like concluding with "War Of Man," or "One Of These Days" segueing into "Harvest Moon").
Perhaps in the future, Young's vault can be opened a bit wider and a Harvest Moon Deluxe Edition can include both the original album and expanded live performances that gathers everything here plus more. But as for now, we have this revealing release, and it presents the Neil Young that the Boomers grew up on twenty years later with a songwriting prowess that's still as illuminating as the moon on which he ponders.
Start Here: "Harvest Moon," "Hank To Hendrix" and "War Of Man"
Tracks:
1. Dreamin' Man
2. Such A Woman
3. One Of These Days
4. Harvest Moon
5. You And Me
6. Hank To Hendrix
7. Unknown Legend
8. Old King
9. Natural Beauty
10. War Of Man
Here is a HuffPost exclusive of one of the album's tracks, "Harvest Moon":
Tom Petty - The Live Anthology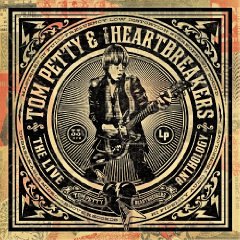 Most likely, there aren't very many Tom Petty fans who haven't seen him perform at some point in their lives. Where his album Pack Up The Plantation was a somewhat rockin' example of his stage shows, most of his concerts' energy levels easily top that one. In comparison, that release was nothing more than a handful of crumbs compared to the feast that is The Live Anthology. This four-disc set--as well as its nine-disc premium version--grab from everywhere, and it spans from 1978 through 2007, covering all of the well-known hits, album classics, and even goofball covers like Booker T. and the MGs' "Green Onions" and The Zombies' "I Want You Back Again."
Unlike any live album of note, this collection sits songs from different eras with musician switch-ups next to each other seamlessly, their remixes making these mostly uncorrected and non-overdubbed performances sound as if they were recorded at the same venue. Even Petty's vocals seem chronologically aloof, his voice virtually unchanging decade to decade.
Since everyone who's ever recorded suddenly has discovered the value of releasing live albums, there needs to be an effort to come up with new or original ways to present concert material that doesn't utilize lazy, standard issue set lists with simple embellishments. Now is the time for fans to be challenged beyond their comfort zones, and an approach like Petty's live anthology is an interesting option with its brilliant execution of such an off-the-wall premise being thoroughly satisfying.
Start Here: "Refugee," "American Girl," "Goldfinger," "Free Fallin'," and "Friend Of The Devil"
CD 1
1. Nightwatchman
2. Even The Losers
3. Here Comes My Girl
4. A Thing About You
5. I'm In Love
6. I'm A Man
7. Straight Into Darkness
8. Breakdown
9. Something In The Air
10. I Just Want To Make Love To You
11. Drivin' Down To Georgia
12. Lost Without You
13. Refugee
CD 2
1. Diddy Wah Diddy
2. I Want You Back Again
3. Wildflowers
4. Friend Of The Devil
5. A Woman In Love (It's Not Me)
6. It's Good To Be King
7. Angel Dream (No. 2)
8. Learning To Fly
9. Mary Jane's Last Dance
10. Mystic Eyes
CD 3
1. Jammin' Me
2. The Wild One, Forever
3. Green Onions
4. Louisiana Rain
5. Melinda
6. Goldfinger
7. Surrender
8. Dreamville
9. Spike
10. Any Way You Want It
11. American Girl
CD 4
1. Runnin' Down A Dream
2. Oh Well
3. Southern Accents
4. Crawling Back To You
5. My Life/Your World
6. I Won't Back Down
7. Square One
8. Have Love Will Travel
9. Free Fallin'
10. The Waiting
11. Good Good Lovin'
12. Century City
13. Alright For Now
Elvis Presley - Elvis 75: Good Rockin' Tonight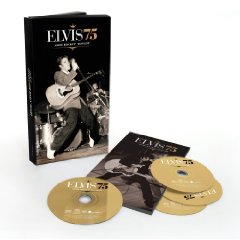 There aren't many artists whose retrospectives can handle a multi-genre overview. But when listening to Elvis Presley, he sounds so perfect singing just about anything that his new four CD release Elvis 75: Good Rockin' Tonight works, no small thanks to its sensible, chronological assembly and its superb remastering. This release is coordinated with The King's 75th birthday and despite the "rockin'" title, over the span of 100 tracks, it drops in on Ballad Elvis, Gospel Elvis, Memphis Elvis, Sun Records Elvis, TV-Special Elvis, Movie Star Elvis, Stax Studios Elvis, Demo Elvis (check out his early "My Happiness"), Live Elvis, and absolutely Rockin' Elvis, every period being solid, and almost every one represented by traditional chestnuts and additional rare or live tracks. Its reverent liner notes are penned by rock 'n' roll savant Billy Altman with a forward written by Roger Semon and the set's producer, Ernst Michael Jorgensen. All of the biographers tell sweet tales of the world's greatest pop star (sorry Michael J.), and by the end of those informative pages and the box set's annotations, you'll pretty much have the Elvis story down.
The Memphis, Sun, and early rock 'n' roll sections alone make this a must-have, and this is one of the best fifty bucks you'll lay out for yourself, your kids, or their kids this Christmas. Elvis 75 sounds great, its track selection is almost perfect (with one bizarre omission, we'll get to that), and how can you go wrong with such a significant slice of Americana pie? Sure, there are a few syrupy and corny necessities included, but with a box set that strives to hit every mark, you also must embrace a misfit or two. And for those wondering if Tom Holkenborg's popular remix of "A Little Less Conversation" is included, yes, it's here, thanks again to Euro-Nike for its less than humble origin. However, anyone whose favorite Elvis song was "Moody Blue" (first of all, really?), sorry, you're not going to find that posthumous hit on this most comprehensive 100-track overview of The King's career because...because...
Start Here: "Suspicious Minds," "Little Sister," "Loving Arms," and "I Just Washed My Hands In Muddy Water"
CD 1
1. My Happiness
2. That's All Right
3. Blue Moon Of Kentucky
4. Good Rockin' Tonight
5. Baby, Let's Play House
6. Mystery Train
7. I Forgot To Remember To Forget
8. I Got A Woman
9. Heartbreak Hotel
10. I Was The One
11. Blue Suede Shoes
12. My Baby Left Me
13. One-Sided Love Affair
14. I'm Gonna Sit Right Down And Cry (Over You)
15. Lawdy, Miss Clawdy
16. I Want You, I Need You, I Love You
17. Hound Dog
18. Don't Be Cruel
19. Love Me Tender
20. Love Me
21. Paralyzed
22. Too Much
23. All Shook Up
24. Mean Woman Blues
25. (There'll Be) Peace In The Valley (For Me)
26. (Let Me Be Your) Teddy Bear
27. One Night
28. Jailhouse Rock
29. Treat Me Nice
30. Blue Christmas
31. Don't
CD 2
1. Hard Headed Woman
2. Trouble
3. King Creole
4. Wear My Ring Around Your Neck
5. I Need Your Love Tonight
6. A Big Hunk O' Love
7. (Now And Then There's) A Fool Such As I
8. Stuck On You
9. A Mess Of Blues
10. It's Now Or Never
11. Thrill Of Your Love
12. Such A Night
13. Are You Lonesome Tonight?
14. Reconsider Baby
15. Doin' The Best I Can
16. Pocketful Of Rainbows
17. Surrender
18. Crying In The Chapel
19. I Feel So Bad
20. There's Always Me
21. Judy
22. Can't Help Falling In Love
23. (Marie's The Name Of) His Latest Flame
24. Little Sister
25. Good Luck Charm
26. Suspicion
27. She's Not You
28. Return To Sender
CD 3
1. Bossa Nova Baby
2. (You're The) Devil In Disguise
3. (It's A) Long Lonely Highway
4. I Need Somebody To Lean On
5. Viva Las Vegas
6. It Hurts Me
7. This Is My Heaven
8. Adam And Evil
9. How Great Thou Art
10. Tomorrow Is A Long Time
11. Guitar Man
12. Big Boss Man
13. Too Much Monkey Business
14. U.S. Male
15. If I Can Dream (stereo mix)
16. Memories (stereo mix)
17. Don't Cry Daddy
18. In The Ghetto
19. Suspicious Minds
20. Stranger In My Own Home Town
21. Kentucky Rain
22. Only The Strong Survive
CD 4
1. Polk Salad Annie
2. The Fool
3. Funny How Time Slips Away
4. I Washed My Hands In Muddy Water (undubbed/unedited Master)
5. I Just Can't Help Believin'
6. I'm Leavin'
7. An American Trilogy
8. Burning Love
9. Always On My Mind
10. Steamroller Blues
11. Loving Arms
12. Good Time Charlie's Got The Blues
13. Promised Land
14. T-R-O-U-B-L-E
15. For The Heart
16. Hurt
17. Way Down
18. Unchained Melody
19. A Little Less Conversation (JXL Radio Edit Remix)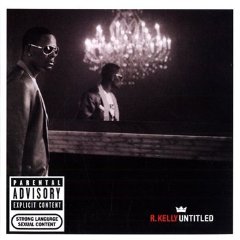 Many might have trouble with R. Kelly's latest release Untitled since it's less about the overtly sexual and a little more self-conscious than previous adventures. That's not to say that the soft porn quotient is especially lower, but sexed-up titles like "Bangin' The Headboard" aren't as believable this time around as, say, "Elsewhere" that is--dare it be said--deeper in a non-sexual way. The fun still hip-hops about like in "Supaman High" and "Text Me," the latter getting a little late to the game conceptually but still being enjoyable. "Number One" (with Keri Hilson) and "Echo" are as smooth as they are harmless, and that lack of effort, normally a good way to go for Kelly, dooms "I Love The DJ" that seems like something more clever might have been further up his sleeve if he'd reached just a little bit more. He does a bang-up job (sorry) with "Pregnant" that includes posse members Robin Thicke, The-Dream, and Tyrese, and it seems that, at least for the moment, R. Kelly is exploring more of what's in the big head than the little one.
Start Here: "Pregnant," "Crazy Night," and "Whole Lotta Kisses"
1. Crazy Night - featuring R. City
2. Exit
3. Echo
4. Bangin' The Headboard
5. Go Low
6. Whole Lotta Kisses
7. Like I Do
8. Number One - featuring Keri Hilson
9. I Love The DJ
10. Supaman High - featuring OJ Da Juiceman
11. Be My #2
12. Text Me
13. Religious
14. Elsewhere
15. Pregnant - featuring Tyrese, Robin Thicke and The-Dream
...AND THIS LITTLE CHRISTMAS TIDING WAS LEFT MOMENTS AGO IN A BASKET BY THE DOOR WITH A NOTE THAT READS THE FOLLOWING:
"In light of the level of 'jerkitude' (Joe Wilson, Tiger Woods, Teabaggers, Michaele and Tareq Salahi, Octomom, Balloon Boy's dad, Jon & Kate, etc., etc.) SpongeBob's plea for a moratorium on 'jerkish' behavior on Christmas is as timely a message as there is this holiday season. The little yellow dude is truly a sage for our times and fits the definition of 'wise man' in every way. Come let us absorb him!"
THE LATEST PRESS RELEASES:
ALAS OBTAINS THE COMMITMENT OF LATIN AMERICAN COUNTRIES TOWARDS EARLY CHILDHOOD DEVELOPMENT FRO THE SUMMIT 2010

Estoril, Portugal, November 30, 2009 - ALAS received the support of the President of Argentina, Cristina Fernández, who will chair the XX Iberoamerican Summit in 2010, to include Early Childhood Development in the Agenda of this diplomatic event. In a press conference that took place today, November 30th, in the frame of the XIX Iberoamerican Summit of Chiefs of State and Government, the President accepted Shakira's petition to contribute to change the history and destiny of the children of the region, by setting the topic of children between 0 and 6 and the one of early education as the core topic of her forthcoming Summit.

"Early education is to human life what a foundation is to a building; if the foundations are not built strong enough, we will be always repairing it. This is how for decades the Governments in Latin America have been spending billions, rather than investing, repairing and finding temporary solutions to foundation problems. Why not invest since now in the foundation of our future: our children in their first 6 years of life, which is when their brain and basic functions develop", declared the Colombian singer who is founder and activist of ALAS together with fellow Latin American artists such as Alejandro Sanz and Fernando Olvera from the Mexican group Maná, among others.

The press conference was the scenario in which the Regional Alliance for Early Childhood Development was presented, and where the Presidents of Chile, Colombia, Mexico, Panama and Argentina joined Shakira and Jeffrey Sachs, Director of the Earth Institute at Columbia University, in the search of ways that lead to the universal coverage of education, nutrition, and attention to health for children between 0 and 6 years old. The ECD Report was presented as the first product of this alliance and as a first step to accomplish this goal as it is an overview of the state of early childhood in the region.

The Mexican President Felipe Calderón ratified his country's support to ALAS Foundation and assured, modifying a Mexican popular saying that "Every child should come with a medical insurance under his arm". By the other hand, Álvaro Uribe, President of Colombia, spoke about his country's efforts towards early childhood through the Colombian Institute of Family Welfare (ICBF for its acronym in Spanish) and the Community Mothers Program.

The President of Chile Michelle Bachelet concluded by saying, "I am convinced that investing in our children is fundamental from the ethical, social, and even economical point of view. Every resource invested in our children is what will allow us to make a difference".

In front of an audience of international media, ALAS and the Secretary general of Iberoamerican Secretariat, Enrique Iglesias, sign the agreement to promote the early childhood component of the program "Educayional Goals 2021: the Education we want for the Generation of the Bicentenaries", which seeks to achieve universal coverage in education by 2021.

This way, Early Childhood Development gained prominence among the Latin American Presidents, and constitutes a promise for the region's human, social and economical development.

ALAS Foundation is a nonprofit organization created by the most prominent Latin American artists, business leaders and intellectuals to mobilize Latin-American society towards the implementation of integrated early childhood public policies.
9 million Latin American children younger than 5 years old suffer of chronic malnutrition and 22 million don't have access to education. Malnutrition and the absence of care in the early stages of life are the main mechanisms for the transmission of inequality. This is why experts agree that early childhood development is one of the most effective tools to end with the intergenerational cycle of poverty.
CAST VERSIONS OF "JUMP" AND "SMILE" AMONG SONGS FEATURED IN "GLEE" WEDNESDAY, DECEMBER 2, ON FOX

GLEE SINGLES SURPASS THE 3 MILLION MARK

Columbia Records and Twentieth Century Fox Television today released select songs on iTunes featured in this week's episode of GLEE, including cast versions of Van Halen's "Jump," Lily Allen's "Smile" and Charlie Chaplin's "Smile." This week, GLEE hit another milestone with over 3 million singles downlaoded via all digital service providers.

In this week's all-new episode, airing Wednesday, Dec. 2 (9:00-10:00 PM ET/PT) on FOX, the Glee Club is left out of the yearbook because of budget cuts, and everyone seems to be relieved that they won't have to suffer the ridicule of years past. Everyone except RACHEL (Lea Michele), that is, who wants her legacy cemented in print. Meanwhile, QUINN (Dianna Agron) makes it her mission to be in the Cheerios yearbook photo, and WILL (Matthew Morrison) and TERRI's (Jessalyn Gilsig) relationship is shaken to its core.

In addition to these new songs, cast versions of Destiny's Child's "Bootylicious," John Lennon's "Imagine," Cyndi Lauper's "True Colors," Diana Ross and Lionel Richie's "Endless Love," The Pretenders' "I'll Stand By You," Jennifer Paige's "Crush," Paul Anka's "(You're) Having My Baby," Bill Withers' "Lean On Me," Ike & Tina Turner's "Proud Mary," "Defying Gravity" from Broadway's "Wicked," Billy Idol's "Dancing With Myself," Young MC's "Bust A Move," Neil Diamond's "Sweet Caroline," Sisqo's "Thong Song," Jill Scott's "Hate On Me," The Supremes' "You Keep Me Hangin' On," Jordin Sparks and Chris Brown's "No Air," Avril Lavigne's "Keep Holding On," Queen's "Somebody To Love," Heart's "Alone," Journey's "Don't Stop Believin'," "Maybe This Time" from "Cabaret," Céline Dion's "Taking Chances," Rihanna's "Take A Bow," Carrie Underwood's "Last Name," Jazmine Sullivan's "Bust Your Windows," Kanye West's "Gold Digger," REO Speedwagon's "Can't Fight This Feeling," Salt-N-Pepa's "Push It" and Duffy's "Mercy," as well as mash-ups of The Police's "Don't Stand So Close To Me" with Gary Puckett and the Union Gap's "Young Girl," Broadway's "Hair" with Beyoncé's "Crazy in Love," Bon Jovi's "It's My Life" with Usher's "Confessions Part II" and Beyoncé's "Halo" with Katrina and the Waves' "Walking on Sunshine," are also available for purchase via all digital service providers.

"Glee: The Music, Volume 1," which features music heard in the first season of the series, is currently available for purchase. Released on November 3, the album sold in excess of 113,000 units in its first week alone and garnered an astounding No. 4 spot on the Billboard Top 200 Album Chart. And for fans who just can't get enough of GLEE's high-spirited music, "Glee: The Music, Volume 2" hits stores on Tuesday, Dec. 8.

GLEE, the genre-defying new musical comedy series, follows an optimistic teacher who - against all odds and a malicious cheerleading coach - attempts to save McKinley High's Glee Club from obscurity while helping a group of aspiring underdogs realize their true star potential. Starring Dianna Agron, Chris Colfer, Jessalyn Gilsig, Jane Lynch, Jayma Mays, Kevin McHale, Lea Michele, Cory Monteith, Matthew Morrison, Amber Riley, Mark Salling and Jenna Ushkowitz, GLEE is produced by Ryan Murphy Television in association with 20th Century Fox Television. Ryan Murphy, Brad Falchuk and Ian Brennan are co-creators of the series. Murphy, Falchuk and Dante Di Loreto serve as executive producers, while Ian Brennan serves as co-executive producer.
MULTIPLE GRAMMY WINNER AND OSCAR NOMINEE T BONE BURNETT TO SERVE AS EXECUTIVE MUSICAL PRODUCER OF UPCOMING EPIX (TM) ORIGINAL PROGRAM "TOUGH TRADE"
Burnett Will Supervise Music Placement And Create Original Music
For EPIX's First Series,
Drama About Dysfunctional Country Music Dynasty
NEW YORK, NY, and SANTA MONICA, CA, December 1, 2009 - Multiple Grammy winner and Oscar-nominated producer, musician and songwriter T Bone Burnett will be the executive musical producer and an executive producer for Lionsgate's "Tough Trade," the first original series pilot for EPIX (TM), the new multiplatform entertainment service from Viacom Inc. (NYSE: VIA and VIA.B), its Paramount Pictures unit, Metro-Goldwyn-Mayer Studios Inc. (MGM) and Lionsgate (NYSE: LGF), the leading next generation studio, it was announced today by EPIX President and CEO Mark Greenberg and Lionsgate Music President Jay Faires. EPIX launched on October 30, 2009.
"Tough Trade" is a provocative, contemporary one-hour drama about a three-generation Nashville music dynasty whose penchant for drink, debauchery and divorce has left them both morally corrupt and on the verge of bankruptcy. The family with little left is pinning its hopes on its former black sheep, a budding country star turned alternative rock heart throb. "Tough Trade" brings viewers behind the scenes and into the living room to expose the tragic and sometimes comedic secrets, scandals and sorrows of this unforgettable American family.

T Bone Burnett is renowned for his exceptional and wide-ranging work as a producer, musician and songwriter. He won five Grammy Awards for his work on O Brother, Where Art Thou? for which he wrote the score and produced the multiplatinum soundtrack, which also spawned two highly successful national concert tours, and he won Grammys for his work with Robert Plant and Alison Krauss. In 2002 he was honored with the Grammy Award for Non-Classical Producer of the Year. He was nominated for an Oscar for Best Original Song for "The Scarlet Tide" from the film Cold Mountain. He oversaw the music for the Grammy Award-winning platinum soundtrack to the Johnny Cash biopicWalk The Line and cult classic Coen Brothers film The Big Lebowski. Burnett has produced such artists as Roy Orbison, The Wallflowers, k.d. lang and Counting Crows. Songs performed by Burnett have been covered by Emmylou Harris, Arlo Guthrie, Warren Zevon and many others.

"Burnett brings a track record of experience and musical talent that cuts across genres of film, television and music in a unique and inspiring way," said Greenberg. "EPIX is focused on producing truly premium original programming, and we are absolutely thrilled to have Burnett place his musical stamp on our first original pilot."
"T Bone Burnett is an iconic musical talent who is the perfect choice to serve as executive musical producer for this show," said Faires and Kevin Beggs, Lionsgate's president of television programming and production. "His selection reflects our commitment to produce premium shows with premium talent for our premium new network. We know that he and the cast will distinguish the show with truly memorable music true to itsNashville roots."

Burnett's work has earned him particular recognition and respect in the country music world, making him an ideal choice for the role as music supervisor on a show that focuses on the lives of a country music family. The soundtrack and score Burnett produced for O Brother, Where Art Thou? garnered awards from the Country Music Association and the Academy of Country Music in addition to the Grammys.
The addition of Burnett builds on a stellar cast which includes celebrated playwright and actor Sam Shepard (Lionsgate and Relativity Media's Brothers, The Assassination of Jesse James, The Right Stuff), who will portray the patriarch of the Tucker family. The creative team is led by executive producer and showrunner Jenji Kohan (Lionsgate's "Weeds"). The pilot was written by creator/co-executive producer Chris Offutt ("True Blood," "Weeds") and will be directed by Gavin Hood (X-Men Origins: Wolverine, Rendition, the Oscar nominee Tsotsi). Executive producers also include Sean and Bryan Furst (The Matador, The Cooler). The show was developed by Furst Films under the company's first look deal with Lionsgate Television. The production begins shooting on December 3 in Nashville.
3 DOORS DOWN DELIVER CHRISTMAS EARLY

Eight-Track Acoustic Digital EP Available December 8

Bringing Christmas cheer a bit early, 3 Doors Down are set to release an 8-song EP of acoustic versions of tracks from their current release, 3 Doors Down, including two versions (full band and acoustic) of a newly penned Christmas track, "Where My Christmas Lives," announced today. Titled Where My Christmas Lives, the EP will be available at iTunes and all digital retailers for $5.99, as well as the studio and separately the acoustic version of "Where My Christmas Lives" will be available each digitally for .99.

Link to a stream of the EP for consideration:
http://umrg.edgeboss.net/qtime/umrg/404-3_doors_down/token/ep/completealbum/3doorsdownepfull.mov

"'Where My Christmas Lives' is a song about family. Family is what makes Christmas what it is. The times we share with family at Christmas make memories that last forever," said lead singer Brad Arnold.

Recorded in Nashville with long-time producer Johnny K (Plain White T's, Finger Eleven), the tracklisting as follows:

"Where My Christmas Lives" (studio version)
"It's Not My Time"
"The Only One You've Got"
"Your Arms Feel Like Home"
"Let Me Be Myself"
"Pages"
"Runaway"
"Where My Christmas Lives" (acoustic version)

3 Doors Down have a busy season ahead, keeping their fans full of holiday cheer with their limited edition Ultimate Fan Pack, which includes a re-mastered Green Vinyl "The Better Life" LP with new album artwork, re-mastered "The Better Life" CD with new artwork, an 18" X 24" poster, "The Better Life" long sleeve tee and a true collector's item, their "Early Entry Pit Pass," and the bonus - an instant download: the Remastered "Kryptonite" mp3 single. For more information on the fanpack visit www.3doorsdown.com

On December 5, the band will return to their home state for a concert benefiting Gulf Coast children's charities. The Better Life Foundation Presents 3 Doors Down & Friends, the sixth annual concert and silent auction for their Mobile, AL-based charity, is sponsored by the Mississippi National Guard and will take place at The Hard Rock Hotel and Casino Biloxi. The event begins with a charity ride sponsored by the Mississippi National Guard, followed by an auction of select items including a cabin for their "VH1 Best Cruise Ever," taking place April 15-19, 2010 (performers include 3 Doors Down, Lifehouse, Shinedown, and special guests Carolina Liar, Finger Eleven, SAFETYSUIT and more). There is also a raffle for an $80,000 "Citizen Soldier II" motorcycle custom-built by Bourget's Bike Works. Culminating the event will be special performances by 3 Doors Down, Aaron Lewis (lead vocalist and guitarist of the multi-platinum rock band Staind), Ed Kowalczyk from Live, and Mobile-based Top Of The Orange. Tickets are available through Ticketmaster and the Hard Rock Hotel and Casino Biloxi box office. Raffle tickets are currently available for $10 and can be purchased through The Better Life Foundation and 3 Doors Down websites (buyers do not need to be present at the event to win). For more information please call 251-586-2208 or visit www.TheBetterLifeFoundation.org.
ATO Records and The Whigs are very excited to announce the release of the band's new album, IN THE DARK. Set for a March 2, 2010 release, IN THE DARK is an explosive collection of intense and tuneful songs that have been developed through years of non-stop touring and two critically acclaimed albums - Give 'Em All A Big Fat Lip and Mission Control. Both an accessible album and one that captures the band's on-stage passion (something that has become synonymous with the band's live show), IN THE DARK reveals another layer in the band's songwriting and highlights what fans and critics have fallen in love with, including Jon Pareles of The New York Times who praised the band for their "two-chord guitar and drums furor worthy of The Who."
Eager to give fans new music, the Athens, GA three piece is now offering 2 new songs - "In The Dark" and "Hundred / Million" - for free download at www.thewhigs.com/music/in-the-dark-single. In addition, the band is currently on a North American headlining tour premiering new songs. Tour dates below.
From the driving guitars and crushing drums of "So Lonely" to the hypnotic and playful "Black Lotus," from the reckless blitz and thuggish bass lines of "Someone's Daughter," to the anthemic "Kill Me Carolyne," IN THE DARK is the work of a band moving forward creatively while remaining true to their roots.
Ruben Studdard Premieres Holiday Single (Out Dec. 8) On Beliefnet And Preps For Mo'Nique Show Performance
You might not think that R&B icon Ruben Studdard would cover a country song, but that's just what he and producer John Jackson did. Ruben Studdard's romantic holiday single "Christmas in Your Arms" will be released December 8th via all digital retail. Hear it one week early on Beliefnet, or at the stream links below:
"Christmas In Your Arms" Windows Media stream: http://bit.ly/RStuddard_CIYA_WindowsMedia
"Christmas In Your Arms" Real Player stream: http://bit.ly/RStuddard_CIYA_RealPlayer
Studdard loves country music, and his soulful cover of Alabama's "Christmas in Your Arms" shows it. Read his Beliefnet interview, where Studdard discusses spirituality and the song's meaning, here: http://bit.ly/7D9aC3
This isn't the first time Studdard has ventured into the genre. In a review of 'Love IS,' Entertainment Weekly called his soulful rendition of "More Than Words" (Extreme's country-rock hit) "totally gorgeous," adding: "the Ray Charles of 'Modern Sounds in Country and Western Music' would be proud."
This year especially, Ruben knows that the holiday spirit isn't about presents. As he says in "Christmas In Your Arms," it's about "the precious gift of love you've given me."
That's a sentiment true to the gospel Ruben Studdard grew up singing, and what better time than Christmas to hear it?
Besides releasing new music this holiday season, Studdard is set to perform his radio hit "Don't Make'Em Like U No More" on BET's The Mo'Nique Show later this month (airdate TBA).
STS9 RELEASES NEW STUDIO ALBUM, AD EXPLORATA, ON DECEMBER 8, 2009
STS9 CONTINUES TO MAKE ACTIVISM A PRIORITY AS 2009 EFFORTS
NEAR $100,000 MARK
Dubbed "one of the country's most intriguing, innovative outfits around" by XLR8R Magazine, STS9 announces the release of their brand new studio effort, Ad Explorata (December 8, 2009 /1320 Records).
Ad Explorata - the band's third release of 2009 (following their iTunes LIVE Exclusive NYE.ATL.08 / May 2009 and Peaceblaster : The New Orleans Make It Right Remixes / June 2009) and tenth in their full discography - finds STS9 once again exploring new musical terrain never before heard.
As the band explains, "Ad Explorata was inspired by the idea that there is always more to be discovered, manifested by the belief that you can always push towards the unknown and unexplored, and created by the will and desire for constant artistic evolution, expression and change."
"ACOUSTIC CAFÉ EVENING WITH" TOUR PRESENTS CARRIE RODRIGUEZ, BEN SOLLEE AND ERIN MCKEOWN
Begins January 20 at The Iron Horse Music Hall in Northampton
"An Acoustic Café Evening" tour begins January 20 with the dynamic combination of talent and instrumentation: Austin songstress and multi-instrumentalist Carrie Rodriguez, Kentucky indie/folk cellist Ben Sollee and joining the February dates, Northampton lit/pop darling and multi-instrumentalist Erin McKeown.
"We're thrilled to start off this tour concept with these three exceptional artists," said Rob Reinhart, producer and host of the syndicated radio program Acoustic Café, which is helping to present the tour. "With Acoustic Café, I look for artists who are pushing the boundaries and have unique talents and vision. Carrie, Ben and Erin are three textbook examples!"
After three critically acclaimed duo albums with Chip Taylor, Carrie Rodriguez rode onto the scene as a solo artist in 2006 with Seven Angels On A Bicycle. Her sophomore release She Ain't Me was lauded by critics including New York Times pop critic Jon Pareles who noted: her fiddler's vocabulary of old modal melodies centers her songs about faraway loves and spiritual prospects, bringing concision and gravity to every one of them."
On November 24, Carrie will release Live In Louisville recorded during her 2007 with Lucinda Williams and is currently recording on her third album due in April 2010.
Collaborations with Otis Taylor and Bela Fleck earned Ben Sollee a spot on NPR's Top 10 Great Unknown Artists of 2007 before the release of his debut Learning To Bend in 2008. The album topped lists on No Depression (top 5 album of 2008), Paste ("The Best of What's Next") and earned him a spot at Austin City Limits, Bonnaroo and performances at World Café Live and Jimmy Kimmel Live. Next up, a collaboration with Daniel Martin Moore on Sub Pop due out in February 2010 called Dear Companion.
An independent artist and spirit, Erin McKeown serves up a unique amalgam of folk, swing, rock and carnival-noir pop on her latest release Hundreds of Lions, her of original songs since 2005's We Will Become Like Birds. Available October 2009 on Righteous Babe Records, it is not her first collaboration with Ani DiFranco who invited Erin to tour back in 1999. A constant on the road, she regularly holds down a rigorous tour schedule of 200 shows a year.
ABOUT ACOUSTIC CAFÉ: Acoustic Café is a two hour weekly radio show, and an independent media production of RDR Radio, LLC. The program is produced and hosted by Rob Reinhart who started the show in 1995. Each week, listeners around the globe tune in to Acoustic Café to hear the latest from today's great songwriting talents. It's hard to put a definitive label on Acoustic Café's music selections. After all, a good song is a good song... any individual set of music could contain a bit of country, rock, blues, folk, pop... and more!
GREAT AMERICAN TAXI'S SECOND ALBUM, RECKLESS HABITS, DUE OUT MARCH 2 THROUGH THIRTY TIGERS, WAS RECORDED HIGH IN THE ROCKY MOUNTAINS
In the past five years, Great American Taxi has become one of the best-known headliners on the jam band circuit, their uninhibited sound a swinging concoction of swampy blues, progressive bluegrass, funky New Orleans strut, Southern boogie, honky tonk, gospel and good old fashioned rock 'n' roll. That loose, anything-can-happen feel is the hallmark of Reckless Habits, the band's second album, which was recorded in Loveland, Colo., with producer Tim Carbone (from Railroad Earth) working together to bring the feel of an onstage performance to the recording process.
Street date for the new album, which will be released through Thirty Tigers, is March 2, 2010.
When banjo player Mark Vann of Leftover Salmon died of cancer in 2002, the band lost momentum. Salmon singer/guitarist/mandolinist Vince Herman had a few rough years and survived a broken neck before joining keyboardist Chad Staehly for a superstar jam to benefit the Rainforest Action Group in Boulder in March 2005. "We put together a dream band of the best local musicians for a one-off gig," Herman recalls. "It worked so well we had to do it again, and again, and again." The band's current lineup includes Herman, Staehly, guitarists Jeff Hamer and Jim Lewin, bassist Brian Adams and drummer Chris Sheldon.
Great American Taxi has been compared with roots rockers like New Riders of the Purple Sage, Grateful Dead, Wilco, Uncle Tupelo, the Byrds and Little Feat. Herman finds the comparisons flattering. "We're definitely connected to all the acts in the country/rock spectrum, as well as the spirit of Gram Parsons and Woody Guthrie," he says. "We want to address the issues appropriate to our times, while making music that gets people up and moving."
"The band is a true democracy," Staehly adds. "We tinkered with the tunes on the road, with everybody having input. In the studio, Tim would suggest ideas to make them sound bigger and brighter." Carbone brought in the Black Swan Singers -- Sheryl Renee, CoCo Brown and Shelly Lindsey -- to add gospel flavored backing vocals. He also brought the Peak to Freak Horns -- Justin Jones, sax; Nathan Peoples, sax; Dan Sears, trumpet; and Dave Stamps, trombone -- for some New Orleans-style brass accents, as well as pedal steel player Barry Sless (Dane Nelson Band, Moonalice) and banjo man Matt Flinner.
The 13 tracks on Reckless Habits gleefully stretch the boundaries of American roots music with a nod to both tradition and the future. The title track, for instance -- Staehly's salute to Gram Parsons -- is as country as it is rock, a rousing honky-tonk tune with Carbone's fiddle and Sless' pedal steel kicking up the sawdust on a Saturday night dance floor. The titles of several other Parsons songs appear in the lyrics, and there's a definite Cosmic Cowboy vibe to the band's expansive playing. Staehly's "American Beauty" tips its hat to the Grateful Dead, and features an extended jam. Herman's "Cold Lonely Town" is a slow R&B tune that describes life during long Colorado winters. The Black Swan Singers add smoky doo-wop asides to Herman's poignant vocal. Carbone has described its swampy laid-back vibe as "'A Day in the Life' meets Gram Parsons in the high desert." And that's to name only a few of the album's 13 songs (plus a 14th song, a hidden track, "Parade").
The CD will be housed in a die-cut package designed by artist Greg Carr, who designed Steve Martin's The Crow. "Greg has a picture of nuns smoking on the cover, wearing Reckless Habits," Herman explains. "We want to give people something unique, so they won't just burn it and pass it on."
And finally, the band's cryptic name refers to Herman's unique skiing style. "A friend of mine once said I came downhill looking like a great American taxi -- a large, lumbering object that's totally out of control and coming downhill towards you faster and faster. It seemed to fit the band's m.o., so we adopted it."

SUBSCRIBE TO & FOLLOW ENTERTAINMENT
HuffPost Entertainment is your one-stop shop for celebrity news, hilarious late-night bits, industry and awards coverage and more — sent right to your inbox six days a week. Learn more