Denmark's Mew brought their energized space pop to Los Angeles' famed Troubadour last night where the packed-to-capacity room was mesmerized by the Scandinavian prog rockers' animated music and visuals. Ripping through songs from their new album No More Stories... and its predecessor And The Glass Handed Kites, Mew navigated fourteen surreal soundscapes with perfection while nightmarish animations were projected on the screen behind them. Jonas Bjerre's stunning voice captained the music's adventurous melodies and difficult time signatures, and applying his flawless falsettos (no pitch correction here), he jumped between octaves as easily as if he was using his speaking voice. Meanwhile, Bo Madsen's Venusian guitar work and drummer Silas Utke Graae Jorgensen's monster robot beats supplied the crowd with something equally transcendental. Some of L.A.'s indie scene was seen (like Opus Dai, Woven, Helen Earth, That Noise, H Is Orange, and many others) as well as Katy Perry, and from various vantage points, everyone analyzed Mew's every move as the band flaunted its eccentric charts and maxed-out keyboard samples ranging from children's choral groups to marimbas.
Highlights of the evening included the troop's delicate "White Lips Kissed" whose piano intro set-up the mood for the sepia images of birds flying amidst bare trees and the contorted earthen face that haunted the screen behind them. That intensity was doubled for "The Zoo Keeper's Son," which merged creepy projections of quick-motioned bacteria, wandering giraffes, and morbid cat and tiger dolls with a good ol' fashioned sing-a-long from Grimm's Fairy Tales. But one slightly farcical animation showed the band's potential lighter side when "Beach" animations swept Mew's fans through a forest complete with a romance novel horse. These David Lynch-esque visuals also were the stars of the night, every macabre image outdoing the next, counter-pointing the fair-haired, All-American Danes that played before them. About fifty minutes after they began, the band left the stage in the most nonchalant, pre-encore exit one could witness, and their return was so worth the 49 second wait when they launched into "Comforting Sounds" that lived up to its title. Overall, the concert was as satisfying as it was dizzying--perhaps the reason why the bassist was later seen wandering Doheny in search of his car (don't worry, he found it).
Mew's Troubadour Set List:
New Terrain
Introducing Palace Players
Circuitry Of The Wolf
Chinaberry Tree
Special
The Zoo Keeper's Boy
White Lips Kissed
Hawaii Dream
Am I Wry
156
Repeaterbeater
Sometimes Life Isn't Easy
Beach
Encore: Comforting Sounds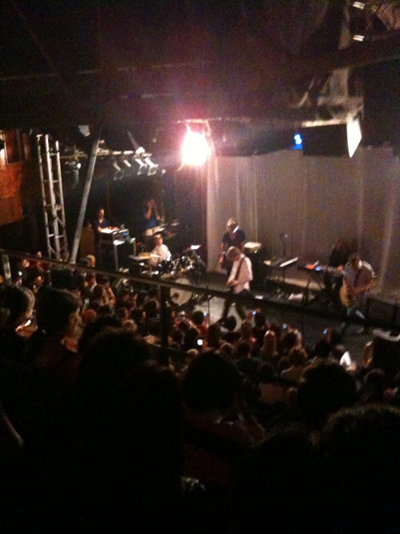 Mew photo taken by Mike Ragogna
Hey, remember when the Huffington Post debuted Mew's video "Introducing Palace Players"?:
A Most Pressing Press Release:
John Mellencamp has completed the recording of his next album No Better Than This
He recorded the set at three locations during his just-finished summer tour with Bob Dylan and Willie Nelson: the First African Baptist Church in Savannah, Ga., Sun Studio in Memphis and the Gunter Hotel in San Antonio with T Bone Burnett producing.
The church in Savannah was the first African American congregation in North America. It was a stop for runaway salves on the Underground Railroad on their way to Florida, which was then under Spanish rule. Across the street from the church is a "flogging square" where slaves were publicly beaten.
John and guitarist Andy York participated in the sessions, which ran over two days in early July and used a single microphone fed into a mid-1950's Ampex tape recorder. The sessions at historic Sun Studio took place later that month, again during two off days from the tour.
At Sun, John and Andy were joined by Nashville bassist David Roe, who played with Johnny Cash, and top New York session guitarist Marc Ribot, who's worked with the likes of Elvis Costello and Tom Waits. Producer T Bone Burnett also played guitar.
"Everything was set up exactly as Cash and Elvis Presley recorded," says John. "They had 'X' marks made with electrical tape on the floor where Elvis and his musicians stood and where the instruments were placed, because (legendary Sun studio and record label owner) Sam Philips walked around the room and decided where everything sounded best."
Then in early August, John, Andy and violinist Miriam Sturm entered Room 414 of the Downtown San Antonio Gunter Hotel to finish the album sessions. It was the same room where Robert Johnson recorded his classic blues songs in 1936, and John, in keeping with his goal of recapturing the vintage sound of those recordings, again used a single microphone and vintage recording machines.
As at Sun, the equipment was arranged according to how it was when Johnson recorded there.
"It was set up exactly the same, because I'd seen the layout of how they recorded him and in that hotel suite," says John. "They had remodeled it since then, but otherwise the space was exactly the same--where they put the tape machines, the one microphone. I'd seen pictures and the floor plan, and I stood in the exact same corner with my face to the wall the same way Robert Johnson did."
As John has explained previously, No Better Than This was conceived specifically with the sound of early country music, folk and rock in mind. So the recording process was geared toward achieving that level of classic audio quality. This goal, John says, has indeed been met.
Equally unusual and significant, the album is in "beautiful mono," says John, with all songs recorded using one microphone for all the vocal and acoustic instrumental parts.
"The same mic I was singing into is the same mic that recorded the drums at the same time," John says. "And everything was cut live with no overdubs or studio nothing! These are real songs being performed by real musicians--an unheard-of process in today's world. Real music, for real people!"
All of the 14 songs on the album--which John hopes will be out sometime next spring--are new and original.
The song titles follow; the cities they were recorded in are in parentheses.

Someday the Rain Will Fall (San Antonio)
Right Behind Me (San Antonio)
The West End (Memphis)
Save Some Time to Dream (Memphis)
Each Day of Sorrow (Memphis)
Don't Forget About Me (Memphis)
No Better Than This (Memphis)
Coming Down the Road (Memphis)
Easter Evening (Memphis)
No One Cares About Me (Memphis)
Graceful Fall (Memphis)
Thinking Bout You (Savannah)
Love at First Sight (Savannah)
Clumsy Old World (Savannah)
Stephen Schwartz Gets Five For Fighting: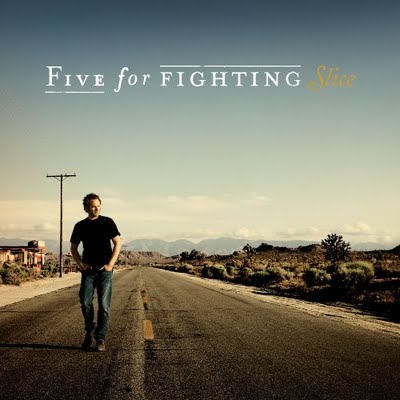 Five For Fighting's new album Slice will have a co-writing collaboration by John Ondrasik (the "group" front man a la Bright Eyes and Conor Oberst) and the award-winning Broadway composer Stephen Schwartz, most famous for creating the music for Godspell, Pippin, and recently, Wicked. Schwartz and Ondrasik--who scored with the superhit "Superman"--sat at a table in a coffee shop intending to write something together. In the background, Don McLean's "American Pie" suddenly played as Schwartz was discussing an idea for a song he had with a similar theme. Reportedly, Ondrasik then wrote lines on a random napkin which then was passed between the pair until the song's lyrics were completed. The process resulted in the song "Slice" which then became the title track to Ondrasik's latest.
The album is due out October 13 on Columbia Records, Five For Fighting's home for many releases. Working on various projects, Schwartz recently completed the opera Seance On A Wet Afternoon. For more information on the composer, check out his critically-acclaimed biography Defying Gravity written by Carol de Giere.
Just In - This Press Release Will Slay Ya:
SLAYER ANNOUNCES WORLD PAINTED BLOOD CONFIRMED RELEASE DATE, TRACK LISTING, AND BRAND-NEW WEBSITE

The mighty Slayer has confirmed a release date for the band's 10th studio album: World Painted Blood will be released on Tuesday, November 3 in North America, and on Monday, November 2 to the rest of the world. In addition, Slayer has revealed the complete and correct track listing for the album that can be found on the band's newly-designed, just-launched website: www.slayer.net

"As we're so excited about World Painted Blood," said the band's Dave Lombardo, "we wanted to do something special for the packaging, and have been working with some really cool ideas. They've taken time to get just right, and with our headlining the Mayhem tour for most of the summer, it's just taken that much longer to get all these great ideas exactly the way we want them."

There will be three different editions of World Painted Blood - a limited edition CD with multiple CD covers, a deluxe edition CD/DVD, and a high-quality, 180-gram vinyl edition; specifics for all editions will be detailed shortly.

"We hope our fans will like everything about World Painted Blood as much as we do," Lombardo continued. "Recording this new album has been one of the greatest experiences we've had as a band. We were together during the writing process more than we had been for past albums, we worked more collectively, everyone's suggestions and ideas were heard and considered, and that camaraderie is definitely heard in the new album.

"Keep checking our new website as that's where everything will be announced first."
This Blogger's Books and Other Items from...
SUBSCRIBE TO & FOLLOW ENTERTAINMENT
HuffPost Entertainment is your one-stop shop for celebrity news, hilarious late-night bits, industry and awards coverage and more — sent right to your inbox six days a week. Learn more