The motorcycle is a modern American icon of freedom and individuality with a streak of rebellion.
So why is motorcycle fashion dominated by black leather?
When CustomMade leather artisan Nanci Rogers of Ace High Leathers first dove into the world of motorcycles, she found that high-end accessories were mostly limited to "boring black." Her desire to bring color to this world lead her to start her own business, where she creates custom motorcycle leather accessories based on her customers' designs, like this hand tooled motorcycle console bib with beautiful blues, greens, and purples.
In a video interview, Nanci and ROAR Motorcycles President and Founder Kathy Tolleson reflect on the persistence of the black leather look. Kathy makes two observations: 1. In the past, when motorcycle chain drives spat grease, black leather was a practical choice. However, with the introduction of cleaner shaft and belt drives, what was once practical has become traditional. 2. If you walk into a men's shoe store, what colors do you see? Black and brown. Not surprisingly, those colors predominate in the male-dominated motorcycle industry and hobby, too.
But expectations are changing. Women and men alike want a wider range of colors and styles for their custom motorcycle gear. When you collaborate with a custom artisan, your vision for your bike can be realized in full color and to the last detail. This goes beyond customization, where you choose from pre-determined options for a mass-produced product. In the custom world, as Nanci explains in the interview, customer service means working one-on-one with people to get their ideas onto the products they want.
Take a look at a few more examples of custom motorcycle leather by CustomMade artisans.
Have an image you'd like to turn into a theme for your bike? A customer approached The Saddle Shack and asked for a hand carved and custom designed seat for his Harley-Davidson that would feature a skull and barbed wire border design like the one on his jacket.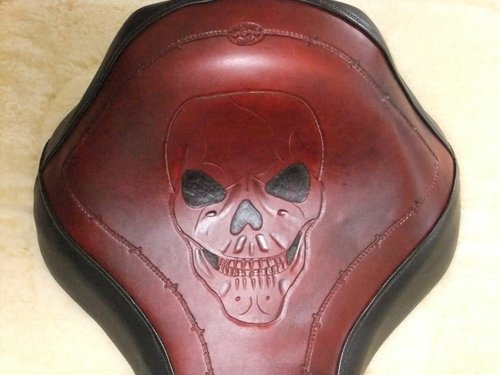 Every inch and stitch of your hand made, one-of-a-kind motorcycle tool bag by 2nd Chance Custom Leather.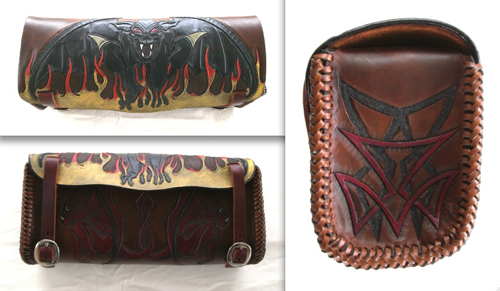 Black and brown doesn't have to be same ol', same 'ol, either. This seat and saddlebags for a Harley-Davidson Softail Deluxe was custom made by Woodstock Custom Leather from ostrich and Italian leather. Interested in an exotic hide for your motorcycle, perhaps something you've hunted yourself? Here is a list of the hides the artisans of Woodstock Custom Leather have used in the past.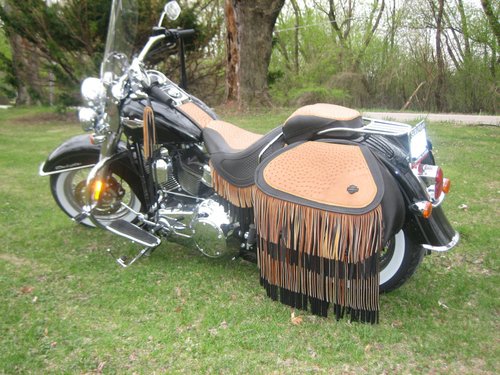 From basic black to red-hot flames, your motorcycle leather by a CustomMade artisan will never be boring. Post your design ideas on the CustomMade "Get it Made" job board and get the wheels turning on a one-of-a-kind project for your bike.