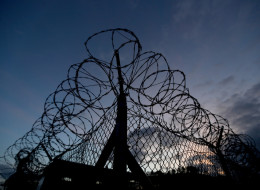 Soon after his election, President Obama signed an executive order to close Guantanamo Bay. But today -- more than five years since -- the infamous military prison is still open. Who's to blame? The answer is simple: Congress.
While some Republicans are wont to decry anti-Guantanamo liberals as "anti-American," the only anti-American thing in this debate is Guantanamo itself. For it goes against everything our nation professes to respect and love. By keeping it open, we betray our deepest values while making it easier for terrorists to paint us, not them, as oppressors.
We look, in short, like hypocrites.
Guantanamo is anti-American in two ways. First, it tangibly harms American interests, acting as a recruitment tool for those who wish to harm us. Think about it: In exchange for a (relatively) paltry 155 men at Guantanamo, we enrage millions worldwide. Some of these people -- doubtless, more than 155 -- will become terrorists in part because of anger about Guantanamo.
Second (and more troubling), Guantanamo betrays our deepest values. We tell the world that we are great (and indeed we are great) because of values and innovations like due process, habeas corpus, prohibitions against cruel and unusual punishment, and so on. Guantanamo Bay undermines all of these. It highlights a glaring dysfunction between our ideals and our reality, and to close this gap, we need to close Guantanamo. (Note that this would be true even if the prison were reformed so that it does not betray our values; for better or worse, the place's international image is set, and the only way to ameliorate its harm is to close the prison.)
So Congress: Listen to Obama. It is the right thing for any patriot to do. Because, as he said during the State of the Union Address, "we counter terrorism not just through intelligence and military action, but by remaining true to our constitutional ideals, and setting an example for the rest of the world."