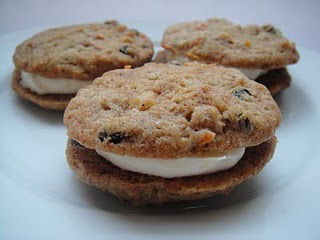 Among the many things I would like to change about myself is my inability to say 'no.' The few times I've tried I am plagued with so much guilt and conflict that it hardly seems worth it and instead I say 'sure' and become completely resentful--as if it is the other person's fault that I didn't say 'no' to the thing that any normal person would have politely refused to do. It's is really a no-win situation. Well, actually, it's a win for the person who asked me to do the something but a big lose for me. I say 'yes' to: eating in an outer borough at 6pm (hello? If there's a 5 or 6 in front of "o'clock" it's time for a drink, not a meal), Thai when I really want Italian, waiting for a guy's cable guy and working as a fundraiser for the school that made me feel like a moron. As Ado Annie sang (in a different context) in Oklahoma, "I'm just a girl who cain't say no."
You might be thinking I'm a martyr or a deranged people pleaser. But here's the twist; I also can't say 'no' to myself. The way this issue presents itself the most clearly is (big surprise) with food. If I am craving something I will think about it non-stop until I give in. There was one time when a craving caused me to behave like a crack head searching for a shifty looking guy on the corner. (Although, if I were a crack head I'd probably go to that corner every night and this situation was a one-time fix--no need to call Dr. Drew.) It was 11pm and I was cozy at home lounging in my lounge wear when I flashed back to the gorgeous piece of carrot cake I'd spotted earlier in the day at the place where I'd met a friend for breakfast. The memory of the domed cake keeper protecting the thick, glossy swirls of cream cheese frosting and the tiny butter cream carrots would just not leave my brain. So I did what I always do when I have an ill-timed craving; I ate around it--a complete rookie move. I tried a few spoonfuls of vanilla ice cream in the hopes of satiating the creamy quality of the frosting. No dice. I tried to distract myself from carrots with a Mint Milano. My palate isn't that stupid. When a craving calls, just say 'yes' so you can move on with your life.
So I hit the streets. Seriously, I put jeans and a coat over my at-home ensemble and pressed my nose up against the glass of the dark, closed tea house where I'd first seen the beautiful cake. Then it was on to a 24 hour deli whose pre-cut slice looked like it had been made out of car wax. No thanks. Then I remembered that the little Italian coffee shop was open till midnight and I hit carrot pay dirt. By 11:30pm I was back on the couch, plunging my fork into two layers of creamy, tangy, spicy, moist deliciousness.
Clearly this is no way to live a life, running out to the streets in the middle of the night because my mind turns to a sundae, donut, or lemon square. Barring the ability to turn off whatever part of my brain is dangling the 'carrot,' I need to be more prepared. I'm not about to make a cake to have on hand because there is something really sad about baking a whole cake for no reason other than
hedging a potential craving and then having to take full responsibility as it goes from round to crescent to wedge to gone. And really isn't it all about the cream cheese frosting? These cookies have solved my problem. There is nothing pathetic about keeping cookies in the house and they combine all the things I love about carrot cake. The balance of frosting to chewy cookie is perfect, the spice of the cookie is tempered by the cooling tang of the frosting and I've added some orange zest to perk up the whole little package. Plus, they're portable just in case I feel the distant tremors of a craving that could strike when I'm, for example, on the subway going to Brooklyn to eat dinner at 6 o'clock. Make them and say 'yes.' I promise you won't feel resentful.
Saying Yes to Cravings Carrot Cake Cookies
Adapted from Gourmet Magazine, April 2004
Printer Friendly Version
Ingredients-Cookies
1 1/8 cups all purpose flour
1 teaspoon cinnamon
1/2 teaspoon baking soda
1/2 teaspoon salt
1/4 teaspoon ginger
1/8 teaspoon nutmeg
1/8 teaspoon cloves
1 stick unsalted butter, softened
1/3 cup plus 2 Tablespoons granulated sugar
1/3 cup plus 2 Tablespoons packed light brown sugar
1 large egg
1/2 teaspoon vanilla extract
1 cup grated carrots (from 2-3 carrots-I used my food processor or buy a bag of pre shredded)
1 cup walnuts, chopped
1/2 cup raisins or currants (I used currants because that's what I had in the house)
Directions-Cookies
Preheat oven to 375. Line 2 baking sheets with parchment paper. Set aside.
In a medium size bowl whisk flour, cinnamon, baking soda, salt, ginger, nutmeg and cloves. Set aside.
In bowl of electric mixer beat butter, sugars, egg and vanilla on medium until light and fluffy, @ 2 minutes.
Add carrots, nuts, raisins and mix on slow speed until combined.
Add flour and spice mixture on slow speed until just combined. Do not over mix.
Using 2 teaspoon ice cream scoop (or 2 teaspoons) drop batter on cookies sheets allowing 2 inches between cookies.
Bake 11-12 minutes until cookies spring back when touched lightly.
Cool on pan on rack for one minute then remove from pan and cook completely on rack.
Yield: 46 cookies
Ingredients-Frosting
1/2 stick butter, softened
6 oz cream cheese, softened (3/4 of 8oz Philadelphia Cream Cheese brick)
1/2 teaspoon vanilla extract
1/2 cup powdered sugar
grated zest of one small orange (optional)
Directions-Frosting
In bowl of electric mixer beat butter, cream cheese and vanilla on high until light and fluffy.
Stop mixer, add powdered sugar and mix on slow until combined. Then on high until light and fluffy again.
Add orange zest and beat until thoroughly combined.
Fabrication-
While on wire rack turn half of the cookies over so flat side is up. Place 2 teaspoons of frosting on flat side and sandwich with neighboring cookie. Eat.
Yield: 23 sandwich cookies

SUBSCRIBE TO & FOLLOW THE MORNING EMAIL
The Morning Email helps you start your workday with everything you need to know: breaking news, entertainment and a dash of fun. Learn more