New York is in its first blush of crisp fall weather and the main thing on my mind is daytrips. Daytrips are the perfect way to squeeze in the feeling of vacation without the time and cost of a real deal vacay. I think I really started appreciating these quick jaunts when I lived in Madrid. As a 21-year-old English as a Second Language teacher, I didn't have the cash to go away as much as I would have liked. Luckily, Madrid is surrounded by a number of destinations that fall within the three-hour vicinity that is my upper limit for single day travel. Two hours is actually preferable, but three is a doable. Anyway, that year in Madrid, I discovered the joys of being a Dominguera -- a Spanish word that literally means Sunday-er but I guess is our equivalent of daytripper. My hands down favorite was the medieval walled town of Pedraza, about an hour from Madrid in the province of Segovia. Narrow cobblestone streets and a sunny Plaza Mayor were charming but the biggest draw was a succulent roast lamb that still haunts my food fantasies.
Which brings me to my next criterion for the perfect one-day destination: a good meal. Sightseeing is a perk, but a food experience is essential. I like to look at a map of New York and pretty much draw a line around everything within a three-hour radius and then think about the food possibilities within that circle.
So far, this has yielded lots of options. The North Fork of Long Island's wine country is an easy two-hour drive from the city. Heaven for oenophiles, the picture perfect small towns offer plenty in the way of edible attractions too. My fiancé and I enjoyed a meal that would have given plenty of city restaurants a run for their money at the North Fork Table in Southold. While its menu wouldn't have been out of place in Manhattan, the restaurant's setting, a whitewashed Victorian manse dating from 1765, placed us squarely beyond city limits.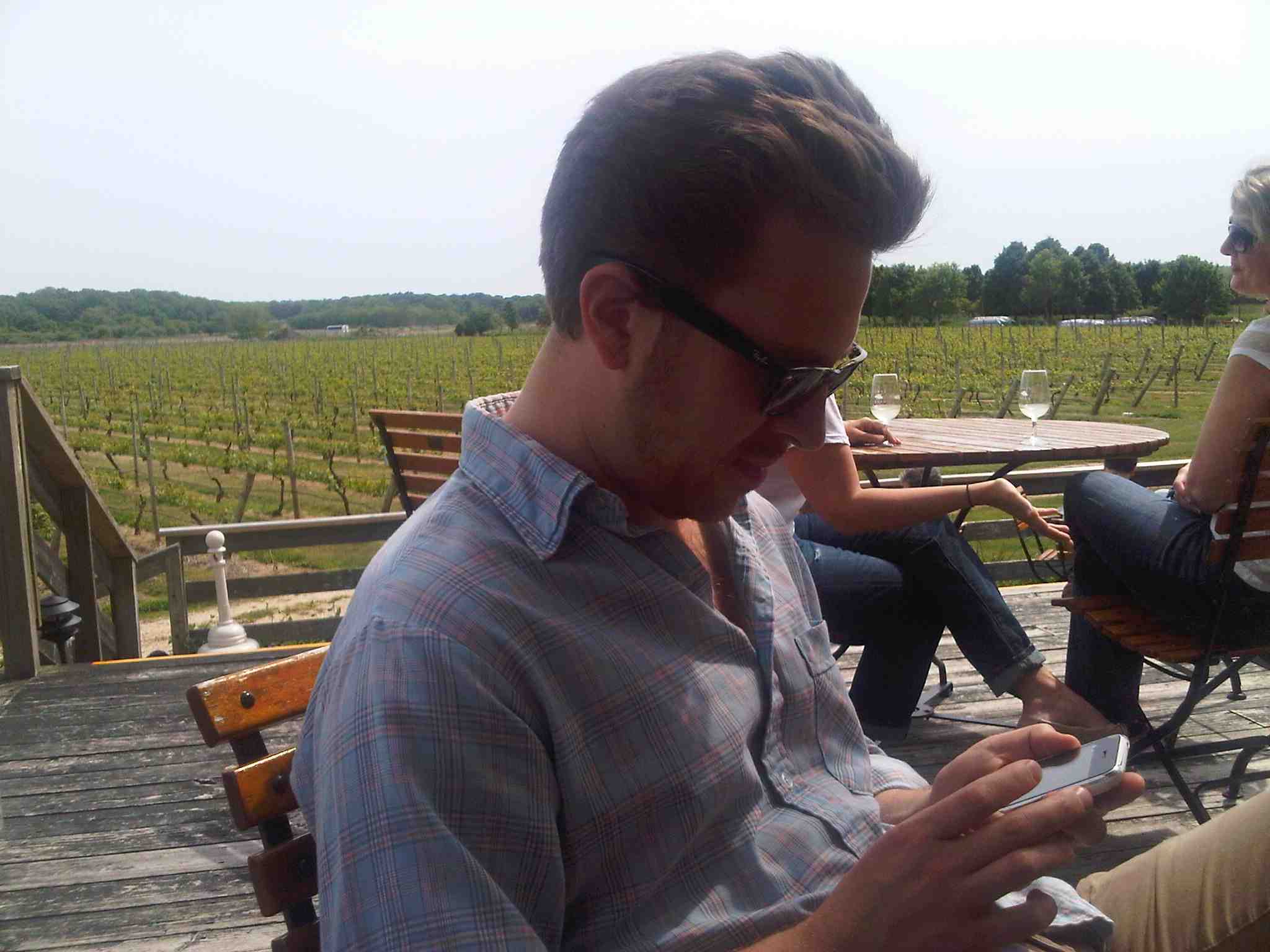 Enjoying Corey Creek Vineyard -- and its cellphone service -- on the North Fork
Another recent win was a meandering Sunday spent traveling north on the bucolic Taconic Parkway. Surrounded by lush old trees and, in some parts, the Catskill Mountains, the prize at the end of a three-hour drive was the lovely town of Hudson, New York. Located near the river with which it shares a name, we were blown away by how much the historical hamlet in faraway Columbia County reminded us of Cobble Hill, Brooklyn or some equally bohemian bourgeois neighborhood much closer to home. After a late lunch at locavore bistro Swoon Kitchenbar, we were inspired to take the area's bounty home with us via a stop at a nearby farmstand.
It's only September so it's lucky that there are plenty of places left on my list -- certainly enough to get me through New York's regrettably short autumn. Lancaster, PA might be next. Just two hours from the city, the heart of Amish country-known for shoofly pie and schnitzel-is calling my name.

SUBSCRIBE TO & FOLLOW LIFESTYLE
HuffPost Lifestyle is a daily newsletter that will make you happier and healthier — one email at a time. Learn more