Fifty Shades fever has hit Fashion Week!
On Wednesday night, Nylon Magazine and E!'s 'Fashion Police' rang in the start of New York Fashion Week with a 'Fifty Shades of Grey' themed bash at PH-D Lounge located on the rooftop of The Dream Downtown Hotel.
Stylist, Brad Goreski, kicked off the evening by introducing five-time Grammy nominated artist, Skylar Grey, who sang a compilation of tunes featured in the new film 'Fifty Shades of Grey'. Guests enjoyed a curated presentation of gowns, dresses and suits put together by the cast of E!'s 'Fashion Police' and themed to the much anticipated flick set to release across the country this Saturday February 14, 2015.
PH-D Lounge provided stunning views of the New York City evening skyline as guests such as Christian Siriano, Zanna Roberts Rassi, Derek Hough, Pete Wentz, Cody Simpson, Kathy Griffin, Alicia Quarles and Chairman of Nylon Magazine, Marc Luzzatto, mingled and chatted about the shows to see and the parties to crash this week around the city.
With the recent announcement that there will be two more 'Fifty Shades' sequels, it seems Grey is already a trend to watch out for this New York Fashion Week.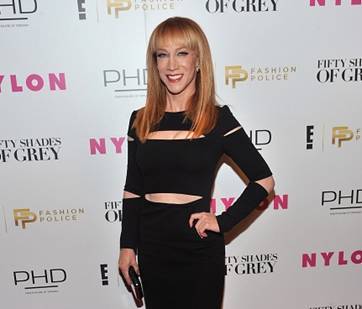 (Kathy Griffin attends E!, "Fashion Police" and NYLON kick-off New York Fashion Week with a Fifty Shades of Fashion event)
SUBSCRIBE AND FOLLOW
Get top stories and blog posts emailed to me each day. Newsletters may offer personalized content or advertisements.
Learn more