When she was 26, Katherine Wolf had it all: a modeling career, an adorable 6-month-old son, a husband studying to be a lawyer.
Then came the stroke that nearly ruined it all.
At home one afternoon, Katherine collapsed while her baby was napping. Luckily, her husband, Jay, happened to arrive soon after and did exactly the right thing by immediately calling 9-1-1. Still, it took 11 months before she swallowed food again, 18 months before she walked a few steps on her own. But she did. She's reclaimed so much of her life that she's even modeling again. Her image represents face drooping as a telltale sign that someone is having a stroke in an American Stroke Association awareness campaign.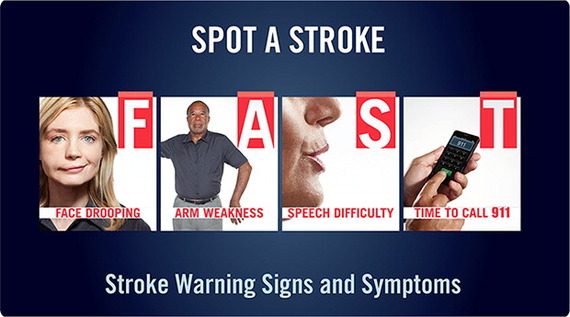 Katherine's story is important because it shows that stroke is treatable and beatable.
And while her stroke traced to a problem she was born with, the amazing reality is that the vast majority of strokes are preventable.
Tuesday is World Stroke Day, making this the perfect time to discuss a disease that far too many Americans believe is confined to the elderly. The sad reality is, someone in the U.S. has a stroke every 40 seconds, and someone dies from it every 4 minutes.
I've invited Dr. Ralph Sacco -- a past president of the American Heart Association and a board member and chair of the research committee for the World Stroke Organization -- to explain more. But first, I want to emphasize an important element in the fight against stroke that is easy, quick, free and potentially life-changing.
In fact, you've already seen it. It's the message from the ad featuring Katherine, which uses a simple acronym to help you learn to spot a stroke F.A.S.T.
The warning signs of stroke are (F)ace drooping, (A)rm weakness and (S)peech difficulty, and seeing any of those means it's (T) time to call 9-1-1. The message also is conveyed in videos and in a free app available in the iTunes and Google Play stores. To truly make a difference, I encourage you to share those links. Because together, maybe we can reverse the trends and make stroke less prevalent, less costly and less disabling for you and your loved ones.
---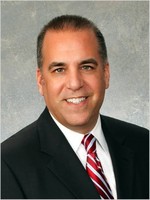 The theme for this year's World Stroke Day is "because I care," which is a great starting point for this conversation.
Because I care -- because I have devoted my career to fighting this disease -- I want to eliminate some of the stigma and mystery about stroke and help you better understand how to prevent a stroke.
Many of the best things you can do to avoid a stroke are things you've long been told are keys to good health, especially heart health. The American Heart Association recommends following Life's Simple 7 to prevent heart disease. We like to say "what's good for your heart is good for your brain," because those same items can help you prevent stroke, with the only difference being the priority order.
Controlling blood pressure is the No. 1 way to reduce your odds of having a stroke. This starts with knowing your numbers. If you have high blood pressure, also known as hypertension, it's very treatable through lifestyle changes and medication.
Reducing blood sugar (diabetes, or pre-diabetes) and avoiding smoking are also near the top of the list, followed by cholesterol and smart behaviors such as controlling weight, eating better and getting active.
Those are individual choices. Another layer in prevention comes on a larger scale that can help our entire society, such as getting governments to create more parks and places to walk, and encouraging the food industry to use less sodium.
Awareness also is a driver in saving lives. Because the sooner people recognize a stroke, the sooner they can get help. It's been proven that time lost is brain lost; every minute that therapy is delayed, millions of brain cells die. Katherine Wolf's story is a great example. Had her husband not arrived when he did, her story probably would've been far worse. And if she had received aid sooner, perhaps things would've been better.
Let me back up for a quick explanation about stroke.
A stroke happens when one of the many vessels that supplies blood to the brain gets blocked, or if one of those blood vessels bursts. The blockage (a clot) is the most common. Sometimes people have temporary clots, which we call "minor" strokes or other times temporary symptoms that we call TIAs (transient ischemic attacks). We take all of them seriously, though, because they can be indications that a full-blown stroke is coming.
The first hour after a stroke is now known as the "Golden Hour" because of how crucial it is in treatment, especially with the outstanding medication known as tPA. Even within that hour, the sooner the drug is given, the greater the chances of reversing or avoiding damage.
Certain stroke centers are expert at giving tPA, and only within 4.5 hours of the stroke. This is why I cringe whenever I hear stories of people who dismiss their symptoms instead of calling 9-1-1, thinking their arm weakness was because they slept funny or that they just need a good night's rest.
As our population ages, stroke is projected to become increasingly prevalent and far more costly. This is saying a lot considering that stroke already is the No. 4 killer of Americans and a leading cause of disability. (Worldwide, stroke is the No. 2 cause of death, and 1 in 6 people will have a stroke in their lifetime.)
Stroke prevalence is projected to increase by nearly 25 percent by 2030, with costs, including lost productivity, skyrocketing to about $240 billion by then.
Rather than focusing on alarming statistics, I prefer encouraging people to focus on the benefits of good health. Whatever you enjoy doing, you can do more of it, for longer. That motivates me.
Because I care.
Dr. Ralph Sacco is chairman of neurology at the University of Miami Miller School of Medicine