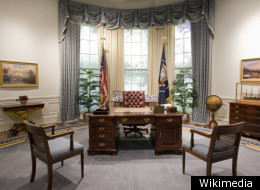 The Presidents Club may be unofficial, but it is not a metaphor or a figure of speech: the fraternity of presidents has a history, rules, taboos, resentments, partnerships, days of mourning and thanksgiving. At a time of deep political division, the club is a place where members from both parties come together to get work done, rewrite their own histories, sometimes compete and squabble and fight--but also remind us of what political life can be.
Nancy Gibbs and Michael Duffy are the authors of The Presidents Club [Simon & Schuster, $35.50]
Truman secretly mailed a handwritten letter to Herbert Hoover in the spring of 1945, asking for his help with the humanitarian crisis in Europe as the war ended. He broke the news to the White House staff the next morning: "The president said he was going to tell us of something he had done last night on his own--and we might all throw bricks at him," press aide Eben Ayers recalled. But Truman knew that Hoover, an engineer before he was a president, was a great solver of complex problems, and proceeded in the next 18 months to send him on a 50,000 mile round the world tour, meeting with heads of state to distribute food to nations that faced famine.

Truman honored General Dwight Eisenhower, whom he named Army Chief of Staff in 1946, with promotions and medals and boundless praise; as the 1948 election approached, Truman even privately offered to step aside so Ike could run, and serve as his Vice President. "Ike & I could be elected," Truman mused in his diary "and my family & myself would be happy outside this great white jail, known as the White House." Eisenhower, in his own diary, called the talk "astounding... I wonder whether five years from now

President Eisenhower watched the 1960 campaign with a certain horror. In October he told one Oval Office visitor, as he jabbed a finger toward his desk chair, "Listen, dammit, I'm going to do everything possible to keep that Jack Kennedy from sitting in this chair.'' He referred to Kennedy as "Little Boy Blue," a dilettante buying the office with his father's money. Kennedy referred to Ike as "that old asshole." And yet as so often happens, once Kennedy was in office, Ike offered his private advice and public support. Even after the Bay of Pigs, when Republicans urged Ike to denounce the rookie, he refused, telling the New York TIMES "I am all in favor of the United States supporting the man who has to carry the responsibility for our foreign affairs."

Johnson came to be so dependent on Eisenhower's support and advice as the war in Vietnam loomed in 1965 that he would ask Eisenhower to make up a cover story for why he needed to be in Washington, so he could slip over to the White House to confer. "I'm a little concerned about leaving the appearance that we've got an emergency or something," Johnson said, so maybe pretend you're in town your publisher. "It's not that deep," Johnson said, "but it's deep enough that I want to talk to you. I think that probably you could be more comforting to me now than anybody I know... Why don't you come stay all night with me? I'll put you in Lincoln's bed."

Johnson announced in March of 1968 that he would not run for another term; but that made him all the more invested in his legacy and desire to leave office as a peacemaker. Talks to end the Vietnam war were underway in Paris, and a breakthrough looked promising in October. That was when Johnson learned, through very sensitive intelligence sources, that Nixon's allies were trying to sabotage the Paris talks, telling the South Vietnamese that they would get a better deal from Nixon after the election. "This is treason," Johnson declared told Senate Minority Leader Everett Dirksen, urging him to get Nixon to cease and desist. But Johnson never went public with what he knew.

They met in 1949, when both were members of the House. Dick Nixon was the first man to greet freshman congressman Jerry Ford after he had been sworn in; in the months that followed, the two men became friends, partners in legislative battles, even carpooled together. Ford supported Nixon as he rose in power, to the vice presidency and as a GOP nominee in 1960. Nixon dangled the vice presidential nomination at Ford twice -- in '60 and 68 -- before offering it to him in 1973, when top Democrats in Congress more or less dictated the choice to the White House. Ford would pardon Nixon within a month of taking over as president; and then stuck by Nixon that fall, even visiting him in a Long Beach, CA hospital only days before the 1974 midterms. Ford paid for those gestures at the time; history has been more generous.

This is one of the Club's most unlikely tales: Carter beats Ford in 1976; Ford nearly runs again in 1980 to get revenge, but he cannot overcome the momentum of Ronald Reagan. So when Reagan a few years later sends Ford, Carter and Nixon to Cairo for the funeral of Anwar Sadat, the last thing anyone expected was for Ford and Carter to bond at 35,000 feet, pledge to help each other raise money for their libraries and start a friendship that lasts 30 years. They work on more than two dozen joint projects on everything from budgets and deficits to arms control to the middle east. They eventually become such good friends that each man pledges to give the eulogy of the other should he die first, an honor that fell to Carter in 2006. What cemented their relationship: they both served in the impossible job and shared a resentment of Reagan.

Two southern Californians, two conservatives, they wrote each other fawning letters in the 1950s and early 1960s. But by 1966 the two men circled one another for the 1968 GOP nomination. Reagan ran a secret campaign for the job -- but not very secret. Nixon didn't take Reagan very seriously, until he realized that was a mistake. By the Miami convention, Nixon considered and rejected the idea of picking Reagan as his running mate. Twelve years later, Reagan became president and Nixon came calling, with advice on everything from obscure cabinet posts to how to handle the Soviet Union. "I'm yours to command," Nixon told Reagan, using the very same words Ike had used with him in 1968. Except that things were never that simple when it came to Nixon.

Nixon wanted to meet with Clinton from the moment the Arkansas Democrat was sworn in; he wrote him letters in private and public, at one point threatening through intermediaries to go negative on the new president unless he found time to meet with an aging predecessor. A conversation was quickly arranged and Nixon was soon waiting up by the telephone for Clinton to call. They hit it off quickly; Nixon was amazed by Clinton's energy and intelligence; Clinton appreciated Nixon's clarity and hard-headedness. Clinton called him many times for advice; Nixon's last letter, seven pages long and written in early 1994, to Clinton remains one of Clinton's most cherished possessions. He rereads it every year.

Sometimes the most fraught relationships are between men in the same party; think Nixon/Reagan or Carter/Clinton. So it is with Obama and Clinton: Obama ran as much against Bill Clinton as his wife in 2008 and so the post-election reconciliation was a challenge. At the root of their struggle: which Democrat would do a better job of pulling a center right country back to the left? Who could make progressive change in a fundamentally conservative era? Each man had a claim in that respect; Obama turned to Clinton for help in 2009 and 2010; by 2011, they were more clearly in harness. Now Clinton anchors Obama's latest campaign video.