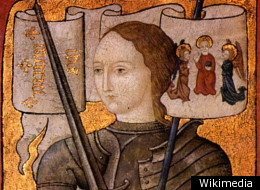 One of the difficulties in writing about an iconic figure like Joan of Arc is that so much has been published about her that many people feel they already know her story and that there is nothing new to tell. But separating fact from fiction is harder than it looks. To put the record straight, here are seven myths debunked:
Nancy Goldstone is the author of The Maid and the Queen: The Secret History of Joan of Arc [Viking, $26.95]
False. Although Joan did help lift the siege of Orléans and led the dauphin to be crowned king at Reims, this did not win the war. On the contrary, England would continue to occupy large portions of France for twenty years after Joan's execution at Rouen in 1431.

Most likely false. Lefties like to claim Joan as one of their own because images from the period show her with her sword in her left hand and her banner in her right hand. But her banner was far more important to Joan than her sword; she used it to lead her troops onward during critical periods of battle. Since her banner was the operative accessory, it seems likely that she was right-handed.

Very hard to believe. Stained glass windows were prohibitively expensive in the fifteenth century. A little church like the one Joan attended in Domrémy would have been lucky to boast a small rose stained glass window, let alone a picture window featuring obscure saints. It is far more likely that Joan was introduced to her angels on their respective saints days, when the local priest would have told their stories. The Middle Ages had a strong aural tradition. The news was spoken not read and people, particularly illiterate peasants like Joan, took in most of their information by listening. This also explains why Joan's angels appeared to her as voices and why she was never able to describe what they looked like.

It is true that Joan by her own account did not grow up riding horses. However, she was never a particularly good rider. She seems to have learned on the fly. She was given her first mount by the townspeople at Vaucouleurs because she had been summoned by the duke of Lorraine and needed to travel to his court at Nancy. For the trip to Orléans she was supplied with horses by both the dauphin and the duke of Alençon, so she had a chance to practice riding before engaging in combat. But at the battle of Patay, which occurred a little later, the French army divided into three groups with the fastest horsemen assigned to the first group, the main army in the middle, and the slower riders and the baggage at the back and for this expedition Joan was consigned to the rear.

Hardly. The majority of the citizens of Paris, for example, supported the English regency government and openly rejoiced at the news of her burning. Although no doubt many in France who championed the dauphin's side in the war were saddened to hear of her execution, there was no general outpouring of grief. Certainly the royal court did not go into mourning or officially recognize her demise in any way. The kingdom of France did not universally embrace Joan as a patriot until her Trial of Rehabilitation, which occurred a quarter century after her death.

False. At her Trial of Condemnation, Joan volunteered that she had never killed anyone in battle by her own hand. In fact, it was common for her to weep and pray for the souls of the many English dead after combat. Her principal job on the battlefield seems to have been to stand at the vanguard and wave her standard [a banner] in order to direct and encourage the French soldiers to fight. Asked by one of her inquisitors, "which she liked better, her standard or sword," she replied, "I liked much better, even forty times, my standard than my sword."

Don't make me laugh.