Do Something is the not-for-profit internet company that inspires and empowers kids to, well, do something. We believe that there is a lot of creativity and passion in generation Z (kids under age 25). Their idea of getting involved isn't writing a big check or attending a charity dinner--they actually do stuff.
Young people today customize their coffee at Starbucks and make playlists on iPods, so they want to design their own change-making activity too. Instead of telling them what to do or giving them some stupid certificate or points, we encourage them to do what turns them on and to design it themselves. We inspire that action and then enable it by giving them tools, funding, other examples and so on, and then we celebrate what they achieve.
When Do Something was born 15 years ago, we had offices all over the country. But now, thanks to Al Gore inventing the Internet, the best way to reach young people is online. We expect to reach over 10 million kids this year--on a budget of only about three to four million cash. Gotta love those numbers.
Some of the kids who come to our site use our "Volunteer Now" button to find volunteer opportunities in their zip code. I'm proud of this function because instead of reinventing the wheel, we private-labeled this technology and data from another organization and just cut & skinned it for teens. That is just good business. I wish more not-for-profits were efficient and collaborated like this--but our sector lacks market forces to encourage it.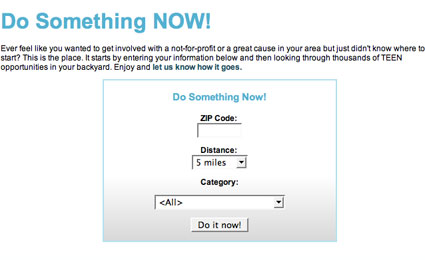 A lot of kids know they want to make a difference, but don't have a particular cause they are passionate about so they spend a lot of time reading about various causes and how to make a difference. This is actually the most popular part of our site--we highlight a different cause each month, illustrate that cause through anecdotes and even suggest relevant pop culture movie titles. We tell them how they can get involved in that cause and then we also give them a forum for posting great ideas and experiences that other kids can emulate.
There is also a section of the site that lets kids take a look at all the different way they can get involved. Sometimes it can be difficult to zero in on where they should give their time and energy, so we present them with different topics, all of which could use attention. From global warming to genocide in Darfur, from assisting senior citizens, to spreading awareness on immigration rights, kids can focus in on what interests them. If someone's had a loved one struggle with cancer, for instance, they can click on a link that takes them to a page that lists where they donate their hair, organizations who may have offices near them, as well as much more.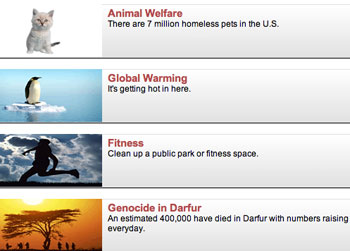 We're one of the largest funders of young people with great ideas--we'll literally give a 10-year-old $500 to make her "change the world" idea a reality. I think we're the only organization that will do this without requiring a teacher or advisor. (Although sometimes the kids rope in a mentor on their own--our point is that we don't assume that having an adult will make the project any better than if the kids do it themselves.)
One of our biggest programs is the BR!CK Awards. It is actually America's first and only TV award show for changing the world. Think of it as the Oscars meets the VMAs meets Extreme Home Makeover. We think these amazing kids are way better role models than Paris Hilton. Right now we're trying to land a major network for the 2008 show.
I love Do Something. I founded Dress for Success when I was 23 and ran it until I was 30. I'm now 36 with a mortgage and 2 kids -- so I'm an "old person." These kids think I am absolutely ancient. I tell them that when I grow up, I want to be as creative and passionate as the 2.5 million kids we connect with each year.
This Blogger's Books and Other Items from...