Valentine's Day is a time to kiss and make up--and for me that means flawless makeup. No matter what story you seek to tell--vampy, angelic, natural or au courant--it's imperative on the most romantic day of the year to keep lashes in place, lips perfectly rouged and flaws cleverly obscured. Unless you're trysting with Alice Cooper, tear-smudged mascara, lipstick-stained teeth and ashen skin are to be avoided at all cost. Follow these full-proof makeup tips and application techniques to look absolutely ravishing. Cupid, ready your arrow.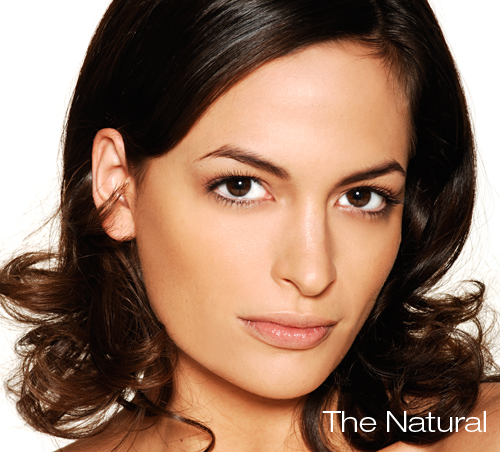 The Natural: It's a beauty paradox that the natural look is one of the trickiest to pull off. The key pointers are: applying a primer before your foundation; knowing the shades of blush and lipstick that suit your coloring best; and matching your base perfectly to your complexion. Before choosing a foundation, examine both your skin's depth of pigment (is it light or dark?) and your skin's underlying hue (is it pink-based, yellow-based or beige-based?) A touch of bronzer is a subtle way to amp up nude glamour (think Ali McGraw in The Getaway or Elle Macpherson, well, pretty much always!). It's also a good idea when rocking a minimalist look to do some contouring to make cheekbones really pop. To add contour to the face, use a product that's one to two shades darker than your natural skin tone. A powder such as a bronzer works best; it's easier to blend into the skin than, say, a liquid foundation.
The Bombshell: Some dates don't require subtlety, so it's fun to go for high-wattage glamour on both the eyes and the lips. Consider the models at last month's Givenchy and Dior couture shows, with sculpted scarlet lips and dark, dramatic eyes brightened with a smidgeon of metallic shimmer. They resembled the girls from a Robert Palmer video--simply irresistible--and their look can be easily be approximated for real life. For dark, smoldering eyes, I always recommend using a long-wearing gel eyeliner. They make it simple to create a seductive cat eye at the outer corner of the eyelids, a la Penelope Cruz in almost any Pedro Almodóvar film. Don't hold back on the mascara, but use a waterproof formula to withstand any tears that might well up during those heartfelt proclamations of love. And for the ultimate red pout I always use my DéVine Goddess Lipstick in Aphrodite (yes the goddess of love). Most people say line your lips first: I say line after lipstick, in a matching red shade. The liner will glide on more smoothly than it does on a bare mouth, leaving a natural outline but still preventing the color from bleeding.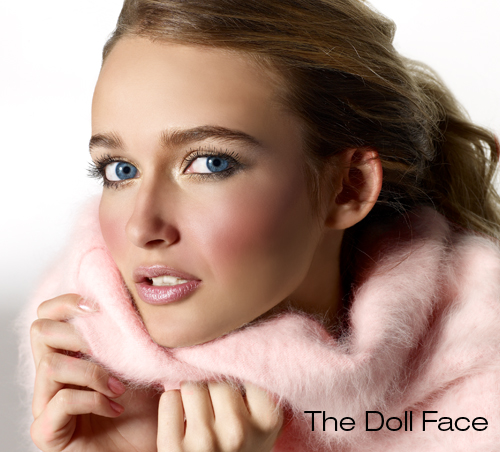 The Dollface: A soft, playful almost cherubic look, featuring rosy cheeks and pink lips, is a surefire way to set hearts aflutter. Think Brigitte Bardot in And God Created Woman, all fresh-faced prettiness with large, wide-open eyes and a seashell-pink pout. Integral to this look are the eyes, and selecting a mascara that defines and lengthens the lashes without making them appear overloaded. According to a 2008 report in Psychology Today, longer eyelashes bring an adult's facial dimensions closer to the proportions of a baby, making the person appear sweet and innocent, so think about that the next time you consider skipping mascara. A reliable way to warm up cheeks is a lightweight cheek stain, like my Barely Blushing, which can be applied with your fingers for a flushed visage worthy of Catherine Earnshaw in Wuthering Heights. Available in buff and rouge shades, Barely Blushing also doubles as a lip color, imbuing lips with a natural-looking tint. For more vivid color, try a creamy pink lipstick. Sheer colors look better on pale skins, while olive- and dark-skinned women dazzle in richer shades.
The Fashion Obsessive: Spring beauty trends like bleached brows and aggressive neon eye accents don't flatter many women. Instead style-savvy gals who take their cues from the runway might benefit from a second glance at the recent Chanel couture show. The models looked ethereal and whimsical: their coral pink lips and peachy, rosy cheeks were complemented by a wash of soft, silvery grey on eyes. It's an impossibly pretty combination. I don't feel that Valentine's Day is a time to make a major nail statement. Instead veer towards a soft neutral hue, or lighten up your favorite dark shade by adding French white polish. Whatever you do resist the urge to mimic the extravagant heart-shaped hair-dos at the Chanel show--it seemed as if the models had stashed a beribboned box of chocolates in their tresses. The subliminal message: Open in case of emergency.
FOLLOW HUFFPOST