On Friday March 9th -- the eve of the 53rd anniversary of the 1959 Tibetan uprising -- a group of Tibetan activists, human rights organizations and a documentary film team came together in Times Square to call attention to the case of Dhondup Wangchen, a prisoner of conscience serving six years in a Chinese prison for filming in Tibet. Wangchen's case is emblematic of the deepening human rights crisis in Tibet, which over the last two years has led 26 Tibetans to set themselves on fire to protest the Chinese government's repression of free speech and the Tibetan culture. In Tibet today, people are imprisoned and tortured for something as simple as carrying a photo of the Dalai Lama.
Portions of Wangchen's banned film were screened on a 12-foot video screen in Times Square. The organizers had initially attempted to rent one of the iconic Times Square Jumbo-trons to screen Wangchen's film, but after being told the subject matter was "too political," opted to rent a large truck-mounted video screen. The truck was positioned beneath the Xinhua (Chinese state media) Jumbo-tron, providing a powerful juxtaposition between censored media and the Chinese government's propaganda.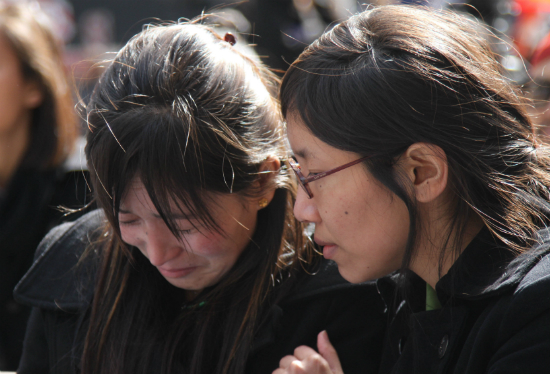 Lhamo Tso, Wangchen's wife, introduced the film and spoke passionately about Wangchen's case and the broader crisis in Tibet. For four years, Lhamo Tso has been tirelessly and courageously campaigning for her husband's release, but this event marked the first time she was granted entry into the U.S. Her powerful story moved many people in the crowd to tears.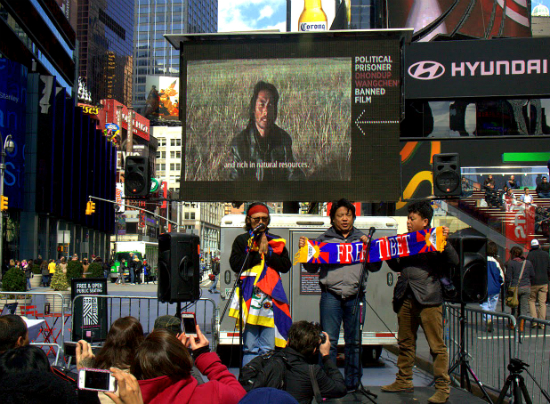 Tenzin Tsundue, a prominent Tibetan activist and poet made many firm demands of China, and also spoke of Tibetans' compassion towards all, even those who oppress them. Tsundue led the crowd in traditional Tibetan prayer chants, momentarily bringing serenity to the square's usual electronic din.

The action brought together groups with diverse approaches to the crisis in Tibet, and was an unusual collaboration between documentary filmmakers and activists. State of Control is an upcoming feature-length documentary that follows activists throughout the Tibetan diaspora who are risking their lives to peacefully protest against the oppression of the Chinese police state. In the process of completing their film, and because of the kinship they felt with Wangchen as a fellow filmmaker, the filmmakers ended up joining the movement for Tibet.
The tone of the day was both defiant and compassionate. Participants voiced powerful demands that China stop its pattern of human rights abuses in addition to sharing heartfelt expressions of compassion for both sides of the conflict. The day culminated in a somber meditation for peace led by Tibetans chanting prayers. Passersby were struck by the sight of a people quietly meditating in the middle of Times Square.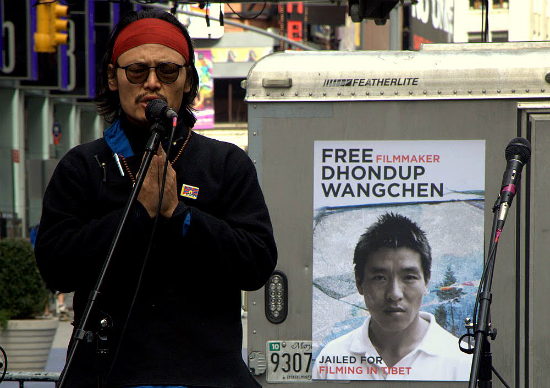 The event also featured heartfelt and powerful speeches by Tsewang Rinzin (Tibetan Youth Congress), Tenzin Dolkar (Students for a Free Tibet), Tenzin Seldon (a Tibetan-American activist and Rhodes scholar), Jigme Ugen (former President of the Regional Tibetan Youth Congress of Minnesota), T Kumar (Director, International Advocacy for Amnesty International USA) and Delphine Halgand (DC Director, Reporters Without Borders). The Commitee of 100 for Tibet also partnered on the event.

China uses technology to monitor and suppress dissent within its own borders, and has increasingly targeted international human rights activists with sophisticated hacking attacks. Within two hours of the event, the news had spread far and wide, generating headlines from Turkey and India to the Netherlands, Bangkok and Australia. Hopefully, by continuing to utilize technology and the media, the voices of people who speak up for human rights will continue to be amplified.
SUBSCRIBE AND FOLLOW
Get top stories and blog posts emailed to me each day. Newsletters may offer personalized content or advertisements.
Learn more