Many presidents ride into the sunset of their life, after four or eight years of public service, content to build a Presidential Library and play golf without the weight of the world ruining their swing. Not the Job-Creator-in-Chief, however. The president who has the distinction of creating the most jobs ever of any president -- 22.5 million -- and the lowest unemployment rate in 40 years, at four percent, isn't content to sit back and let President Obama solve the unemployment challenges that America faces alone. On June 29-30, 2011, President Bill Clinton brought together over 750 CEOs, NGOs, Nobel Prize winners and young entrepreneurs to figure out how to put America back to work.
According to Clinton, "I believe that in a free society where people have choices to make and options to choose, but there is not perfect knowledge of all of those options, creating more knowledge, disseminating it and inspiring people to make those decisions can make a real difference." There are three million jobs that are unfilled today. Once filled, that alone will substantially bring down the unemployment rate.
One central theme emerged again and again at the conference--the value of education. Americans without an education are seven times more likely to be without a job. There is 15% unemployment among Americans without a high school diploma. Meanwhile, almost everyone with a doctorate is working -- with only 1.9% unemployment among PhDs.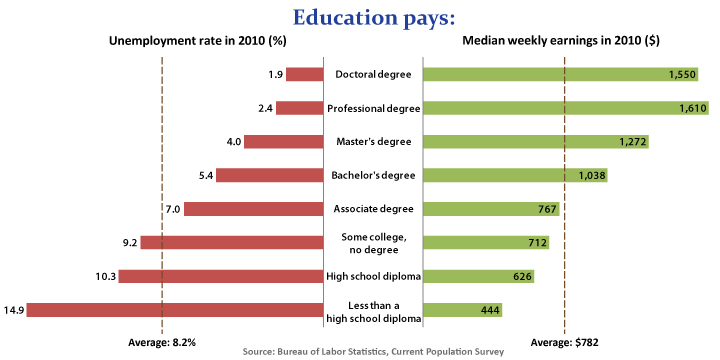 While not all jobs require a degree, new jobs quite often require acquiring new skills. Of the 3 million jobs that remain unfilled at this time, lower-skilled work, like construction, manufacturing and entertainment remained the weakest areas of the labor market.
In some states, the public and the private sector are working hand in hand, to provide workers with new skills. Georgia Works is a private/public collaboration created by Michael L. Thurman, Georgia's former labor commissioner. Georgia Works allows employers to recruit, train and then hire staff. As Thurman explains, with this initiative, the employer gets to "audition" the employee. During the training period, the employee is unpaid, and, if there is a match at the end of the training period, the employee is hired. Thurman notes that this program reduced the cost of unemployment in the state of Georgia, while creating jobs and empowering business leaders to fuel the job growth in that state.
The Bay Area Medical Academy takes welfare recipients and others on the fringe of society and teaches them to become medical assistants in the San Francisco area. The Green City Force trains and hires young workers to paint rooftops white in New York City. This simple strategy reduces the temperature on the roof by up to 40 degrees and can cut the energy bill in the building by up to 18%.
During Clinton's time in office, in the 1990s , small business, the Internet and technology fueled jobs and economic growth. So, what innovation will lead America out of the Great Recession? Clearly, biotechnology, technology, smart phone products, cloud computing, health services and engineering remain strong, further underlining the need for a strong STEM (science, technology, engineering and math) curriculum in high schools. However, if Secretary of Energy Dr. Steven Chu and President Obama have their way, clean energy will become a major driver of American competitiveness on the world stage, as well. And not just to reduce global warming. This focus on clean energy is intended to put the U.S. in the forefront of one of the strongest new growth industries in the world.
According to Secretary Chu, "The world will demand clean energy and high energy products. This is an international competition. We still generate the best ideas in the world." Currently, clean energy companies in the U.S., like Applied Materials, KLA Tencor and Veeco Instrucments, are leading Wall Street in revenue growth, having more than doubled sales over the past two years, with 80 percent of the revenue coming from Asia. All three of these companies are profitable, with low price-to-earnings ratios (around 10).
At CGI America, Secretary Chu announced that Atlanta, Los Angeles and Seattle had stepped up to President Obama's Better Building Partners Challenge, pledging to reduce energy consumption by 20 percent over the next decade. According to Secretary Chu, buildings consume 40 percent of the energy in America and a simple "tune-up" can cut the waste, create jobs, put more money in the pockets of American business owners, while creating greater energy independence and security. Retrofitting buildings to be more energy efficient also puts construction workers back into the labor force - with new skills. Something all three cities are eager to do.
As President Clinton pointed out, "We're spending too much money on today and yesterday and not enough on tomorrow." Once the 51 commitments made at CGI America on June 29-30, 2011 are fully funded and implemented, 124,000 jobs will be created, 364,000 people will have access to job training, and entrepreneurs can tap into $265 million in investments or loans. This is a big start toward re-igniting the American Dream for the millions of Americans who are still out of work.

Natalie Pace is the author of You Vs. Wall Street. She is a repeat guest on Fox News, CNBC, ABC-TV and a contributor to HuffingtonPost.com, Forbes.com, Sohu.com and BestEverYou.com. As a philanthropist, she has helped to raise more than two million for Los Angeles public schools and financial literacy. Follow her on Facebook.com/NWPace and on YouTube.com/NataliePaceDOTCOM. For more information please visit NataliePace.com.
SUBSCRIBE TO & FOLLOW TRUMP'S FIRST 100 DAYS
How will Donald Trump's first 100 days impact YOU? Subscribe, choose the community that you most identify with or want to learn more about and we'll send you the news that matters most once a week throughout Trump's first 100 days in office. Learn more