"Dogs' lives are too short. Their only fault, really." -- Agnes Sligh Turnbull
March was a difficult month at the Petplan offices.
In the past few weeks, we lost two members of our furry family. The first, a longtime policyholder and friend; the other, one of our very own officemates.
To say that the loss of these two companions broke our hearts is understatement.
We first met Bentley, a Soft-Coated Wheaten Terrier, in 2009. Shortly after becoming a Petplan pet, Bentley's veterinarian diagnosed a bump on his snout as a nerve sheath sarcoma (an aggressive tumor). After 19 radiation treatments, Bentley beat the odds and was declared cancer-free, but doctors later discovered a problem with his kidneys during a blood test. And so we began a whole new journey with Bentley and his owner Brett, to help manage Bentley's kidney disease.
As the claims kept piling up, Bentley became somewhat of a superstar client of ours. We invited him to our offices for a photo shoot with Amanda Jones photography (whose own precious pup, Lily, also recently passed away) and shared his story in our fetch! magazine feature, Tails of the Unexpected. When it came time to film a TV commercial, we knew Bentley was our guy -- as a senior dog powering through both cancer and kidney disease, he was the perfect Petplan poster boy.
All the while Bentley wiggled, wagged and mugged for the camera with the pluck of a pup who was soaking in every sweet second of life. And for 11 years and three months, what a sweet life it was.
We heard last Monday of Bentley's passing when Brett wrote us to convey his sorrow, and his gratitude for being given every opportunity to ensure Bentley's quality of life.
"Not once in the past few months was Bentley ever suffering, or did it appear we were dragging the end out," wrote Brett. "We were able to treat a sick senior citizen the way he deserved to be treated. It gave him the best quality of life up until the very end."
"We have made so many lasting memories because of what you asked us to be part of," Brett continued. "I am going to keep those moments with me for my lifetime and share with my kids one day how cool my dog Bentley was."
Brett's words got me thinking about moments, and how precious they are when it comes to our pets. They don't leave behind words or deeds when they leave us, just moments for us to replay in our minds when we miss them. I was moved that we could create some memorable moments for Brett and Bentley, and give them the luxury of more time together. I counted myself blessed that I surely had many moments left with the pets that I love.
And then Benny got sick. If you are familiar with the Petplan brand at all, you have no doubt come face- to-wrinkled-face with our resident Pug. He's been on the cover of our magazine, he's Mr. February in our 2013 calendar, his face has graced brochures, emails, videos, advertisements - not to mention our Pinterest boards and Facebook profile. Benny was a big personality in a charming little package, and he was absolutely irresistible.
When Benny was just a pup, he gave his pet parents a scare when he suddenly stopped eating and became ill. A trip to the emergency room revealed Benny had a congenital liver shunt, requiring lifelong medication and a special low-protein diet.
The doctors never promised a long life for Benny, but his mom and dad made sure he had a full life, bringing Benny to work, taking him on vacations and spoiling him with snuggles every chance they got (ok so a lot of us helped with that, too). Benny waddled, played and napped beside us almost every day at the Petplan offices. He gave all of us a thousand opportunities to smile every time he came to work.
We lost Benny last Friday, to sudden complications from his liver shunt. In an office of more than 70 people -- half of whom manage our busy call center -- the silence following this news was deafening. Our companion, our comedian, who spent a million moments making all of our workdays better, had left us. There's not just a sizeable void in our office; there's a Pug-sized hole in our hearts.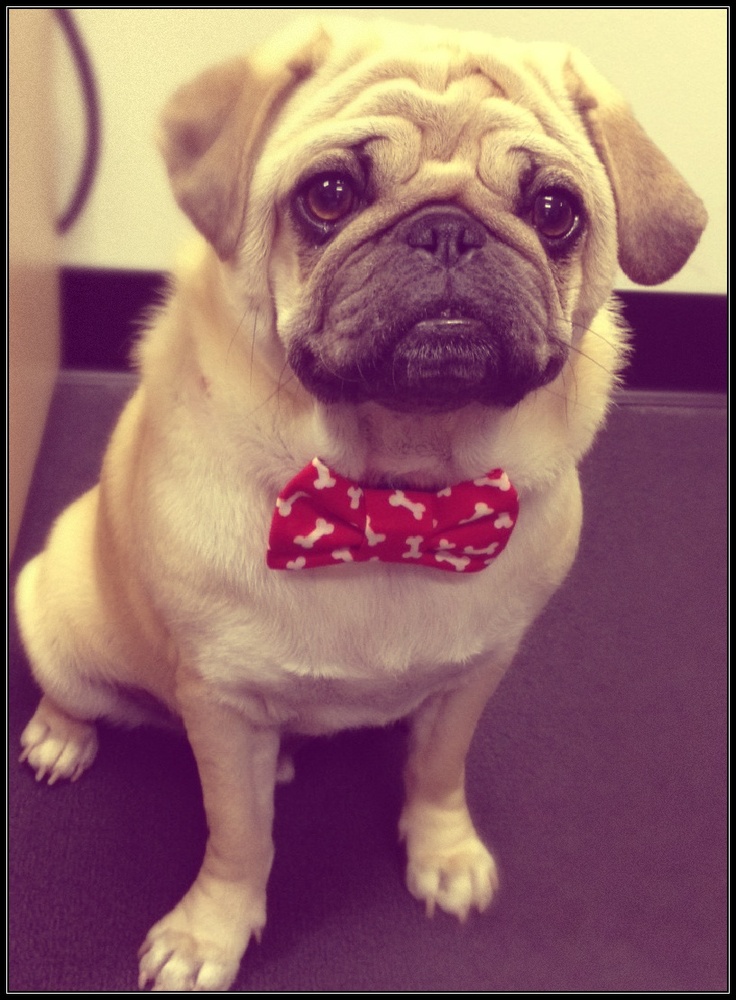 "Grief is the price we pay for love." When Queen Elizabeth spoke those works, she very well could have been talking about our pets. Saying goodbye to a four-legged friend is something we all dread, and yet from the moment we look into their eyes and promise them, "You're mine," we know that the time will one day come.
To the friends and family of Bentley, and to everyone who knew and loved Benny, I want to extend my sincerest condolences. And for the rest of us, a gentle reminder: to delight in all the love you have today, and to make every moment together count.
SUBSCRIBE AND FOLLOW
Get top stories and blog posts emailed to me each day. Newsletters may offer personalized content or advertisements.
Learn more