How Commuting Affects Your Health
How long is too long? The answer varies from commuter to commuter and from city to city, but chances are good that anyone who spends an hour or more stuck in traffic every day is at least somewhat stressed, unhappy or angry.
Most people will tell you their commute is the least pleasant part of their day. Many more will say it has harmed their health. Of the 8,000-plus commuters polled across 20 of the world's cities, IBM's fourth annual Commuter Pain survey revealed that a whopping 42% said traffic increased their stress levels; 35% said it made them angry; 16% said it led to respiratory problems; while another 16% said they lose sleep over it.
Residents of Mexico City certainly have good reason to gripe -- the city ranked the most painful commute, based on the results of the survey. Most respondents (33%) spent an average of 30 to 45 minutes in traffic delays during a one-way commute. Although the raw number isn't totally shocking, it's worth noting that the average length of respondents' one-way commute was 12.8 miles long and took about 33 minutes. That means they traveled at a painfully slow pace of approximately 23 miles per hour. Who can't relate to that?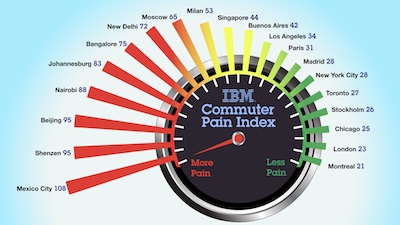 Montreal, London and Chicago ranked the least painful commutes among the 20 cities, which may be surprising to some, but it shows that commuter pain is relative. A resident of Los Angeles may think their commute is the worst, till they go on a business trip to Beijing, where the commuter pain is almost three times higher! So a low commuter pain may only indicate that the commute is much worse in other places. Despite having a less painful commutes, 53% of Chicago respondents said they were most frustrated by start-stop traffic; in Montreal, 35% said traffic increased their stress; and in London, 41% said they'd been stuck in traffic that was so bad that they turned around and went home.
While traffic has become a soul crushing part of our daily lives, there are ways to alleviate the pain. The majority of respondents (41%) surveyed said that a better public transportation would be the most valuable way of reducing travel-related stress; another 25% said that more accurate and timely information about road conditions would be more valuable.
So where do we go from here? Most cities already have access to an almost infinite amount of data taken from massive networks of sensors - devices embedded in the road, GPS devices on cars and buses, location information from mobile phones and video data from cameras. These sources could present a potential gold mine of continuous, real-time information. If you want to combat traffic, information that is five to seven minutes old is practically useless. Stopping congestion, once it has begun is virtually impossible. At that point, it's too late for traffic authorities to change the timing of traffic lights, ramp signals, or to offer alternate routes on digital billboards to prevent congestion.
What if we could know about upcoming congestion, before it happens? New predictive analytics techniques allow for exactly that to happen - know of upcoming traffic condition, up to 60 mins in advance. This advance knowledge, coupled with weather and other types of data can be used to develop recommended actions that can be taken to minimize the occurrence of congestion. This is all possible and being done today. The predicted traffic conditions could also significantly benefit commuters directly. In one California pilot, individuals can sign up to receive customized traffic reports via text messages or email before they leave for the day. They are alerted of congestion along their routes, so they are able to make alternate plans before getting stuck in gridlock.
Traffic is economically expensive, environmentally taxing and emotionally exhausting. Extreme commuters may be less productive and less happy. Adding capacity to a freeway is largely ineffective because it is time consuming and counterproductive since the added capacity tends to get filled by more cars.
One of the best -- and most cost effective -- ways to reduce traffic right now is through smarter traffic management systems. The data is out there, the need for improvements is desperate and the potential for change is great. Smarter traffic management can't abolish congestion altogether, but it can improve road conditions and help commuters make informed decisions. And for many people, that's as good as it gets. Think about it: what would you do with that extra time?
For more information on Smarter Traffic management, click here.