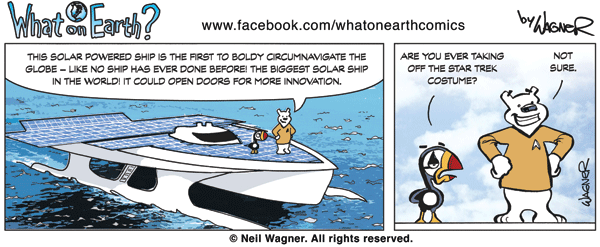 Phileas Fogg, protagonist of Jules Vernes' Around the World in Eighty Days made his trek with trains and steamboats ... and more trains and steamboats. While Fogg's perseverance in taking just eighty days to round the globe is praiseworthy, his hearty use of planet-warming fossil fuels ... not so much. But the folks at PlanetSolar have now bested the good Mister Fogg on that count.
The MS Tûranor PlanetSolar -- a $16 million 115-foot watercraft -- recently became the first boat to circumnavigate the globe running entirely on solar power. The ship's 38,000 photovoltaic cells propelled the boat at a speed of 14 knots, allowing the vessel to complete it's round-the-world journey in 585 days. PlanetSolar partners Raphaël Domjan and Immo Ströher first began developing the boat in 2008, as a means to "demonstrate that a motor vessel can function from today without using any fossil fuel and that this clean and eco-aware navigation has undoubtedly a commercial future."
But there are more than just solar boats circling the globe. We're talking solar planes, trains and automobiles.
Planes: The SolarImpulse HB-SIA can already claim the world's first manned 26-hour solar flight. Yes -- it flies at night, too. Now the good folks at SolarImpulse are planning to circle the globe in 2013 with one of their sun-powered flying machines.
Trains: OK, I lied. I know of no solar powered train currently circling our globe. However there IS something exciting happening near Amsterdam. (Isn't there always?) A two-mile long train tunnel, covered with 16,000 solar panels, was completed in Belgium last year. The panels provide power not only to the Paris-to-Amsterdam high-speed line that uses the tunnel, but also reduces the line's carbon footprint, protects nearby trees, and provides electricity for local use.
Automobiles: The SolarWorld Gran Turismo is currently circling our planet. Starting its journey in 2011, the solar-powered two-seater plans to travel 21,000 Guinness-record-setting miles (longest distance covered by a solar car) before its Australian homecoming later this year.
"Clean energy from the sun is there for the taking -- without depleting the Earth's riches," says SolarWorld Americas president Kevin Kilkelly.
I'm just curious how the car handles crossing the oceans. Has it been hitching a ride on the MS Tûranor PlanetSolar?
Like "What on Earth?" on Facebook.
Become a Fan here at The Huffington Post.