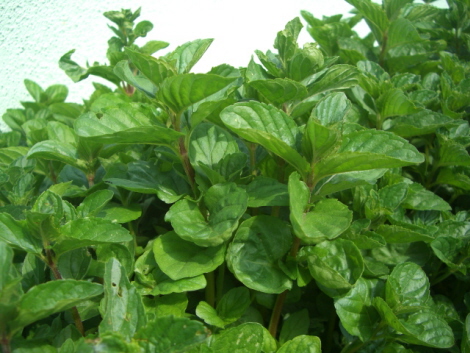 According to Greek mythology, the origins of the mint plant are to be found in a tale of lust, betrayal, and spite that rivals any contemporary prime-time reality show. We are told that Hades, god of the Underworld, cast his wandering eye upon a particularly tasty little nymph by the name of Minthe. His wife Persephone was understandably put out, and in a fit of anger punished Minthe by turning her into a plant that would be trod upon by anyone strolling by. Hades was unable to undo his wife's spell, but he softened the blow by giving Minthe a sweet and soothing smell; personally, I doubt she was much consoled by this, but she did achieve immortality of a sort, as her tale has lived on through the centuries in the herb that bears her name.
And even if perhaps this is not necessarily the factual origin of this useful and pleasing plant, it does reinforce the evidence suggesting that mint has been a welcome part of multiple cultures for many millennia. In Ancient Greece, mint leaves were rubbed on the dining table to welcome guests; in India and the Middle East, bundles of fresh mint were used to cleanse the air of homes and temples; and surely a Mint Julep has been an enduring component of Southern hospitality!
Although there are more than 25 species of the genus Mentha (I have lemon mint, lime mint, chocolate mint and orange mint in my garden, each with its own delicious aroma), the most commonly found and used one is the ubiquitous peppermint. Indeed, this potent herb pervades contemporary culture -- it can be found in toothpaste, air fresheners, perfumes, moisturizers, medicines, shampoos, and chewing gum; it's even used as a natural insecticide.
But there is more to mint than just a refreshing aroma and a brisk taste. Your digestive and respiratory tracts will bless you for ingesting mint on a regular basis, as the benefits to be derived from it are well-documented. Got indigestion, heartburn, even irritable bowel syndrome? Peppermint oil will relieve and guard against the discomfort by relaxing the muscles of the intestine. Got asthma, allergies, a bad cold? The rosmarinic acid in peppermint has been shown to reduce inflammation and open airways.
And the benefits of sweet little Minthe's descendants don't stop there. A phytonutrient by the name of perillyl alcohol has been shown in animal studies to stop the growth of pancreatic, liver and mammary tumors, and to protect against skin and lung cancer as well.
On a nutritional level, mint provides healthy doses of manganese and Vitamins C and A, both of which play a role in cancer prevention by reducing free radicals and protecting cells from DNA damage. Peppermint even has a substantial amount of omega-3 fatty acids, and we all know how good those are for you!
How to buy and store mint, plus two great recipes using mint:
Recipes: Making Merry With Mint
Fresh mint should be available year-round in your local supermarket. Organic is best, as always, and remember your local farmers market will always have the freshest and best selections. The leaves should be bright green, with no yellowing, browning, or spots. If not using right away, put the bunch of mint with the stems down in a jar of water, cover loosely with plastic, and store in the fridge for a few days.

Serve this spring-fresh tropical offering with organic brown rice and grilled asparagus, and start your grilling season off right! Ingredients 4 6-ounce Ahi tuna steaks 1 tablespoon peanut oil* 1 teaspoon sesame oil 1 cup fresh mint leaves 1/3 cup Italian parsley leaves 1/4 cup chopped unsalted macadamia nuts 1/2 teaspoon minced red jalapeno 1 tablespoon lemon juice 1/2 tablespoon lime juice 1/4 cup peanut oil* * If peanut allergies are an issue, substitute safflower oil. Make pesto: Combine mint, parsley, macadamia nuts and jalapeno in food processor, puree until smooth. Add lemon and lime juices and peanut oil, process until creamy. Transfer to small bowl and set aside. Preheat grill to high. Combine the tablespoon of peanut oil and the sesame oil, use to moisten steaks on both sides. Place on grill for 1-2 minutes per side, depending on thickness, just until seared on the outside and still rare in the center. Transfer to serving plate and top each steak with 1 tablespoon of the pesto; serve the rest of the pesto on the side. Serves four.

This refreshing treat makes a perfect finale to the Grilled Ahi dinner... Ingredients 2 cups fresh pineapple chunks 2 cups fresh mango chunks ½ cup water ½ cup superfine sugar 1 cup fresh mint leaves ¼ cup coarsely chopped fresh peeled ginger Loose mint leaves for garnish Make syrup: Combine water, sugar, mint and ginger in small saucepan. Bring to boil, stirring, and simmer for 5 minutes. Remove from heat and let stand for 10 minutes. Strain through a sieve into a small bowl. Let cool a few minutes more. (Can be made in advance and used cold.) Pour syrup over fruit, gently toss with a large spoon to coat the fruit evenly. Garnish with mint leaves and serve. Serves four.
A version of this post appears in my monthly column "Eat Smart" in the May issue of Better Nutrition Magazine

Follow Neil Zevnik on Twitter: www.twitter.com/NeilZevnik