Did you know that the word "millionaire" in Hindi is masculine? What does that mean for women in India who want to grow a multi-million dollar business? I learned about this conundrum from a colleague Nalini Mehta who attended our Make Mine a Million $ Business event in San Francisco last Fall.
I often hear from small business owners who are looking for advice on how to break into and navigate international markets like China, India or even Vietnam. It's a hot economic trend and with good reason. A report released this week by TD Economics revealed that from 2004-2009, exports by small U.S. firms to all countries grew 30%, while exports to China and India doubled.
In addition, according to the U.S.-China Business Council, a private, nonpartisan, nonprofit organization of roughly 220 American companies, China has been our fastest growing export market since it joined the World Trade Organization. What's more, it's the only major market since 2000 to have averaged the 15 percent growth per year needed to meet President Barack Obama's goal of doubling US exports by 2014. The Council also reports that America's small- and medium-sized companies are succeeding in China, but those companies still need more help accessing China's markets.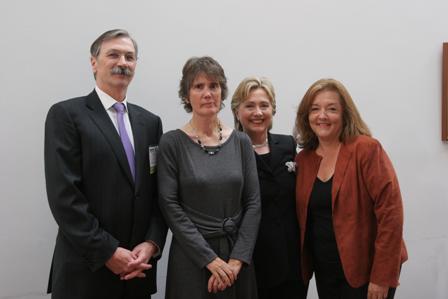 So I asked my good friend Ned Cloonan, a former vice president at AIG and the current president of Ned Cloonan Associates, an advisory firm focused on international market access, strategic philanthropy and business intelligence, for some of his thoughts. Ned was one of the first in corporate America to seriously invest in gender equity issues around the world (including Count Me In). He's also been at the forefront of just about every major market opening in the world over the last 15 to 20 years and he has great advice for women wanting to do business abroad.
1. Understand that this is a long term commitment. It's going to take time and capital for you to get access and be able to establish a business in countries like China, India or Vietnam. It'll be longer and cost you more than probably anything you've done to date. To be on the safe side, you might want to build the new markets into a long-term business and financing strategy.
2. Your business, product or service stands the best chance of being successful if it is relevant to the current economic planning and priorities of those countries. For example, in China, they have great interest in product or service that can help in energy efficiency or alternative energy. They are also facing an aging population because of the country's longstanding one child policy, so if you have a product or service that is related to healthcare or healthcare related services that could be of interest to them. You need to offer something that these countries need and want at that time.

3. Spend time and effort to understand some of the differences in the ways decisions and politics are managed. It's important to know the difference between local, regional and federal or central government interests. It's critical for you to know the decision makers in the process in the regional and local governments. To that end, see if you can participate in a trade mission with the governor's office, state department of commerce, the Asia Society, or U.S./India business council. There's a wealth of information and knowledge that may help you understand more fully not just the challenges but also the opportunities and maybe some potential partners. Participating in trade missions and reaching out to chambers -- both here and abroad -- can be a cost effective way for a small business owner to meet more senior decision makers and get better advice and information in these countries. You stand a better chance to "punch above your weight."
4. Politics matter. Your business can easily be affected by the ebbs and flows of the political relationships between the US and those countries. Even if you're small or medium sized, you can feel the pressure if the relationship is strained or if there's a desire for the relationship to expand or grow and prosper. M3 awardees receive a one-year legislative membership with Women Impacting Public Policy (WIPP), a non-profit, nonpartisan public policy advocacy organization with over half a million members (including 54 business organizations) educating and advocating on economic issues for women in business. It's been a valuable resource to those interested in breaking into foreign markets.
5. Find a partner in that country. If you're small or medium-sized, you're going to have to find a compatible partner to assist you in navigating through all of the challenges each one of these countries presents to any business that wants to be successful there -- particularly a foreign investor. Choosing a partner could include a reference to a model that has worked in the past is finding someone educated here but from there.
6. Consider a secondary city strategy. In China, for example, the government is encouraging investment in smaller, interior cities, and not just Shanghai or Beijing. So, it's important to be flexible.

SUBSCRIBE TO & FOLLOW THE MORNING EMAIL
The Morning Email helps you start your workday with everything you need to know: breaking news, entertainment and a dash of fun. Learn more