Next month I'll be traveling to Santa Monica to help launch an exciting new initiative - The Coca-Cola Tour: Adelante. It's a series of live forums and an online movement designed to inspire young Latina moms - one of the fastest growing groups of influencers in the United States - overcome perceived barriers and live their dreams.
Count Me In is presenting in partnership with Coke and Nely Galan, former head of Telemundo, women's empowerment guru and former Count Me In Board Member.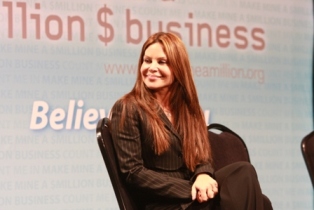 Nely has traveled around the country speaking at Count Me In events (she's pictured here with us in 2008), and she asked us to join up with her on this exciting new initiative.
Our goal is to empower rising Latina leaders and give them the tools to raise themselves, their families, their communities and businesses to the next level. To not shy away from challenges. To let them know that they can be a strong woman, mother, wife and still be "in charge" at work and in the community. As Nely says: "The Adelante Tour is meant to create a national movement that informs, mentors and inspires Latinas to make their dreams come true."
Over the past 10 years, Count Me In has built a pretty good track record in empowering and supporting the growth of Latina business owners around the country. So I reached out to a few of them to ask what term "Adelante" mean to them as far as building businesses, managing families and taking an active role in their communities. How do they define being a "Strong Latina"?
To Lorena Siminovich, it's all about balance. The 35-year-old Buenos Aires native is the CEO and founder of Petit Collage, a San Francisco-based children's home décor and accessories company. She's also written, illustrated and published about 20 children's books, and is the mother of two-and-a-half year old Matilda. So she knows all about juggling! "One of the things I learned through CMI is 'You can have it all if you don't do it all!'" says Siminovich, who moved to the U.S. from Argentina ten years ago. "I have four wonderful people at work, a nanny at home and a supportive husband."
Before moving to the west coast with her husband in 2006, Simonovich was the creative director of a gift and stationery company in New York. Going to work for herself was "liberating," she said. "I got more flexibility and my own studio." And while she could easily have stayed at home after her daughter was born, that thought never occurred to her: "I'm obsessed with my own business!" she confesses. It's also important that her daughter have a strong working mom as role model, though she doesn't necessarily see herself as the only person to fill that role.
Cynthia Rubio, the president of Radiant RFID, an Austin, Texas-based technology firm, and mother of four, agrees. "I don't do it all - you do what you can and the best that you can, and then you have to recognize that you need help from somewhere," says Rubio, who was born in El Paso, TX, to Mexican parents. She started her business, in part, to bring her family closer and allow her husband to not have to travel so much for his job. How did she feel about taking that giant step and a lead role in the family dynamic? She didn't even think about it, she says. She simply operated on instinct.
That said, her Latina roots have certainly influenced her work ethic. "Growing up, you had to know who you were and you had to prove who you were," recalls Rubio. "I always felt like I had to do more than everyone else, so I could be considered level with everyone else. That makes you stronger and more determined."
Both women also credit their immigrant status with helping their discipline with both work and family. "You left your family somewhere else--you must justify that change," says Siminovich, who cites Body Shop founder Anita Roddick's book Business As Unusual: My Entrepreneurial Journey as another inspiration.
In addition to finding inspiration in her Latina roots, Theresa Alfaro Daytner, President and CEO of Daytner Construction Group (pictured here with me at the New York Stock Exchange for our Opening Bell event in September),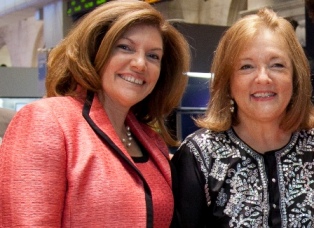 and granddaughter of Chilean and Venezuelan immigrants, says growing up in an economically challenged environment helped shape her work style. And though her company reached $17,000,000 in annual revenues last year, she doesn't forget her humble beginnings. "When you can't afford to pay for everything that you need, people grow up in a community where they help each other out. So I'm not afraid to ask for help."
Never mind that she works in a man's world, and that technically she is her husband's boss (he's the vice president). "I consult with him as my VP on many decisions, but certainly not all."
But how does she make it all work? "Family is number one to me--but I'm teaching my kids to be independent," says the 47 year old mother of six (and grandmother of one!). "They know they have unconditional love and support, but they're independent thinkers and doers. I want them to go out into the world and do whatever it is that makes them happy."
"I wasn't raised in traditional Anglo household so I didn't have the added pressure of perfectionism that exists there sometimes," she continues. "I'm pretty fortunate that I don't live that way. This is what allows me to take risks. I'm willing to start something without having all the answers, being perfect, or being guaranteed a specific successful outcome."
I continue to be honored and inspired by the richly diverse group of women entrepreneurs that has gone on to honor and inspire other women trying to "state their dreams" and harness their potential. And I'm excited for what that will mean for the future of our nation.
FOLLOW HUFFPOST