Gift lounges during the week leading up to the Golden Globes ceremony brought numerous vendors seeking to get their products into the hands of celebrities. Established brands like Pilot Pens, Pandora and Nautica stood alongside smaller, emerging brands such as Bright Baum and Canada Bliss.
So here I am, photojournalist of LA's art scene, getting a weekend dose of Nicholson, only to see him greet Taschen's celebrated photographer, David Bailey, at the opening like two lost friends after the war.
And they say relationships never last in Hollywood. Perez Hilton, known for stirring the celebrity pot, is proof there is longevity in La La land.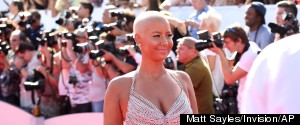 The anger at Amber Rose comes from a place of fear -- all hate is fear, at its root -- fear of a woman who exists outside of patriarchal parameters. How else can she be controlled? But for women, I also hear the anger coming from a place of envy.
This week, I turn 28-years-old, which means it's time to reevaluate life and consider how everything's going to change in my maturity.