In continuing to act the way the group has, PETA has essentially declared not only a war on pit bulls, but on dogs.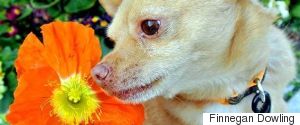 Eddie the Terrible was a small dog like many other beloved, quirky, owned pets. But in the context of a shelter? It is with great joy that we inform you that Eddie The Terrible really has undergone a total identity change to become Teddy The Beloved.
A couple tourists to Krueger National Park in South Africa got to witness one little guy fall behind when he couldn't keep up when they stumbled upon a baby elephant in the road.
The Northeast Animal Shelter (NEAS), based in Salem, Mass., will soon be celebrating the adoption of its 120,000th rescue animal! Northeast Animal Sh...
I wish I could claim psychic powers. But predictable smear campaigns are, by their nature, predictable.
A breeding facility for thousands of monkeys linked with prior outbreaks of infectious diseases could soon be looming over the backyards of some southern Florida residents without holding a single public meeting.
For the animals in Mancora, the situation is abysmal:Hungry dogs roam the street, half limping as they go because they were hit by a moto taxi; emaciated cats, always seemingly pregnant, search for anything to eat. This is the daily scene in the market.
To prevent inbreeding, the Copenhagen Zoo killed an 18-month-old giraffe. The mob outrage ensued. The visceral, selective outrage over the giraffe killing is a product of a double standard that romanticizes exotic animals, placing a greater value on their lives than, say, farm animals.
Its appearance indicated it must be a canine, but nothing like I had ever witnessed in all my years of observing wildlife. It was not long after several sightings that I began to find my chickens, killed, but left for other predators to carry off and savor.
By Nancy and James Chuda founders of LuxEcoLiving and Healthy Child Healthy World Travels with Journey, The Hallmark Inn Davis, California ...
Just about any animal can become a cinematographer these days. And as cameras get smaller, even smaller animals can join this select group. Perhaps one day we may even learn about the secret lives of hummingbirds, bees, butterflies, and spiders from a tiny cam.
American pets -- and their owners -- are sick of politics as usual, and are willing to do whatever is necessary to fix the corruption, lobbying, and corporate control of Congress.
"We'll all stay... until... he doesn't need us anymore," my neighbor said. "Good," Bob nodded in satisfaction. "Call me back when it's over and I'll take him in for necropsy. We want to report this violence and maybe find out who did it."