Catherine Linka knows books. So it shouldn't have surprised her when, before her award-winning debut novel A Girl Called Fearless was even published, she was asked to write a sequel.
Romantic loving is, for Simone de Beauvoir, existentially dangerous. Romantic relationships can be such intoxicating experiences that lovers get lost in euphoria. Authentic loving, according to Beauvoir, needs to overcome such traps.
Better than turtle doves or maids-a-milking, these 12 books will satisfy everyone on your list from the reader who digs a great beach read to the one who is (lovably) meticulous.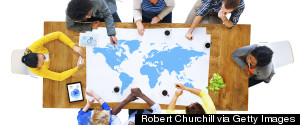 We should do more to help potential entrepreneurs in places where domestic economies are too weak to assist. If we give this effort a higher priority in our country's foreign policy, we can create a healthier balance of world commerce.
I have always loved psychological thrillers -- the plot twists, the stunning character reveals, the eerie settings.
So as someone whose passion for the niceties of under-butlers and ducal precedence is matched only by Lord Fellowes's, I can reveal the books that inspired me and possibly him to write about American women and English country houses.
Malcolm Gladwell has written a book about power and the people who challenge it. He sat down with Lars Mensel to discuss if the world is ultimately fair.
Does anyone know about a Thomas Pynchon t-shirt offered for sale sometime around 1970? The whole t-shirt campaign for Bleeding Edge is making me wonder.
While some people hail fall for the return of their favorite TV shows, and others look forward to the kickoff of football season or the first pages of the September issue, for me, fall is the best time of year to be a reader.
Every now and then a reviewer might have the luck of a novel landing on her table that is not only engrossing, imaginative and a pure joy to read, but also well-crafted and intelligent. This is the case with Helene Wecker's debut novel, The Golem and the Jinni.
Find inspiration in one of the most traditional ways -- unplug for a bit, escape the glow of the screen, and massage your brain with a good, old-fashioned book, chock full of knowledge, anecdotes, ideas and suggestions.
As usual, fall is when the big guns come out. Exciting novels by major writers like Ha Jin, Haruki Murakami, Umberto Eco, Jeffrey Eugenides and Russell Banks.