We've been running the HuffPost Book Club for the better part of a year now, and as both an editor and a book club member, I wanted to go back and go ...
The Huffington Post is launching a book club. This is why.
The first time I read The Brief Wondrous Life of Oscar Wao, I was a freshman journalism major in his first quarter at Northwestern University. Two maj...
How much of my life as it was lived so far was affected by my reading Hemingway's The Sun Also Rises? I actually asked myself this question while read...
Ernest Hemingway has become such a legendary character, it's hard to think of a recipe that could match his macho reputation. Whether on a Cuban beach or the African savanna, Hem was a fan of the good life -- and that included good food.
Our current HuffPost Book Club pick is "What It Is Like To Go To War" by Karl Marlantes. We are talking about different aspects of the military experi...
In my novel The Baker's Daughter, four chapters are from the perspective of a Nazi officer. Writing these was no easy task.
You might be thinking, "Ok, so an Arab Muslim girl wants to talk about war? Let's prepare for the Islamist preachiness, for the barbaric slogans, for the death-to-Amreeka chants..."
I don't know what it's like to go to war, but I know what it's like to stay home from war. I know what it's like to watch your husband on the tarmac---heave over, putting his hands on his knees only lifting his head to sob on my shoulder before he takes off.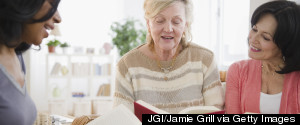 By creating an end-of-life book club in your community you will help others set off on a year-long exploration of the most important subject of life: how we bring to a close our final days. When have thoroughly examined this "fragile thought" of death then we can choose to live fully in each and every moment available to us.