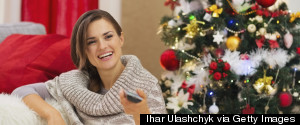 When we arrived, a big burly man walked up and said, "How can I help you?" We explained that we came to buy a tree. He asked how much money we had and my brother held the change out in the palm of his hand. "Hmm..." the man said, "I think I have the perfect tree for you."
The Case Foundation and Achieve recently published a study that supports the idea that many of us in the volunteer industry have thought all along: giving back to meaningful causes is important to millennials.
Garçon's hope for fans, friends and supporters alike, is to demonstrate by example that it is always a good time lend a helping hand.
To see the honesty and generosity of people like this young worker, whose wages can't be much above the minimum, and a homeless man who has nothing -- it's a reminder that I still have a way to climb before I get to their level.
I was struck by the ripple effect that philanthropy can have on a community. Callie turned her heartbreak into positive action, and in turn, changed the lives of many children who will benefit from pediatric cancer research.
There were just four days left to save Rain Burroughs' home. It was a long shot but her friends got organized, just like they have so many times before for the causes and people they believe in.