International jet-setters though they may be, even the most glamorous mega-models aren't immune to the everyday joys of curling up on the couch and binge-watching one of TV's most talked-about series.
From the Best "I-Can't-Believe-She-Just-Had-A-Baby" Body to the Best Runway Smize, we have chosen our favorite VS moments and the girls who brought them to life!
Are you ready for this? There are just 13 days to go until we see some of the world's most beautiful women take to the VS runway for the lingerie brand's annual fashion show, and we can hardly stand the wait!
With the annual Victoria's Secret Fashion Show now just a month away, we have only one question on our minds: who will walk the runway this season? While there have been countless rumors as of late, we now know of at least a few gorgeous models making the trip across the pond next month.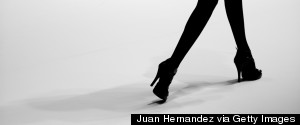 Extreme thinness can weave itself into the runway ideal, through the inclusion of some unhealthy, rail-thin, often very young models. In response, many in the fashion industry are concerned about the vulnerability of models and are trying to make a difference.
As promised, the second half of the best of New York's stores for back-to-school shopping! Lester's - 1534 Second Avenue - 1102-1120 Avenue U, Bro...
When I read who was coming to Harvard's public forum, "Health Is Beauty: Defining Ourselves," I knew I was going. The Harris Center's 15th annual forum offered a rare insider's view of an issue near and dear my professional heart -- body image and the media.
At the CFDA awards, I had the honor of presenting Ralph Lauren the 2010 Popular Award. In honor of the popular award, I thought it would be appropriate to talk about all things popular for summer.
The web industry celebrated its stars at the 13th Annual Webby Awards -- the Oscars of the Internet -- and victors were limited to five-word-long acceptance speeches.