Most people have heard of the acronyms DWI, DUI and OUI. But what about Driving While Tired or DWT, is that a crime? Yes, if DWT is due to reckless behavior and results in an injury or death, then DWT can have serious criminal consequences.
New research from SADD (Students Against Destructive Decisions) and Liberty Mutual Insurance creates fresh urgency around tired-teen driving and the often catastrophic toll a few hours here and there can take.
I opened the windows to let some fresh air in, but when the tiredness didn't lift, I decided I'd better pull over and take a break. I came off the motorway and found a place where I could close my eyes and take a nap.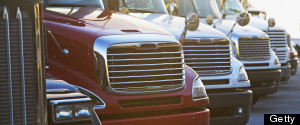 Driver fatigue should be part of a larger concern with driver health, as lack of energy and burnout could be symptoms of a larger issue with health and wellness and poor health promotion.
This month has brought ample evidence of the power of sleep to affect us in both positive and negative ways, and demonstrated why we need to start treating sleep as the vital health, safety and social issue that it is.
As we bring 2013 to a close, we're taking a look back at the sleep stories that made news this year. With so many fascinating developments in sleep science, it was hard to narrow it down, but here are the most challenging, eye-opening, important sleep stories from the second half of 2013.
The news that sleep may have played a role in New York's Metro-North train derailment is a terrible reminder that sleep isn't just a personal health issue -- it is also a matter of public safety, when it comes to the rest of people who we entrust with others' lives.
As a society we've come to vehement consensus that drunk driving is unacceptable behavior. Yet we continue to tolerate sleepy driving. Many people who wouldn't dream of driving after one drink too many may very well get behind the wheel when feeling drowsy.
In an effort to combat the problems associated with driver inattention, two Australian companies have come together to create an innovative solution.
I love to make films. But the health of my fellow film workers and citizens is more important than anything on the silver screen. Government regulators seem afraid to confront Hollywood, and they have fallen short on protecting workers' hours in our industry.
It's practically human nature to underestimate the negative effects associated with fatigue and sleep deprivation and, conversely, overestimate our abilities to overcome them while driving.
Over 90 percent of teens don't get enough Zzzzs. Alarmingly, if they drive on less than seven hours of sleep it's as if they drank a beer and drove. Help your child get the sleep they need.