Soul-bearing. Here we go - I know Ed Sheeran because of my son, Matt. Matt played the music for Thinking Out Loud for YouTube and then flamed out ...
There was fantasy -- which brings on songs of longing, desire, passion. Although I am happily married and I am not looking for a tryst of any kind (any more), there's nothing wrong with fantasy. In fact, where creativity is concerned, there's everything right about it. 
During the 57th Annual Grammy Awards, Anna Kendrick, Blake Shelton, Kim Kardashian, Taylor Swift, Neil Patrick Harris and Lady Gaga Tweeted about the show from their seats and backstage. Meanwhile, Kelly Clarkson, Lorde, and Brooklyn Decker live-tweeted from home.
I'm really sorry to be the one to break it to you, but if you are married and it's Valentine's Day there's almost nothing you can do to win it. I don'...
As the Ebola epidemic rages on, health officials have gone into the trenches around the globe, putting their lives at risk to save those of others afflicted by the devastating virus. Yes, but... what do our beloved celebrities think of it all?
One of the world's largest music festivals is coming to America for the first time, and they're bringing out the big guns.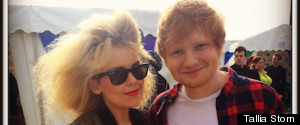 I had always admired, respected and loved Ed Sheeran, the prolific songwriter and award-winning musician but today, was the dawning of a new "Ed" for me. This is the way to do it.
If you are a female reading this, chances are your significant other has a man crush on at least one male or more. These crushes do not mean that your man desires his man crush in the way he desires you, though.
This month's top 10 list contains a healthy mix of perennial favorites and relative upstarts. Chart regulars like Shakira and OneRepublic both clock in with their most recent singles.
I figured that I'd never bond with my daughters over music. But something happened a few months ago that may have turned the tables -- literally.
Unfortunately, we -- and by we, I speak now of my cohort, the Baby Boom generation -- seem to be the ones who have turned nostalgia into an industry. Which takes most of the fun out of it.
So, who are Johnnyswim? Great songwriters, for one. Their EP's title track and "Home" are sweetly intense his-and-hers stories set to grooves which are not easily pigeonholed.
It seems to me that we have a lot of new stars coming from across the pond: One Direction, Cher Lloyd, Little Mix, Ed Sheeran, The Wanted, Olly Murs and plenty more!
In 2011, Robbie Robertson's album How To Become Clairvoyant was not only one of the more satisfying releases of the year, but it also was the artist's most personal statement about his life, covering topics from spirituality to the breakup of The Band.
"There's a great music scene in Austin, but if you really want to be seen by the right people and have the right opportunities, you need to be based in Los Angeles. Then again, because of the Internet, anything is possible from anywhere."