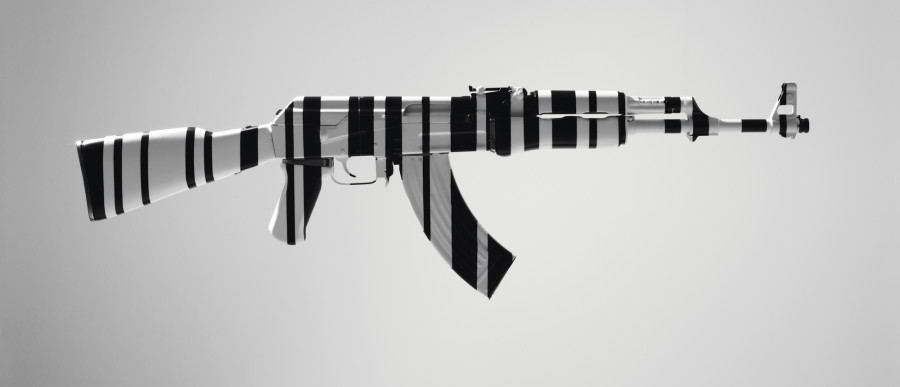 AK47, Black on white paint, lacquered, 87cm x 25cm: Removed from DR Congo. Decommissioned AK47 of Russian origin. AK47 is McCrow's original artwork.
"Guns have long had an extraordinary and terrible influence over us," artist McCrow writes on his website. "There are those who glorify them, those that subjugate through them and those who suffer by them."
This connection between man and weapon serves as the focal point of his most recent exhibition, "History Interrupted, The Art of Disarmament" at the Hoerle-Guggenheim Gallery. The show puts on view a collection of 20 decommissioned AK47s and other small arms, collected from regions of conflict around the world -- the Democratic Republic of Congo, the Palestinian territories, Iraq. McCrow renders the firearms useless, lacquering, polishing, and staining the guns until they resemble imposing sculptures hanging on the gallery's walls like a benign canvas.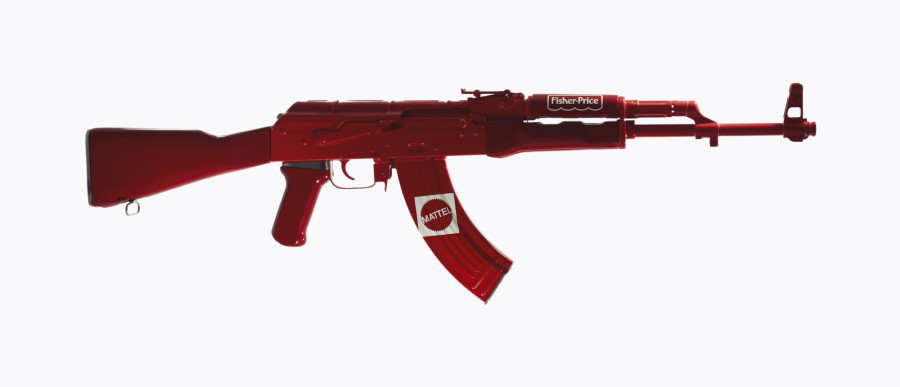 Toy Gun, Red paint, enamel and stenciled, 87cm x 25cm: Removed from DR Congo. Decommissioned AK47 of Chinese origin.
The U.K.-based artist began transforming deactivated guns into art after a close friend lost three limbs in an explosion while on tour with the British Army in Afghanistan. According to McCrow, he is both "fascinated and repulsed" by guns. This combination of awe and aversion shows in his work, whether in an AK47 adorned with a mock Fisher Price logo -- a nod "to the fact that in many war torn areas, irrespective of those forced to take arms, many children are more likely to experience a real AK47 before a toy one" -- or a lone magazine adhered to the middle of a gilded frame in homage to the first Gulf War.
To procure the guns he uses in his art, McCrow says that he works with individuals related to arms trade across the world. "It is through a number of contacts in this field of operations that I am able to acquire the weapons to deactivate," he told The Huffington Post. "This is done by the prevailing government, often with the cooperation or coordination of the UN or appropriate military force."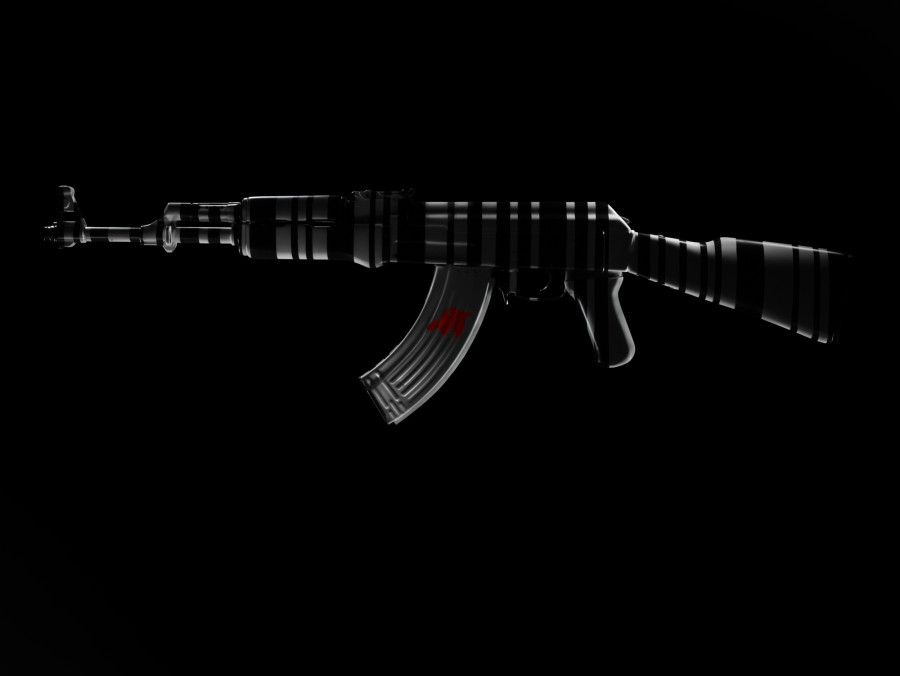 Way Out, Black on white paint, lacquered, 87cm x 25cm: Decommissioned AK47 of Russian origin. Way Out is a core piece in the AK47 Barcoded series created for the development of a number of works. The use of the barcode has become integral to McCrow's work and is a reference to the mass production of AK47s; a mind boggling 75,000,000.
Beyond his art, McCrow founded the organization, One Less Gun, which aims to eliminate one million guns in conflict areas across the globe by supporting initiatives that work to collect undocumented weapons in conflict areas. In one grassroots initiative, he encourages those who stumble across the One Less Gun website to text "onelessgun" to 70007 in order to digitally destroy a gun for £5. At the Hoerle-Guggenheim Gallery, admirers can donate $10 and receive a round of ammunition engraved with the serial number of a deactivated weapon.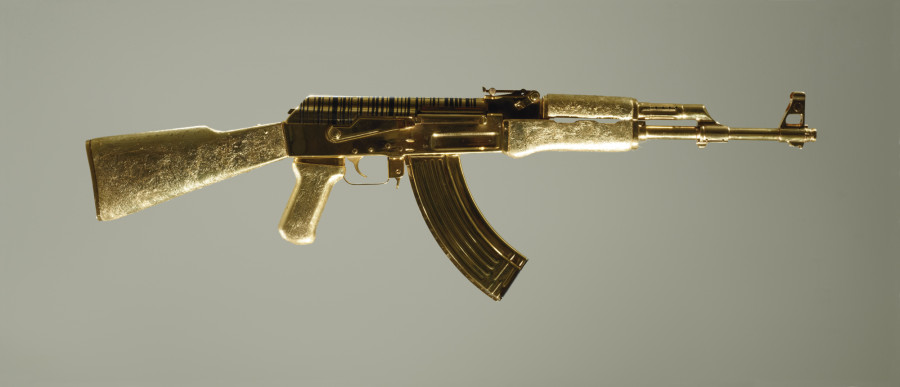 Gulf Sale, 24ct gold plate, gold leaf on wood parts, Size 87cm x 25cm: Removed from Iraq Decommissioned AK47 of Russian origin.
According to the United Nations Office of Disarmament Affairs, conservative estimates mention 7.5 to 8 million small arms being produced per year. McCrow leaves visible the barcodes and serial numbers of the guns destroyed on all his works, standing as a reminder of the dark reality of small arms proliferation.
"An underlying theme of the work is an exploration of moral insanity," McCrow adds on his website, "described 200 years ago as a decay of social affections, an aversion to the nearest relatives and friends formerly beloved; in short, a change in the moral character of the individual."
"History Interrupted, The Art of Disarmament" will be on view at Hoerle-Guggenheim Gallery in New York City from April 30 to May 28, 2015. All photos and captions provided by the artist or gallery.
When a major player in the world of political messaging gets involved in the gun debate, we should all read what he has to say. That's because Danny Franklin from the Benenson Group isn't about to waste precious space in the Washington Post talking about something that isn't near or in the middle of the public opinion radar scope. And Franklin knows a little about public opinion, having conducted political polls for guys named Barack Obama and Cory Booker, to name a few. His op-ed piece in The Post appears to have been occasioned by a poll he conducted which showed that a majority of respondents believe that a house with a gun is safer than an unarmed home; in fact similar results have cropped up here and there in recent years.
What I like about Franklin's piece is the linkage between reducing gun violence and public health which, if nothing else, confirms again what we all know; namely that gun violence has an epidemiology that has to be studied and treated on its own terms. We can talk all we want about strengthening or passing laws to keep guns out of the 'wrong hands,' but when all is said and done, getting shot usually means a major commitment of medical resources, extended psychological trauma for the victim, family and friends, and costs in the millions for apprehending, convicting and punishing the dope who pulled the trigger of the gun.
These costs -- financial, psychological, cultural -- might be somewhat more acceptable if it were the case that guns in private hands serve any positive civil function at all. In fact, if you are a gun hobbyist who collects guns or uses them for hunting or sport, guns do serve an enjoyable end in and of themselves. But the nonsense peddled by the NRA and pro-gun politicians about how armed citizens protect us from crime is not only nonsense, but dangerous nonsense at that. The odds that the average middle-class person will be the victim of a violent crime are about the same as the odds of that person getting run over by a rhinoceros; on the other hand, a gun in the home of that same person possibly considering suicide poses a real threat.
The data which demonstrates the indisputable risk of gun ownership comes from research produced by scholars in the field of public health. And Franklin is on solid ground when he uses this data to advance the argument for viewing gun violence in public health terms. Where I want to raise a comment, however, is when he evaluates public health strategies that will reduce gun violence because I think he identifies an interesting issue whose importance for the safe-gun movement has been ignored or not fully understood.
Franklin notes that public health measures were sometimes successful not just because of changes in the law but because of a growing public awareness which developed a momentum of its own. By the time the federal government put health warnings on cigarette packs, for example, the number of adult smokers had already dropped from one out of three to one out of four. And Franklin claims that the drop in gun crimes over the last twenty years might provide a similar degree of public awareness and momentum in the gun debate as well.
Every year when the FBI publishes its crime data, the gun lobby seizes on the continued decline in violent crime as 'proof' that an armed citizenry is keeping us safe. The truth is there's absolutely no evidence showing any linkage between gun ownership and rates of violent crime. I think the gun-safe movement should jump on these numbers to help promote their point of view, namely, that Americans clearly understand the risks posed by guns and should welcome everyone's help to reduce gun violence even more. Why should the pro-gun community own the argument about guns and crime? If we are all concerned about gun violence, then we all should take credit when the numbers go down.
A Tennessee law allowing guns in parks is now on the books.
Gov. Bill Haslam (R) signed a bill Friday that allows gun owners with permits to bring guns to state and local parks, but not without some reservations. According to The Tennessean, Haslam sent a letter to legislators expressing the safety concerns of allowing guns in parks.
"I am concerned that an unintended consequence may be operational challenges for local leaders in managing their parks in a safe, effective and consistent manner, due to events and situations that could not have been anticipated in drafting this law," Haslam wrote in the letter.
Opponents of the bill have repeatedly warned about the dangers of allowing guns near children and potential gun accidents that could ensue. One prominent opponent is Nashville's mayor, Karl Dean (D), who said Friday that he wants to work with local leaders to determine the proper enforcement of the bill.
The new law invalidates a 2009 law that gave local officials the authority to ban guns in parks. Advocates of the law say that allowing guns will improve safety in parks.
The bill sparked heated debate in the state legislature, with lawmakers introducing various amendments, including one provision that would have permitted guns on the grounds of the state Capitol. The bill passed with that amendment in the state Senate, but not in the House.
Lawmakers were finally able to pass a bill through both chambers and gain the governor's approval by compromising on language that delineates rules for school events held in parks. The final bill includes language stating that someone with a handgun permit may not be within the "immediate vicinity" of a school-sponsored park event, though it does not provide a clear definition of "immediate vicinity."
Some in the state legislature had hoped to pass the bill and get the governor's signature earlier this month, right before Nashville hosted the National Rifle Association's annual convention. Lawmakers argued that the law would have made it easier for convention attendees "to see the whole city."
Read More:
police
,
police brutality
,
fear
,
god
,
guns
,
war
,
Lethal Force
,
victims
,
freedom
,
exorcism
,
pandemic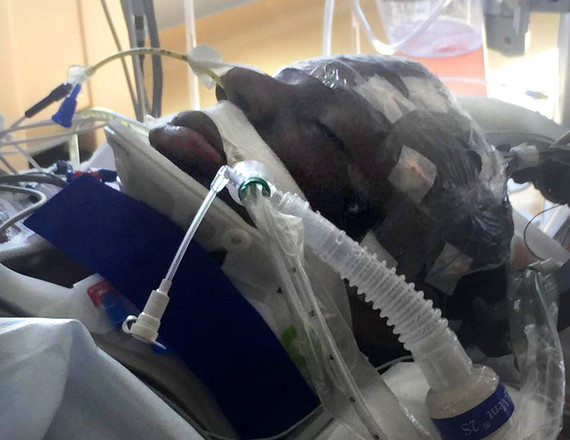 "At the root of all war is fear, not so much the fear that men have of one another as the fear they have of everything." In the midst of desperate times, Thomas Merton wrote these words in a 1962 essay entitled, "The Root of War is Fear." Decades later, these words once again ring true in our own desperation. For an increasingly prolonged period, police brutality has dominated the news and caused everyone to question whether anyone is safe. The death of Freddie Gray is just the latest example. Prognosticators and pundits spend hours upon hours describing our problems and prescribing solutions. In our desperation to say or do something, we have ultimately not said or done much of anything to address the root of the problem. Our attention has been focused on the symptoms without attention to the cause. The complexity of our problems should not mask the simplicity of the solution. We are a people who are desperately afraid of everything. The root cause of police brutality rests solely in our own fear.
Fear of our neighbors causes us to constantly prepare for and perpetrate war. For the last decade, the United States has engaged in endless conflict. We believe that our fear gives us the right to destroy the lives of innocent people all over the world so that we might feel safe. We feel like the deaths of innocent civilians is a small price to pay for achieving the higher goal of a sense of safety. Though the safety is not real, we feel better when guns are firing and bombs are exploding. Too often, we fail to ponder the cost of our fear. The war mentality that we develop always comes home. The military hardware that was used overseas ends up in the hands of law enforcement. In our desperate desire for safety, we arm our police and prepare them for war. Our police carry the same fears that we do. We prepare them to be afraid of our neighbors just like we are. Every person a law enforcement officer comes in contact with is a potential threat. When officers are taught that danger is everywhere, we should not be surprised when they eliminate what they are afraid of. With constant access to lethal force, perceived fears become realized deaths. The bodies will continue to pile up until we do something about the pandemic of fear that has overtaken us.
We are also afraid of what is within our own persons. In a society of shadows, we are so afraid to be real. We know there are always consequences to expressing who we really are and what we really think. Carrying the dishonesty of false living, we put our defenses up against the world and our blinded by our self. We believe that our sole purpose in life is to show the world what we think the world wants to see. In our attempt to fit, we forget what is real and what is false. We become confused. If we cannot trust our self, we know that we cannot trust those around us. Our fears become compounded and we respond by arming ourselves. The resultant deaths in our streets are only a reflection of the deaths that are constantly taking place in the individual souls of the citizens of this nation. Police brutality begins with the fear within.
If we are to make any progress beyond our rhetoric, outrage and partial measures, we must work to put fear aside. Continued cultivation of our own fears will only cause more police brutality. The exorcism that we all need can only be performed by each of us on our own person.
Amen.
WASHINGTON -- Senate Armed Services Committee Chairman John McCain (R-Ariz.) on Monday denied reports that Sen. Ted Cruz (R-Texas) is pushing him to hold hearings exploring whether soldiers should be able to carry concealed guns on military bases.
"I was fascinated to hear that, since I haven't heard a thing about it from him, nor has my staff heard from his staff," McCain told reporters.
Responding to a question about a Politico report that Cruz said he is "pressing" for a hearing on easing the gun ban for soldiers, McCain said, "I have not a clue."
Cruz, a 2016 presidential contender seeking to distance himself from the rest of the Republican field, said Sunday he is pressuring McCain directly to hold the hearing. "It's very important to have a public discussion about why we're denying our soldiers the ability to exercise their Second Amendment rights," Cruz said.
McCain said he'd "be glad" to talk about the issue and decide "if we need a hearing. But it came as a complete surprise to me that he had been pressing me."
Asked where it came from, McCain pondered the different methods of communication Cruz could have used to relay the message.
"Maybe it was through some medium that I'm not familiar with. Maybe bouncing it off the ozone layer for all I know. But there's a lot of holes in the ozone layer, so maybe it wasn't the ozone layer," McCain said.
"Maybe it was through hand telegraph? Maybe through sign language? I don't know," McCain continued.
McCain has shown he's no fan of Cruz in the past, calling him a "wacko bird" and "crazy."
UPDATE: April 21 -- Cruz spokeswoman Amanda Carpenter pushed back at McCain's comments, saying Cruz has been vocal for some time on the issue.
 
"Senator Cruz has been discussing this issue for a long time and he looks forward to continuing to raise it in the Senate Armed Services Committee where he serves with Chairman McCain," Carpenter said in an email.
 
Last year, Cruz urged then-Chairman Carl Levin (D-Mich.) in a letter to hold a hearing on concealed carry restrictions for soldiers on military bases.
Later Tuesday morning, Cruz told Fox News he misspoke over the weekend when talking to voters in New Hampshire about soldiers' ability to carry concealed weapons on bases, and did not in fact press McCain directly.
"Ted Cruz issued a statement saying he had not contacted me and I consider it over," McCain told reporters Tuesday. "He corrected his mistake. He is a friend of mine and I value his membership on the Armed Services Committee."
Cruz formally sent a letter to McCain Tuesday, asking for a hearing on the issue.
"I ask that the Senate Armed Services Committee convene a hearing on current military policies to determine whether the restrictions on personal firearms actually accomplish their objective of protecting our service members, or whether the policies instead prevent a rapid response to active shooter instances," Cruz wrote to McCain.
Read More:
gun control
,
gun violence
,
guns
,
gun laws
,
Gun Rights
,
Rabbi Abraham Joshua Heschel
,
leviticus
,
society
,
morality
,
religion and politics
,
rabbi
,
sandy hook elementary school shooting
,
Newtown Elementary School Shooting
,
shooting
,
violence
Here's some scarcely-reported news from this past week. There was a shooting at a synagogue in Nashville, Tennessee, where the National Rifle Association held its annual convention the previous week. There was a shooting (with one casualty) at Wayne Community College in North Carolina; the suspect remains at large. There was a shooting in my hometown of Berkeley, CA that injured two, and a shooting standoff in Ohio that left one person critically wounded and seven in custody. All this occurred in one day.
As a rabbi, I cry at the erasure of so much life. I have organized for, marched with, and amplified Everytown for Gun Safety, the Coalition to Stop Gun Violence, Americans for Responsible Solutions, and the Brady Campaign to Prevent Gun Violence. And yet, as a rabbi, I am enraged not at guns but at the casual violence afflicting our country, and the way we have grown immune to it. I do not accept the NRA's claim that "guns are not the problem," but I do agree that guns are not the main problem.
In 2015 so far, there have been 12,517 reported gun violence incidents. There have been over 100 school shootings in the two years since Sandy Hook. Just last weekend in Chicago, gun violence claimed two lives and injured 17. Every day, 48 children and teens are shot in murders, assaults, suicides and suicide attempts, unintentional shootings, and police intervention.
Yet this is an epidemic Americans barely notice anymore.
The torrent of gun violence headlines and statistics has led many to simply stop seeing them. I believe we are, as a nation, weary to our bones from all this death. We have, as a society, become victims of what Malcolm Gladwell famously called "the problem of immunity", in which being overwhelmed by massive amounts of information leads one or more people to be unable to process it, rendering it functionally invisible. It is, perhaps understandable. We have become, to borrow a phrase from Pink Floyd, "comfortably numb."
Once in a while, national attention is provoked by either a slow media cycle or a large number of casualties. But in the aftermaths of even these tragedies, despite overwhelming support for universal background checks for gun sales (even among NRA members), there has been no significant and lasting national response. Legislators seem incapable of compromise, and the frontlines of the culture war are bombarded by extremists who alternatively demonize gun owners and gun reform advocates alike.
Is there anything to be done? Is there no way to make any change in a system of sustained violence that costs upwards of 30,000 lives every year?
My claim is that my fellow faith leaders can bridge the divide between gun owners and gun reform advocates. This is a moral crisis, and it requires a moral response.
Whereas elected officials and those employed to sway their decisions are driven by the market, faith communities of all stripes are driven to maintain the dignity of the Divine Image in every human life. Faith reminds us of our common humanity, can provoke that most human of responses to the needless deaths of our fellow citizens: compassion. Americans of all political leanings -- gun owners, gun law reformers, mental health advocates -- wish for the fulfillment of American Scripture, which includes in its promises a basic right: life.
The great civil rights activist Rabbi Abraham Joshua Heschel once claimed that, when confronting great societal rupture, there is "no time for neutrality," that:
...one of the lessons we have derived from the events of our time is that we cannot dwell at ease under the sun of our civilization, that man is the least harmless of beings.
We know this is true. We must allow our numbed hearts to be shaken from a false sense of security and reclaim our roles as partners in a noble American impulse, based in the very basic societal value of mutual obligation. And, if we need more motivation than our national prophetic values, we might do well to consider the statistical reality -- if we do nothing -- that our streets, our churches, our children are all on the line.
My faith tradition promises that, one day, there will be a day on which "you shall lie down and no one shall terrify you." (Leviticus 26:6) That day feels woefully far from now. The only way forward, out of the sinful trap of passive acceptance, is a basic tenet of our common faith: the mandate to serve as our brothers' and sisters' keepers. The way forward is faith's call to remember that we are each other's best hope.
Now that the NRA annual big deal has come and gone, there will be the usual post-mortem as to whether the show was the biggest, which Republican candidate gave the best speech and, of course, whether the Donald is still looking for that birth certificate. You can get a taste of all this and more on the NRA website where most of the celebrity speeches have been posted, but what I found interesting was a comment made by Wayne-o in his annual attempt to scare gun owners into buying more guns.
The appeal to fear first started with Wayne's predecessor, Harlon Carter, who ran the NRA from 1977 until 1985. It moved into high gear when Charlton Heston was featured in a series of anti-crime television ads that showed the former Hollywood liberal walking down back alleys in Washington, D.C. while saying that the streets were "ruled by criminals" and that criminals should be "banned" rather than guns.
Unfortunately for the NRA, the problem with using crime as a rationale for owning guns is that violent crime in the United States keeps going down. For that matter, so does the percentage of older, white men, who just happen to be the demographic that buys and owns most of the guns. So sooner or later, if these trends continue, the NRA is going to have to craft a new message and find a new reason for all those guys and gals walking around armed.
They began to take a new approach last year before the mid-term elections with a series of cable ads that featured the "five million NRA members" standing up for honesty, truth and various so-called core values, while at the same time swiping at you-know-who in the White House and the elitist culture that is undermining everything America holds dear. The problem with this ad campaign, however, is that it doesn't do what the NRA has been most successful at doing for the last 20 years, namely, ginning up fears about something that can only be overcome if you go out and buy a gun. But Wayne-o and his PR staff have evidently come up with their latest scare technique, which came at about the 4th minute of his speech to NRA members when he mentioned that "terror cells" were operating in cities all across the United States and that a major terrorist attack was about to take place.
At last year's meeting Wayne-o told the audience that terrorists were just one of a large group that were threatening America, a group which included home invaders, drug cartels, campus killers, airport killers, power-grid destroyers -- it was quite a list. This year he got his act somewhat more focused, pulled the 'terror cells' out of his hat, and then reminded his listeners that only a national CCW law and every NRA member renewing their dues would truly make Americans safe.
Meanwhile, outside the NRA meeting, Shannon and the Moms held a rally to promote a different idea about whether guns make us safe. Immediately after the rally, various pro-gun bloggers went out of their way to assure their readers that the small attendance at Shannon's rally showed that the anti-gun forces would never be a match for the NRA.
I have gone to more than 20 NRA meetings and for people who like guns, the exhibit hall is a cross between a swap meet and a Scout jamboree. As for core values, just wander into the sales area and see how much the NRA charges for a t-shirt or a hat. In all the years I went to the annual meeting, the only person demonstrating outside the hall was some old guy with a 'Prey To Jesus' placard, not the Moms who have chapters in all 50 states. The NRA's attempt to use terrorism as a bogey-man to sell more guns is a new riff on an old strategy that sooner or later will wear out. Shannon and her Moms are truly new, different and here to stay.
HUDSON, N.H. -- When he ran for president in 2008, Mike Huckabee famously traveled around the country with Chuck Norris in tow as his unofficial bodyguard.
But as he gears up for his second White House run, the former Arkansas governor might consider acting as his own security detail.
After taking some target practice during a campaign-style stop at the Granite State Indoor Shooting Range and Gun Shop here on Saturday, a reporter asked Huckabee whether he carries a gun with him when he is out on the trail.
"Depends on where I am," Huckabee responded.
"Are you today in New Hampshire?" the reporter replied.
"Oh, you never tell what you're doing," Huckabee said. "It's 'concealed carry.' It's not 'announced carry.'"
Huckabee then asked jokingly whether the reporter would be afraid to follow up with another question, if she knew that he was carrying a gun.
"Let me show you this pattern one more time," he said, pointing to the multi-holed target that he had just finished plastering with a Colt .45 and Glock 43 pistol.
Dressed in a sport coat, button-down dress shirt and slacks, Huckabee didn't exactly look the part of a regular guy enjoying a casual Saturday morning at the gun range.
But the once and likely future Republican presidential contender proved himself to be a good shot. And he left no doubt about where he stands on the contentious issue of guns in American life.
After removing his protective ear and eye gear, Huckabee regaled the assembled media with anecdotes about all of the firearms that he has owned throughout his life, beginning with the Daisy Model BB gun that he acquired at the age of 5 and has kept ever since.
"It's worth a lot more money now than it was then," he said.
Huckabee noted that his wife, Janet, has a concealed carry permit like he does and that she is currently in the market for something "a little smaller in profile" than her current weapon of choice.
As he looked on at the mostly younger and urban-dwelling reporters who stood in front of him, the ever media-savvy Huckabee determined that some further explanation was in order.
"Many of us grew up not only in an era but also in a part of the country where firearm ownership was not something that was strange or unusual," he said. "It's a way of life. We also grew up with an understanding that firearms have to be handled carefully and responsibly."
He said that he had long ago been instructed never to point a gun at something that he didn't intend to shoot and never to shoot at something other than a target or an animal that he planned to eat.
"If you're taught that, it's as simple as understanding your basic colors or knowing how to count to five," he said. "I assumed that everybody grew up like that, and as I grew older and traveled more, I realized there's a lot of people who'd never handled a firearm and were afraid of it. I'm more afraid of the people who might have one when I don't than I am afraid of the firearm."
Huckabee said that the Second Amendment was not intended primarily to preserve hunting rights and described gun ownership as "the ultimate self-defense, not just against an individual, but against anyone who would try to take our liberty away."
He then launched into an anecdote that he had heard about Japanese Combined Fleet commander Isoroku Yamamoto, who led the 1941 attack on Pearl Harbor.
"Yamamoto was asked, 'Why didn't you keep going? Nothing to stop you. You had a clear path to the California coast. What made you stop?" Huckabee said in an exchange that he attributed to a post-World War II conversation about the Japanese fleet's post-Pearl Harbor movements. "And he said, 'Because we knew in America people were armed in every home and every neighborhood, and we knew we were not prepared to fight the battle house to house and street by street, and we knew we could not afford to take that risk.' I think that's a pretty powerful story."
A powerful story it may be, but it is also one that was never documented at the time it supposedly was related and one that historians believe to be likely apocryphal.
Nonetheless, the breadth of knowledge and facility with firearms that Huckabee demonstrated on Saturday is the kind of skill set that could help his message resonate with gun owners who vote in Republican caucuses and primaries.
Huckabee is slated to announce his presidential intentions in his hometown of Hope, Arkansas, on May 5.
Federal election law precludes him from saying publicly that he is going to run until he is ready to make his candidacy official.
But it would be a strange endeavor to announce that he is not running in such a dramatic setting and after months of gearing up in earnest for his prospective bid.
Huckabee appeared to acknowledge that he was in on the joke when a reporter prodded him about whether he would compete seriously in the New Hampshire primary -- where he finished in a distant third place in 2008 -- "on the off chance" that he were to announce next month that he is indeed entering the race.
"I don't know who my potential opponents would be if, in fact, I make that announcement on May 5," Huckabee said with a literal wink and a smile. "I'm not writing New Hampshire off."

We, Mrs. Gillespie's 1st Grade Class at LaPierre Elementary in a beautiful suburb of Nashville, demand the State legislature recognize our 2nd Amendment right to bare toy arms.
The recent bill passed by the House of Representatives that bans toy guns--but not daddy guns--within 150 feet of a school is just the latest government intrusion on our freedoms, but this time it's personal. The battleground is our very playground. Thankfully the bill allows actual guns in our school zones, which gives us some hope that this is still America, after all.
We ask liberty lovers everywhere to join us in our tantrum.
Playing cops and robbers, having water gun fights in the summer by the pool--these are rites of passage, integral parts of our culture passed from one sibling to the next.
Furthermore, we refuse to be left defenseless against fifth graders who know how to make spitballs. At any time, the administration could knock on our cubby doors and the Constitution guarantees our right to protect ourselves. Super Soakers are as American as tee ball and McDonald's apple pie, and if you want ours you'll have to pry them from our tiny, finger-paint stained hands.
That is why we are announcing the founding of the National Toy Gun Association. We are confident that patriotic Americans across the country will support the mission of protecting the rights of law-abiding six-year-olds, and we call on the corporate leaders of Nerf, Daisy and Maxx Action to provide most of our funding, eventually turning the group into a high-powered marketing machine ambivalent to the values of actual toy gun owners.
Its first order of business, however, is fighting this odious bill, and defending our right to carry our cap guns, water guns and laser guns anywhere we want--except, of course, at the NTGA Annual Convention (next Tuesday at recess in the multi-purpose room, unless it rains and the gym classes are playing scooter hockey in there).
Its second order of business will be getting rid of those stupid orange tips that make it harder to imagine we're Vin Diesel.
We find it ridiculous a society that trusts us to catch a bus won't trust us to pack a plastic pistol. Which is really more dangerous? Didn't you see that film strip last fall?
We are especially offended by proponents of the nanny state who are trying to turn us against our parents, saying their right to wear the guns they enjoy--and that we hope to, too, someday--is in conflict with our right to play with ours. Don't lecture us about our own safety. This is bigger than that. This is about being a child in America. This is about Freedom with what we recently learned is a capital F.
Isn't a handful of us getting massacred a small price to pay for that?
Really? Is it or isn't it? And do we or do we not deserve an America where we can play in our playgrounds as six-years-old should?
We, Mrs. Gillespie's 1st Grade Class, trust that good people will ask themselves those questions and do the right thing. We have no choice but to trust in it.
(This post is satire.)
WASHINGTON -- When Republican presidential hopeful Rand Paul was not invited to speak at the National Rifle Association's annual convention last week, insiders with knowledge of conversations with Paul's office floated that his affiliation with a more conservative gun rights group was partly behind the snub. Paul's association with Second Amendment proponents such as these could alienate moderates as he embarks on a presidential race.
The U.S. senator from Kentucky is the only current or expected 2016 contender affiliated with the National Association for Gun Rights, the group told The Wall Street Journal. NAGR's founder told the paper that he is working for Paul's presidential campaign. The group has also used Paul's name in fundraising emails in the past.
In 2011, Mother Jones reported that Paul supporters received an email on behalf of the group, warning inaccurately that a proposed United Nations treaty was going to allow the government to confiscate all "unauthorized" civilian guns. (The treaty aimed to prevent terrorists from getting weapons.)
Paul's connection with the group could prove off-putting to the moderate voters he will need to court for 2016. Even staunch Second Amendment advocates whose views align with Paul's on guns are not enthusiastic about his relationship with NAGR.
Gary Marbut, the president of the Montana Shooting Sports Association who helped author the state's Firearms Freedom Act, told The Huffington Post that he likes Paul, but "any association by Rand with NAGR is unfortunate." He questioned whether Paul knows the "history and persona" of the group, adding that "NAGR is much more of a liability than an asset to the gun rights community."
In response to questions sent by The Huffington Post, Dudley Brown, the president of NAGR, wrote in an email: "We don't give comment to Pravda's big sister." Pravda was a newspaper used for Soviet political propaganda and established in 1912, about 93 years before HuffPost.
This isn't the first time Paul has been associated with a controversial pro-gun crowd. A Facebook invitation for a Second Amendment rally at the Kentucky state Capitol on March 27, 2010, lists both Paul and the Ohio Valley Freedom Fighters, a volunteer militia, as speakers. Videos from the event show them speaking in front of the same backdrop, and a local progressive blogger claims they were both there.
During his speech at the event, Paul bragged about shooting AR-15 semi-automatic rifles and promised that he would never vote for any federal regulation of firearms. He also spoke to a couple of gun activists who were dressed like Robin Hood.
Later, Kevin Terrell, founder of the Ohio Valley Freedom Fighters, spoke at the event, saying at one point that the U.S. Capitol was occupied by "Soviet socialists." Terrell added that civil war is "imminent" and advised the "press to start getting it right from this moment on, and stop aiding and abetting un-American activity. Like the Tories of old, the worst shall be hung." Others, he added, would be tarred and feathered.
Paul and the Ohio Valley Freedom Fighters militia did not respond to requests for comment for this story. But when Paul was later asked about the claims made by the militia at that event, he noted that he wasn't there for that portion. "I didn't hear any of those people. It might have been said, but, I didn't hear that." He added, "I'm not in favor of any physical violence."
Paul has long advocated that guns be used to fight and deter criminals, a common refrain among conservatives. David Kopel, research director of the Independence Institute, which has received grant money from the NRA's Civil Rights Defense Fund, pointed out that "U.S. burglars generally try to make sure no one is home, and they take this precaution in order to avoid getting shot."
However, speaking at another event, Paul took this logic to an unsavory conclusion. He told a story about a woman whose son was shot by a homeowner during a home invasion, using the son as a punchline to make the crowd laugh.
"The mom was wailing and going, 'She shot my boy! She shot my boy!'" Paul said. "The general surgeon looked at her and he says, 'Well I guess that's an occupational hazard if you break into homes.'"
Paul has also said that allowing civilians to carry guns will help curb mass tragedies, pointing to pilots, teachers and principals as examples. He has said, "If a teacher had concealed carry at Virginia Tech, we might have lost four kids instead of 20." In wake of the shooting at Sandy Hook Elementary School, he said that he hadn't "heard one proposal from [President Barack Obama] or Harry Reid that would have saved one life." Obama and Reid were pushing measures such as expanded background checks, a ban on newly acquired assault weapons and a cap on large ammunition magazines.
For his advocacy of these and other positions, Paul has positioned himself as the most unshakable champion of gun rights in the Republican presidential field, telling Bloomberg last week that "there's probably no greater advocate for the Second Amendment in Congress than myself."
His associations with NAGR and other groups may well prove that.
But if you ask gun control advocates which candidate or potential candidate they most fear, it's not Paul's name that tops the list. Rather, it's everyone considering a run for the Republican ticket, minus New Jersey Gov. Chris Christie, who has taken a more moderate stance on gun control.
"There's not much difference" between the Republican presidential contenders on gun policy, since they all oppose certain popular gun control measures, Brian Malte, senior national policy director for the Brady Campaign to Prevent Gun Violence, told The Huffington Post. "In our view, these are lap dogs of the gun lobby."

Dear Mark: The last thing I'll do is tell someone else they shouldn't say something that they have said. I may disagree with you but everyone has the right to go on record any way they choose. So I won't tell you that you shouldn't have posted the positive tweet about the Eddie Eagle program, but I am going to tell you why your tweet isn't true.
Mark, you may believe that the Eddie Eagle program is a serious and successful effort to spread the word about gun safety, but it's actually the NRA's poster child for making everyone believe that the organization represents a positive force in the debate about guns. In fact, we wouldn't need a gun debate if the NRA hadn't decided back in the 1980s to abandon a hundred-year tradition of representing hunters and sport shooters, embarking instead on a continuous campaign to become America's leading civil rights organization by protecting us from gun-grabbing liberals, big-city mayors and anyone else with an interest in having a rational discussion about guns.
Your beloved wife, Gabby Giffords, was almost killed by a crazy whose Glock pistol allowed him to shoot 19 people without reloading thanks to a high-capacity magazine which the NRA has defended as the "right" of every American to own. And if the Safeway parking lot where she was gunned down had been a gun-free zone, the NRA will tell you that this only increased the risk of an active shooting, but the data on such shootings shows the reverse to be true.
But let's leave all the talk about the NRA's distortions about gun risk aside Mark, and focus on the Eddie Eagle program itself. The NRA advertises the program as "a gun accident prevention program" that seeks to educate children about what to do if they ever come across a gun. The curricular materials were developed by Dr. Lisa Monroe whom, according to the NRA, has earned accolades and accomplishments spanning more than two decades." Further, the program was named "the best" of 80 gun accident prevention programs evaluated in a study published in the Journal of Emergency Nursing Online.
Wow. That's quite an impressive evaluation of Eddie Eagle and I'll bet you paid this close attention Mark before you wrote your tweet, right? There's only one little problem Captain Kelly. None of it is true. None, as in nothing. Ready? The outstanding educator, Lisa Monroe, who has earned all kinds of education awards over the last two decades was, in fact, earning her Master's degree in 1995, didn't publish her first article until 1999 and taught at the University of Oklahoma grade school that is run by OU's Department of Education for the next ten years. As for the notion that Eddie Eagle was the best of 80 accident-prevention programs evaluated, in fact the reviewer evaluated three programs, found Eddie Eagle to be slightly more effective than the STAR program of the Center to Prevent Handgun Violence, but noted that her evaluation was based only on the curricular content since there had never been any study conducted to determine outcomes of the program; i.e., how did the program alter student behavior as regards being safe around guns?
In other words Mark, the description that the NRA uses to promote its Eddie Eagle safety program is false. They want you to believe that their "educational program" is akin to a public service announcement, but it's actually a cynical and craven marketing ploy.
Mark, please don't get me wrong. I have no issue with anyone on either side of the gun debate reaching out to the other side if and when they find something being said or done that deserves attention and support. But the truth is that you haven't taken the trouble to investigate what the Eddie Eagle program is all about. Not to worry Mark -- I've done it for you.
It was a mild, crystal clear desert evening on November 15, 2004, when Jennifer Longdon and her fiance, David Rueckert, closed up his martial-arts studio and headed out to grab some carnitas tortas from a nearby taqueria. They were joking and chatting about wedding plans—the local Japanese garden seemed perfect—as Rueckert turned their pickup into the parking lot of a strip mall in suburban north Phoenix. A red truck with oversize tires and tinted windows sideswiped theirs, and as they stopped to get out, Rueckert's window exploded. He told Longdon to get down and reached for the handgun he had inside a cooler on the cab floor. As he threw the truck into gear, there were two more shots. His words turned to gibberish and he slumped forward, his foot on the gas. A bullet hit Longdon's back like a bolt of lightning, her whole body a live wire as they accelerated toward the row of palm trees in the concrete divider.
Jeffrey Swanson and his co-researchers have just published a new report on gun violence which will ignite the usual angry, impulsive response from the pro-gun community to the effect that aberrant behaviors and guns pose no risk at all. This is because after the faithful gather in gun-free Bridgestone Arena to listen to Ted Nugent remind them about the dangers of gun-free zones, they'll come across the street to the convention center and listen to Wayne-o tell them that without a gun everyone's at risk from ISIS, Obama and God knows what else.
The new study compares rates of impulsive, angry behavior with access to guns. Swanson and his research colleagues asked 5,653 respondents to answer questions about their own behavior, and also asked these same research subjects if they owned and/or carried guns. The subjects lived in cities, suburbs and rural areas throughout the United States, and roughly one-third stated that they owned or had access to firearms, which seems to be what we consider the national firearm ownership rate to be today.
Every respondent was asked whether they had tantrums or angry outbursts; broke something in anger; lost their temper and got involved in physical fights. These are classic indicators of impulsive, angry behavior, with the tantrums/outbursts being the least serious, the fights being the most serious and the breaking of some object in between. Both the owners and non-owners of guns reported engaging in all three types of behaviors, with tantrums being three times as common as physical fights for both groups, and the percentage of gun owners and non-gun owners engaging in any of the three anger indicators being about the same.
What struck me as I read the survey results was that overall, there was not a great difference between gun owners and non-gun owners regarding to what degree they admitted engaging in any form of impulsive, angry behavior. Where the difference was clearly pronounced was among the 5 percent (roughly 290 people out of 5,600) who admitted to owning 11 guns or more, which was the only gun-owning group whose penchant for getting into fights was significantly higher than people who owned no guns at all. For that matter the percentage of the 11+ gun-owning group to get into physical altercations was substantially higher than gun folks who owned fewer guns.
Where the number of guns owned by individuals seemed to be a real risk issue can be found in the correlation between number of guns owned, engaging in any of the three anger indicators and carrying a gun outside the home. The good news in this survey was that less than 5 percent of the respondents reported that they walked around with a gun. The not-so-good news is that folks who owned six or more guns and carried a concealed weapon reported that they engaged in at least one of the three impulsive behaviors four times more frequently than persons who owned five or fewer guns.
This is the first study I have seen that finds a correlation between numbers of guns owned and a propensity to carry one of them around. As such, it undercuts the usual pro-CCW argument that people carry guns to defend themselves against crime. I always thought that folks who are "into" guns are more likely to carry one, simply because they enjoy doing whatever they can do with their guns.
Notwithstanding my admiration for Swanson's overall work, I am a little skeptical of his conclusion in this article when he says that it is "reasonable to imagine" that many people with common mental disorders leading to angry, impulsive behavior have an arrest history and therefore should be denied access to guns. Swanson joins other scholars who have called for more restricted access based on misdemeanors, DUI and other non-felonious behaviors, but I'm not convinced that research so far shows any link between angry impulses and actually using a gun. I'm not saying the connection isn't there; I'm saying that it remains to be found.
Over the past few days, more than 2,000 Wisconsinites signed an open letter to Governor Scott Walker, who is on his way to the NRA convention:
Dear Governor Walker:
After more than four years in Wisconsin's highest public office, you should be well aware of the devastating toll that gun violence takes on the lives of your constituents all across the state.
Surely you remember Bill Thao, who was only 13 months old, when he was shot and killed; and Laylah Peterson, just five years old, when a stray bullet killed her while she was sitting on her grandfather's lap.
You must also know that almost all Wisconsinites -- between 80 and 90 percent, including the vast majority of gun owners and NRA members -- support commonsense solutions like requiring criminal background checks prior to all gun sales.
It's not hard to see why. Closing the background check loophole is proven to be one of the most effective steps we can take to reduce gun violence and save lives. Just look at Missouri: After gun rights extremists repealed the state's background check law in 2007, gun murders shot up 23 percent.
Simple changes to our laws could save lives in our state. Yet, instead of giving your all to protect our families, you are heading to the NRA convention in a misguided attempt to advance your personal political ambitions.
More than 2,000 concerned citizens of Wisconsin may not be able to convince you to cancel your speaking engagement at the NRA convention, but we can make one simple and reasonable request:
Tell the truth about us.
Tell the truth about where the vast majority of Wisconsinites stand when it comes to commonsense gun laws and the NRA leadership's reckless agenda.
Tell the truth, including the fact that nearly 90 percent of your own constituents in Wisconsin support background checks on all gun sales.
If you truly represent the people of Wisconsin, as your office demands, you will have the courage and dignity to represent us honestly.
Signed,
Jeri Bonavia and 2,364 Wisconsinites