How do I love the zombie related holidays??? Halloween, Day of the Dead, Easter...let me count the ways! Speaking of the magical bunny that travels t...
I hope to continue to keep things simple so when the big moments happen, there is a greater appreciation.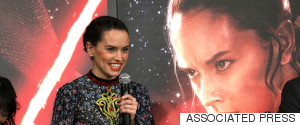 I just watched Stars Wars and I am so proud of Disney for creating the first true Warrior Princess.
With the New Year approaching and everyone getting ready for fanciful black-tie parties we looked back at the hottest, eye-popping, jaw-dropping most instagram-worthy parties and events in 2015 that did not require a tie.
America's culture wars have raged in nearly every imaginable setting, from courtrooms, to CEO boardrooms, to hospital rooms and even classrooms. But who could have possibly foretold that the battle's next frontier would be fought on the Starbucks line?
'Twas two months before Christmas, and all thru the store, shoppers were bustling, and searching for more. All the shelving was stocked with ornaments and wreaths, stressed holiday shoppers, searched for fake plastic trees.