The future of higher education is dependent on colleges and universities moving from their comfort zone where learning is a static experience. Higher education must stop fearing that change means abandoning tradition.
As a grateful recovery addict and alcoholic, having spent time at a residential treatment facility and also, as the founder of a company that is revol...
Scandi style is limited to only being great if you want a quick Ikea fix for a student flat or a lower budget rental apartment, but this way of designing in real terms reflects no creativity, comfort or drama at all.
Certainly it's far from unknown for companies to use sales as a metric in test-and-learn initiatives. Consumer-product companies, for example, regularly use A/B marketing tests to see whether they are on the right track with a new product.
Entrepreneurs see opportunity where others see obstacles and why hubris is an entrepreneur's worst enemy, were two topics of discussion on my SiriusXM...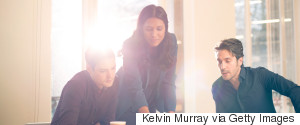 Today's most successful companies, the ones that are "crushing it," started as a series of crazy ideas, followed by experiments to test just how viable those ideas might be. Experimentation is a crucial mechanism for driving breakthroughs in any organization.
This article was originally posted on Inverse. ...
Because the velocity of data is increasing and will always increase, the need for data literacy is increasing and will always increase.
The company was hoping to tap into the huge amount of waste heat generated by cloud computing to provide cheap and eco friendly heating for our homes and offices.
We're in the middle of an innovation bubble. "Innovation" is hot. Innovation "experts" are coming out of the woodwork. Everyone wants some innovation....