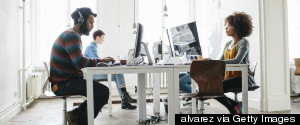 Too bad the term "socialism" was appropriated by Karl Marx, because it would be an apt description of today's emerging social economy. The social media revolution is transforming the way we create wealth, work, learn, play, raise our children, and probably even the way we think.
Product/Market fit now has its own book. Alexander Osterwalder wrote it. Read it. The Lean Startup process builds new ventures more efficiently. It h...
The transformation in higher education is already here; the question is how learning institutions respond.
We still need a community of thinkers and makers and designers and funders who will spur innovation onwards, whether it's an internet-connected gadget that improves our morning routines or a novel way to produce clean energy.
The time has come. Old rules fall. New voices rise. We will use the F-word without shame. Without fear of being burnt on academic, economic and polit...
The failures of top-down reforms are evident in many urban district--but so is the promise of organic, from the edges, outside-in innovation. Ove...
If we want every citizen to adopt more positive lifestyles, especially as we face longer and more demanding lives, it is imperative that we better empower and equip ourselves with the right cognitive and emotional resources and tools.
We can't predict when the next one will come, but those who fall in its wake will face a tough road to recovery. That is because recessions are increasingly structural events. They occur less often but involve more economic disruption.
Strategic planning is extremely important, but the way we plan, and the plan we create, do not provide the dynamic roadmap everyone in the organizatio...
Brought together under the Every Woman Every Child partnership umbrella, these new creative solutions along with resources, collaboration and commitment will be able to make a difference to women and children, save lives and improve the prospects of future generations.