Pretty pastels, sky-high cakes, bold brows and gold foil paper are all trending for spring. Here's how to make them yours.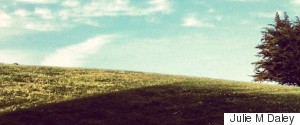 Awareness and the wisdom of the body allow us to channel our life force to create with intention, while at the same time following the guiding hand of life. It's all a dance with life. We meet life and life meets us. It takes trust, and it takes being a willing, open dance partner.
Once we, as a society, become aware of the consequences of funding corporations operating on non-renewable resources, there is only one intelligent choice: to take action.
Rarely in modern life do the decision makers who sit at the top of the power pyramid ever listen to those at the very bottom -- despite the fact that the people at the bottom are expected to carry out the mission of the organization or institution.  
The tech and automation job-quake is finally gaining attention, with predictions that nearly half of American jobs will be lost within a couple of decades. Yet too many leaders still avert their eyes, making decisions through a rear-view mirror rather than planning for a horizon already upon us.
Last week more than two hundred would-be revolutionaries answered a call to arms and gathered in London with a view to reimagining the future - let me tell you about the first day of the proceedings...
We continue to push the limits and identify ways to move beyond a better breast pump, above the glass ceiling and into the future where women are supported as they enter more boardrooms, provide a better life for their children and get paid the same as men.
Hope and fear are close cousins. Great leaders balance the two and approach them in a measured way with resolve. Great technology leaders show how innovation can feed into--and balance--the two.
In the modern world, technology never stops evolving and the rate of change seems to be increasing. Ten years ago YouTube was in its infancy, yet now your favourite films and TV shows can be streamed at the click of a button.
On a sunny Thursday earlier this month in Peshawar, capital of Khyber Pakhtunkhwa (KP) province and the fifth largest city in Pakistan, the energy at the venue of the Digital Youth Summit 2015 was palpable from the beginning.