With nearly 16 million Instagram followers and over 9 million on Twitter, it's no surprise that when it came time to announce her "big news" this weekend, Kendall Jenner flexed her social media muscles to reveal what is without a doubt her biggest gig to date: becoming the new face of Estée Lauder!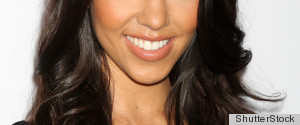 There is something fascinating, captivating even, about the Kardashian family that has drawn me in. Part of that I believe is the fact that the family is full of strong, independent women. Being such an avid feminist activist, this is obviously appealing.
Given her top model status, massive popularity both on and off the runway, her clear desire to work with the brand and her close relationship with Russell James, it seems plausible, if not likely, that she may soon be strutting her stuff in her very own set of angel wings.
It is finally here! The wedding we have all been waiting for...or dreading -- Kim Kardashian marries Kanye West in Italy!
Imagine if Kendall Jenner, who was part of TIME Magazine's Most Influential Teens in 2013, was cast in a role as a computer programmer. How many young girls would want to learn to code? Scoff if you will, but it's true.
@MertAlas & @MacPiggott gather a few (insta) celebrity friends and their legions of followers for some serious social networking.
Most of New York shut down last Friday because of "Nemo" the snowstorm, but I had the privilege of sitting down with Kendall and Kylie Jenner to talk about their new fashion line.
It's not too much of a stretch to consider the Kardashian clan as the modern day Bennet family, but for the sake of the youngest members let's hope it's not too late to rewrite their story.
So Kris, the question is: Why is it more important for you to let the world know that you're still young and sexy, than to be a strong and inspiring role model to your young daughters?
Hooray for Kendall Jenner, who had the good sense to reject her PR-minded mom Kris Jenner's plan for an expensive, over-the-top Sweet 16 bash in the Bahamas!
Most of you know me from TV and fashion mags, but today I want to talk about something else that's very important to me --helping our generation make a difference.
Notice to celebrities -- the time for drugging, and partying it up beyond the max, is OVER!
I'm not particularly bothered by the younger Kardashian/Jenner's passage through the Lindsay Lohan tollbooth on the Highway to Hell. No, these pics scare me because I'm worried about us old women.