I finally hit the wall. I can't take it anymore. As a reporter and admitted purveyor of pop culture, I must bite the hand that feeds me and officially...
Once Kris realized that the Sawyer interview drew 17 million viewers on a Friday night -- making it one of the highest rated shows of the year, she began whistling a different tune.
As more white women turn to bronzers, lip injections, butt implants and the like, black women are still forced to maintain more conservative images in public to counteract stereotypes based on these features.
Porsha W. is definitely having a Good Friday with her overly laid hair and pink popping lips. Let's not forget those of-the-moment thick brows. And Cynthia's serving up a bit of Lion Babe with her au natural curly do.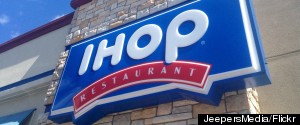 Over the last few months, corporations have found a new way to gain attention on Twitter: tweeting rap lyrics and other allusions to hip-hop culture. The culprit that has most popularly surfaced across Twitter timelines is IHOP, which tweets edited versions of lyrics from songs by artists such as Drake, Trinidad James, and Bobby Shmurda.
Celebrities turned up to celebrate the 4th of July at Bootsy Bellows Pop Up at Mastro's Ocean Club in Malibu, California.
It is finally here! The wedding we have all been waiting for...or dreading -- Kim Kardashian marries Kanye West in Italy!
Summer love is in the air. This Fourth of July, reality star Kylie Jenner was seen spending time with movie star Jaden Smith -- son of Will Smith and Jada Pinkett Smith.
Most of New York shut down last Friday because of "Nemo" the snowstorm, but I had the privilege of sitting down with Kendall and Kylie Jenner to talk about their new fashion line.
Justin Bieber spotted dating Kylie Jenner? Kylie Jenner's new Instagram account "putthedistrictonmyback," had a picture of her and JB holding hands. I...
It's not too much of a stretch to consider the Kardashian clan as the modern day Bennet family, but for the sake of the youngest members let's hope it's not too late to rewrite their story.
So Kris, the question is: Why is it more important for you to let the world know that you're still young and sexy, than to be a strong and inspiring role model to your young daughters?