For a place to sleep, twenty four hour Fed Ex Office rocks! This might sound odd to some, but it totally works wonders. If you happen to have a laptop it's much easier to pull off, but you basically go in, start working, and "fall asleep" on your laptop. Most of the time they won't question you, since a lot of college kids will work out of them and inevitably crash while working.
What differentiates the good from the great? Everyone has the potential to be great, but there are a few key things that differentiate those who want ...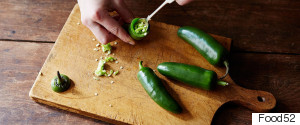 Most techniques for removing the seeds from peppers instruct you to slice the chile in half lengthwise, then use a paring knife to remove the seeds and ribs. But, while shadowing in the kitchen of Dirt Candy, I learned an easier way. It's quicker and less risky.
One of the many perks of living in the year 2015 is the realistic possibility of reaching age 100. We've got modern medicine, competent doctors, and helpful apps to help us keep an iron clasp on life, which is leaps and bounds more than we had even 20 years ago.
Too many of us believe in a magical being called 'passion.' "If only I could find my passion," we cry. "Finding my passion would make me happy."
Here are a few of my favorites tips & tricks for making a road trip that is the adventure rather than just a road trip that just gets you to a destination.