In China's case, policymakers and business leaders recognize a unique opportunity in the life sciences to claim the world's top spot in research and development. The U.S. stands to lose out if we do not take steps to match the Chinese efforts.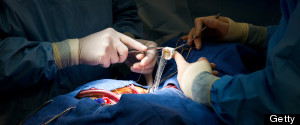 It's not sci-fi. It is one of many Trans-catheter Aortic Valve Replacements (TAVR) done every day around the country. I have watched this in person.
After more than a decade of vigorous research into the deadly Ebola virus, a handful of potential treatment therapies appear to finally be on the horizon.
How we each can lift ourselves above the fray -- life's circumstances, negativity and excuses -- is the true message of Thanksgiving that I see. Because, if we're truly thankful, then we will know that our lives have a higher purpose, and our expression of gratitude is to live out that purpose.
By Peter Murray Contributor, Singularity University. In what's being called a medical first, doctors were able to keep a liver functioning outside t...
We often equate knowledge with power: The more we know, the better we are able to make decisions. Unfortunately, there are cases where ignorance really may be bliss, and Alzheimer's isn't the only one.
While we need to celebrate the success stories in medical research that allow us to carry on our lives, we have more work to do. We must ensure that we continue to have a robust flow of scientific discoveries that we can then translate into better health.
Stories of companies with major medical breakthroughs are a dime a dozen, the overwhelming majority of which are strictly hot air -- a clear danger for impressionable investors.
I feel so strongly about the need for stronger ties between the research and clinical communities that my new organization, The Child Study Center Foundation, has made these partnerships its central mission.
Extraordinary Measures is one of those feel good movies that make you appreciate what a few good people can accomplish. The fact it's based on a true story means you don't have to scof at the unreality of it all.