The industry has started to see female athletes as champions and role models, not just reality TV stars and fashion icons. If they continue to market towards women with these types of positive messages, advertisers will profit from a huge consumer base.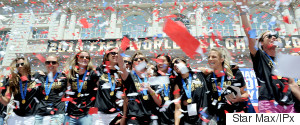 By the age of 14, girls drop out of sports twice as often as boys. Social stigma, lack of access, safety and transportation issues, costs and lack of positive role models can all contribute to the reasons why girls drop out of sports in their adolescent years.
As a health advocate, I'm often called on to speak with patients who are newly diagnosed with Multiple Sclerosis. I listen to their stories, and answe...
Virtually every major story, from the Olympics, to college sports, to professional leagues has been shaped by legal principles studied in the first year of law school.
The Olympic Games are a good metaphor for a lot of what we call "real life."
Today's show talks about Ryan Lochte, Missy Franklin winning a gold medal and NBC ruining the surprise, a couple new movie trailers, and some celebrity news as well.