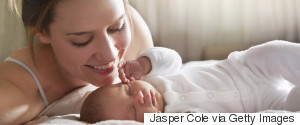 My best friend Carrie would've been an awesome mom. Beyond awesome. She was loving, exuberant, brilliant and sassy, and she had just the right dose of crazy mixed in. Maybe a little extra crazy, but in the best ways possible.
Motherly @ Work features the stories and insights of modern women growing their ca...
New Video about over praising our kids! In today's 'well done, you did your best' kinda world, is it really a good idea to praise our children when they have clearly not tried their best?
Generally I am a lover, not a fighter, but I've had beef with the American political system for quite some time, and I know I am not alone in my...
Make no mistake - creative mothers are leaving an impact. In a world that sometimes feels like it's burning at every turn, artistic mothers (spanning the generational gap) remind us that there's still beauty to be found in the every day.
It's easy to get caught up in your routine and chores every day, but don't let it consume 100% of your life. It can be pretty stressful at times, but if you take it one day at a time and try to roll with the punches, you may be able to avoid stress a little better.
Tears well up when I watch my husband so lovingly hold a baby in his arms again. My seven-year-old son wants to carry her all day, every day in his little arms - a very proud, self-appointed protector of her well-being.