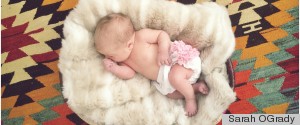 Here's a glimpse into what it's really like to be home with a newborn. I warn you, it's a long post, but then again, anyone who's ever done this parenting shtick will understand why.
When everyone's going around the table announcing what they're thankful for in a few days, keep the fact I don't have Instagram in mind just in case you can't come up with anything else.
Feminism has become the word du jour. But what's its message? Its goals? Why is it so divisive?
Today, me time is the three minutes I get on the loo to check Facebook before one of my sons bursts through the door to see what I am up to. It's my drive to work.
I've been judged for sending my daughter to daycare since she was 3 months old; accused of being shallow for not wanting to conform and live a more modest life with just one salary; and even told, "I'm so sorry you can't have more kids, because there's no way you can handle it."
I am a mother to the most amazing, surprising, delightful child. Amidst all the joy, the challenges, the growth, I struggle every day to provide a life that is rich and abundant. In our life, riches and abundance aren't what you may imagine. It has been just me and him since day one. Always has been.
Carly wants to be a part time mother! Can this be done?! Keyon is about to go through empty nest! This is a very honest and raw discussion about the...