I am a writer, a yogi, a wife, and a friend, among other things, but, mostly, right now I'm a mother, and I'm thankful for the magic that resides here plainly and invisibly, for me to daily open and appreciate anew.
As someone living without a traditional village (parents, siblings, aunts, uncles), I have spent the last seven years trying to build a non-traditional one (ie: any living, breathing creature that offers friendship and/or childcare) and it occurs to me that I am going about this all wrong.
October is Work and Family Month, and it was packed with events, progress on policy, press conferences and declarations on working families.
As physicians, we make hundreds of decisions daily, and I would venture to guess that most decisions are good ones. Finding the key to work-life balance for me was having trust in my skills as a critical care doctor; acknowledging that these decision-making skills guide me in all my life decisions.
You develop a new appreciation for the sound of silence -- blissful, amazing silence.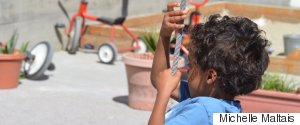 There are no do-overs or reboots, and our primary job as parents is to lay a solid foundation for our children's future. I want more for my son. I expect more of my son -- and so should his school. My kids are not an experiment for a foundering system.
Everyone knows that candy stolen from your children is low-carb and fat free. I've actually heard it boosts your metabolism!