Eye-catching personalization is not new to the world of nail art. Nail art is rocking celebrity style and many women have been wearing intricately hand-drawn designs on nails for years. What is new is the ability to take a digital image and convert it into trendy nail art.
Fall is here and tweed is in the air, even on your nails! I brought nail artist Amie Morimoto onto DIWhyNot to show us how to do this totally DIYable technique. Try these fun fall nails and let me know how they turn out!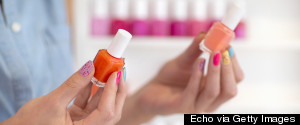 When you walked into this salon and brayed, "Who do I have to scream at to get a pedicure around here?" I thought, surely, she's joking, and I laughed at your poorly-executed humor. Then you clapped your hands twice, to ensure your request was heard. And it was.
Just because you're keeping the sun's damaging rays away from your skin doesn't mean you can't get a bit of a sun-kissed glow.
With the countless dedicated blogs, lacquer launches (including the gel revolution) and new specialty salons cropping up every month everywhere from Beverly Hills to London, nail art is way past fad status.
Not So Mellow Yellow: It's having a moment. Act soon, though.
For most people, New York Fashion Week was about one thing: fashion. But sometimes, the most memorable part of a runway show is the styling.
There's no reason to have a boring manicure and what's more exciting than original art?
The classic picnic print has gone from cutesy to chic on countless nails this season.
What would happen if fine art turned into nail art? As the nail art trend takes over fingertips around the globe - appearing on everyone from Tilda Sw...
Lately, a lot of my female friends have been obsessing over art. They aren't discussing the bold lines of Alexander Calder's sculpture or the infinite brush strokes Monet used on a canvas to suggest the power of light. They're talking about "nail art."
Below is a how-to video and a step-by-step slideshow of photos to show you how to do awesome Thanksgiving nail art. Enjoy!
Nail polish continues to move past being merely a cosmetic decoration and into the realm of an artistic movement, this time with a host of unexpected textures and finishes.
A round-up of the merriest, most festive nail lacquers the season has to offer.