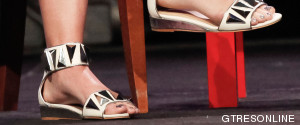 Ladies, what happens when you take your nail polish off and see your toenails turning yellow, getting chalky, flakey and thick with whitish markings o...
Fall is here and tweed is in the air, even on your nails! I brought nail artist Amie Morimoto onto DIWhyNot to show us how to do this totally DIYable technique. Try these fun fall nails and let me know how they turn out!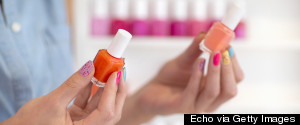 When you walked into this salon and brayed, "Who do I have to scream at to get a pedicure around here?" I thought, surely, she's joking, and I laughed at your poorly-executed humor. Then you clapped your hands twice, to ensure your request was heard. And it was.
There's no reason to have a boring manicure and what's more exciting than original art?
I do NOT camp, I GLAMP. Trust me, they are not the same thing. Yes, there is a tent, there is no running water, but NO, I am by no means roughing it.
I have not one -- not two -- but three brothers. As a self-proclaimed tomboy, growing up in a house of video games, little league practices and at a dinner table that resembled an ESPN broadcast, life was heavily male-influenced.
The holiday season requires a lot of dressing up, cocktail parties and picture opps. One way to change your look up easily is to update your beauty routine. Lucky for us, that doesn't mean spending a ton of money, as most drugstores carry a wide array of quality products that do the job!
What would happen if fine art turned into nail art? As the nail art trend takes over fingertips around the globe - appearing on everyone from Tilda Sw...
When the cuticles have been clipped and the tips have been perfectly filed, all that's left is to pick the perfect nail color. But how's a girl to choose a single polish from the tens of brands, some with hundreds of colors, when each has new collections coming out each season?
If you've covered up your scaly skin and hid your unpainted toenails over the last few months, it's time to face the truth. You've neglected the parts you can hide and now it's time for a Winter Beauty Retreat.
Vietnamese nail workers have worse problems than bad, racist impressions -- they face the highest exposure to dangerous chemicals, and the government is doing very little to help them.
For many women, the manicure and pedicure is a relaxing treat. Just be sure that you don't get more than you bargained for: an infection or nail fungus.
I believe there is never a time to stop growing. While it is true that I've come to be known as an "eyebrow specialist", I see myself pursuing a wider goal - to help women achieve balanced, natural beauty.
Super-bright polish may leave you skeptical or nostalgic for the 80's, but neon nail polish has been a growing summer trend, so we tested a few shades and rounded up the best ones.