At its core, we want music to make us feel. Yeah, there's songs that we listen to that inspire booty shakes and sing-a-longs, but for the most part (m...
An authentic artist creates beauty that lifts us up to the highest within us. The Creativity of such an artist comes from his or her connection to the Divine Source, which is therefore able to make a truly constructive contribution to humanity.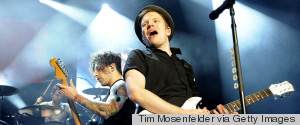 The high octane MonumenTour rocked through Irvine California Saturday night with co-headliners Fall Out Boy and Paramore at the Verizon Amphitheater. The show packed a one two punch as both bands brought their best game to the packed crowd of over 16,000 in the out door stadium.
There is one way to ensure the music of the summer reverberates into the fall and beyond. It is by discovering the song of the soul. The No. 1 hit will not be found on Billboard's charts or iTunes but inside of you and is waiting to be sung. It is music that will last forever.
"None of the songs are wholly about losing two band members and going through that drama, they are all parts and pieces of our daily life. It's not an autobiography of Paramore."
There was a time, not all that long ago, when thrift stores and consignment shops were seen exclusively as the domain of penny-pinching grandmas. But ...
"The most fun things would be international travel, getting to hang out with your best buds, playing a live show, and making music videos. Not fun things are setting up and tearing down, file management while recording, picking out a name for your band."

Here are my top 21 fave raves of 2010. In no particular order.
There is so little agreement in America right now, but this playlist is dedicated to the thought that we should all agree to be respectful and thankful to our service people. I wholeheartedly salute our troops tonight. Thank you for your extraordinary service.
Jennifer Nettles, lead singer, songwriter and charmingly take-charge performer of the sweet and sassy duo known as Sugarland, is upfront about her band's latest record.

Basically, The Other Side Of Zero -- the new album by Elizabeth & The Catapult -- is a commentary on the parallels of Elizabeth Ziman's New York City life and Leonard Cohen's inability to achieve Buddhist ideals.
When you're 40something, you're probably better off trying to live in the present tense and not in the past -- even at your high school reunion.