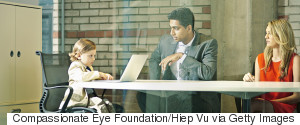 Forward-thinking executives and companies understand that for an employee to be fully engaged, they need to feel things are secure at home just as they know that for an employee to feel things are secure at home, they need to feel secure at work. The two are inextricably linked.
If we're not bragging about our kids, we're b*tching about them. If we're not shouting about how much we love our life with our little blessings via status updates, we're crying about how difficult the little monsters have made it.
When someone asked me why I wasn't feeling well, I told them I'd lost our first child. When an old friend asked me about the pregnancy that I'd announced so early, I told her it ended in miscarriage. And the most amazing thing happened -- the world didn't end.
There are enough bullies and meanies out there to contend with -- kids shouldn't have to protect themselves from their own parents, too
Imagine being an eighth grade student living in a small rural Midwest community with a passion to become a marine biologist taking an online course in Oceanography from a school, college, university or private provider located in Maine with national experts.
Look, in the long run, "f*ck" is but a word. Is it a word that I'd prefer my kids not go around screaming? Yes. But it's only bad because we've been conditioned to get so worked up about swearing.
The case's effects on pregnant workers overall is not immediately clear. But as an experienced attorney dealing with these kinds of cases, I believe that it will ultimately help make the playing field a little more favorable for workers who have faced discrimination.
Even if we recognize it is happening, many of us don't want to think about climate change -- or at least not for long. It's so big, and we seem so small in comparison.
Many of us want our children to understand that we love them, and to believe that life can be fulfilling. Developing those beliefs will help them prosper. There is another powerful, research-based belief that will help children thrive. It is called a growth mindset.
There are many tell-tell signs you are married to a nurse. These are just a few of them. God help our poor spouses!