Spontaneous delight, a startling surprise every time. The sensation is warm, complex, and perhaps one that only a seasoned parent could experience. From this view, it's better than a loaded tree on Christmas morning.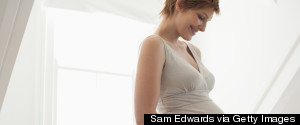 Without a doubt, 2014 has been a busy year for the law on pregnancy discrimination, with the Supreme Court, federal courts, states and the media getting into the act.
When you're a child or a teenager, the tendency is to look at your father as a bit of a pain in the neck. But as you grow up, have a career, get married and have a family of your own and face the daily pressures of life as a father, you quickly realize that your father was much smarter, much wiser and much greater than you used to give him credit for.
Between school vacation, endless shopping lists, mailing holiday cards, cooking for extended family and traveling in potential winter storms, the holiday season can be overwhelming for parents. And with the hectic holiday season, the spirit of the holidays can sometimes get lost.
What parent hasn't watched their kid come alive during a single joyful session of finger painting on butcher paper? Enjoyment-wise, it's a no brainer, plus art participation boosts a child's development in terms of visual communication, creativity, and self-expression.
Is everyone chasing their own version of two points? If so, how old were you when you identified yours?
You may be hearing, "Mom, where are the car keys?" a lot, particularly around the holidays, as teens and young adults make plans to meet up with friends and go to parties. As a parent and a pediatrician, I feel conflicted when asked for the car keys.
She saw me considering a generic Amazon.com gift certificate for Miranda and knew I'd hit rock bottom. I don't remember the exact subtle, understanding words she used, but it was something like: "A gift certificate? Really? Really."
Parenthood can be an emotional roller coaster. With a new baby on the way, your family will experience changes. Therefore, the best way to combat anxiety is to prepare for the challenges you may face.
I found myself glancing up at the register each time I heard it. When a smiling cashier asked if I like to donate, I felt like the small boy in The Polar Express, craving the sound of the ringing bell...and the claps, too.