There's four magic words that can change your life forever... or for the second time... or for the time after you thought that three magic words were ...
In high school, it was very clear of what to do to get to college. You get good grades. In college, it was very clear of what to do to get a job offer. You get good grades, internships and leadership positions in extracurricular activities. But what about pursuing a career that is fulfilling?
Walking back to our B&B on a dark night on the quiet streets of San Juan del Sur, Nicaragua, we spotted something we hadn't seen in over two weeks in ...
We all grow up with a certain set of values. Our families of origin have a tremendous influence on our lives, and although some values may be later deemed unnecessary, or need to be adjusted, others are still viable and have great impact.
Parenting is hard. Like really hard. No one prepares you for it, you can read so many books, articles and advice but nothing will prepare you for any of it.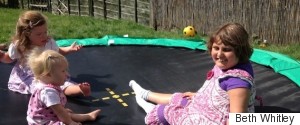 Having been catapulted into the world of special needs almost exactly 6 years ago, I have several close friends who have children with DS, and many of them have taken an active and passionate stance against some media's one-sided portrayal of this new test as an unequivocally "good thing."
Without widespread changes from the top down, the idea of a "level playing field" in higher education is a fallacy.
When it seems like everything and everyone else is against us, being a mom is sometimes the only thing that seems right.
I recently made a few waves with an essay I'd written in response to a friend venting to me about how her girlfriends kept saying...
Imagine you're 18 years old and expected to buy a home. You are told to go pick something out that you like, something that "feels" right, and then bu...