June was National Potty Training Awareness Month and much like this belated post... potty training can take much longer than expected to finally be co...
Full disclosure: I did TRY to potty train my daughter. We got a copy of The 3-Day Potty Training Method, a surefire way to potty train any child in just 3 days. They were arguably the worst 5 days of my life. And guess what. She still wasn't trained!
Potty training is an act of faith and the ritual helps us through when it's hard and lets us celebrate when it's great. One day my kids will be potty trained and will forget that this was ever something they struggled with
Two soft baby hands patted my hair, and as I peeled my hands from my snot-covered face, tears streamed down my cheeks, and Wren grinned wide. Peekab...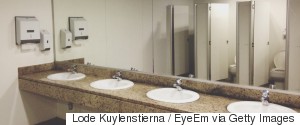 There are many things parents go through with their children, but the horrors of potty training can be truly traumatizing.
I am poop-phobic. Well, more accurately, I don't totally freak out when a pigeon drops a deuce on my shoulder, (although it does seem to happen to m...
This post originally appeared on the OMG EDU blog. My daughter, who is 2 and some change, recently initiated a conversation about breasts, nipples...
My younger son seems to be well on his way to being potty trained! He does great when we are home, & we are working on being able to be out & about & distracted now too.
I tried everything to convince my three-year-old son to give up his diapers, but I should have known I was doomed the moment my son first looked at the frog-shaped potty and ran away screaming.
As a parent, I'd like to think there are no limits to the things I would do for my 2-year-old son. But that's just something we say. Those limits are there. They are important. My kid is giving me reasons I didn't know existed to be anxious about his potty training.