The principal problem with Entourage as a movie: There are barely as many laughs in its slack 104 minutes as in the average 30-minute episode. Which makes it a lot like the Sex and the City movies.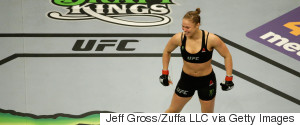 It's only fitting, that on women's MMA's biggest day, UFC bantamweight champion Ronda Rousey delivered the finest performance of her career. Needing all of 14 seconds to finish Cat Zingano in the UFC 184 main event, Rousey bested her own personal stoppage record by two full seconds.
A fight nearly two years in the making, this matchup between Rousey and Zingano dates back to April 2013, when Zingano (9-0, 2-0 UFC) scored a brutal TKO win over Miesha Tate to earn a crack at promotional gold.
I enjoyed The Expendables 3 more than I thought I would. Nostalgic eye candy. These guys are good. Fast paced action. Good acting. Mediocre script. Predictable plot. But fun to see these boys strut their superstar stuff.
Headlining UFC 175 is middleweight champion Chris Weidman (11-0, 7-0 UFC), who will square off with Lyoto Machida (21-4, 13-4 UFC) in the evening's main event.
For the first time in UFC history, two undefeated Olympic medalists will square off for promotional gold, as women's bantamweight champion Ronda Rousey attempts to defend her 135-pound strap against challenger Sara McMann.
Heading into 2013, the UFC's dais of champions represented generations of MMA greatness, with legends like Anderson Silva and Georges St-Pierre being joined by greats like Cain Velasquez and Jon Jones, along with newer strapholders.
Never before has a main event been met with such anticipation.
As two highly-charged fighters move nose-to-nose at a press conference, a small part of us hopes the beef boils over and sparks a scuffle at the dais, if to only further the pair's intensity and violence on fight night.